The Queensborough Academies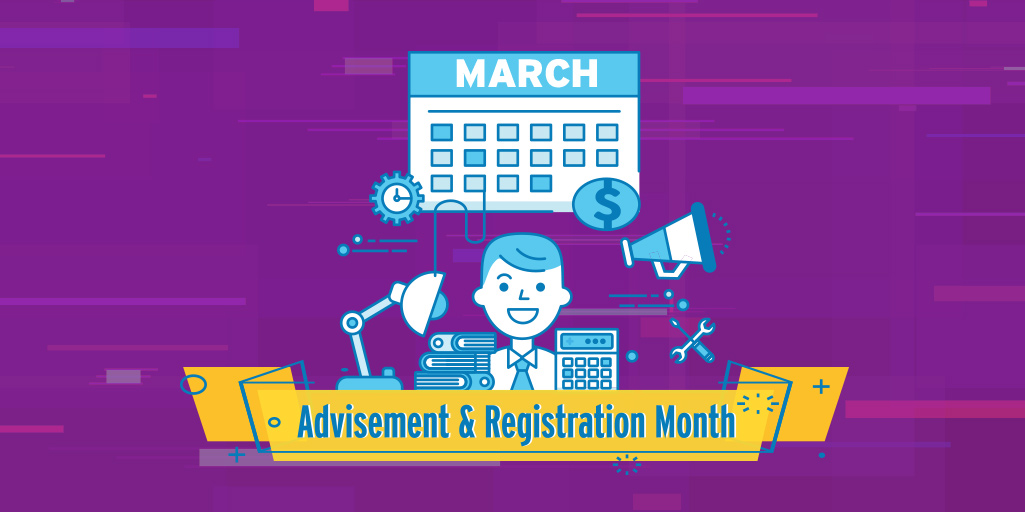 Fall 2020 Advisement and Registration begins this month!
Advantages to registering in March:
You will be able to get the classes you need to stay on track towards graduation

You will be able to get the schedule that works best for you

You don't have to pay now; just register for the classes you need

You can register for the next course in a sequence without waiting for your current semester grades
On the Spot Advisement and Registration
On Wednesday, March 18, 2020 from 11 a.m. to 3 p.m. in the Science Building Lobby- Outside of rooms S-111 and S-112
View the event for more details

Attention Freshmen: We urge you to make an appointment in Starfish to speak with your adviser before registering for classes, to make sure you are taking the required courses for your degree program.
Queensborough Academy Adviser
Personal academic advisement is a key ingredient of the Queensborough Academies. You are assigned an Queensborough Academy Adviser who becomes your personal guide throughout your college career at Queensborough through program planning, selection of courses, understanding of degree requirements, and more. Your Queensborough Academy Adviser is your "go-to" person at the college.
Business Academy Advisement Center, L-430, 718.631.6329
Academy Lead Adviser Ms. Natalie Roopchand
Academy Advisers: Ms. Kendra Mason, Ms. Carla McIntosh, Ms. Crystal Moscat
College Office Assistant Vacant
Health Related Sciences Academy Advisement Center, L-430, 718.631.6329
Academy Lead Adviser Ms. Gail Camille Patterson
Academy Advisers: Mr. Arthur Abramov, Ms. Deborah Karlin, Ms. Sabera Saadullah
College Office Assistant Ms. Wenmey Ting
Liberal Arts Academy Advisement Center, L-434, 718.631.6329
Academy Lead Adviser Ms. Sandra Sacrestano
Academy Advisers: Ms. Adrienne Crosson, Ms. Patricia Beale, Ms. Mary Casatelli, Mr. Andre Coombs, Mr. Matthew Flood, Mr. Mark Tullio, Mr. David Buckner
Part-time Academy Advisers: Ms. Ellen Faughnan, Ms. Haang Fung
College Office Assistant Vacant
Science, Technologies, Engineering and Mathematics Academy (STEM) Advisement Center, L-430, 718.631.6329
Academy Lead Adviser Mr. Scott Beltzer
Academy Advisers: Mr. Ryan Brannan, Ms. Kadiffa Brown, Ms. Edna Spencer
College Office Assistant Ms. Jacqueline Pierre
Visual and Performing Arts Academy (VAPA) Advisement Center, L-430, 718.631.6329
Academy Lead Adviser Mr. William Duque
Academy Adviser: Mr. Salvatore Pisciotta
College Office Assistant Ms. Monica Segura
Academic & Student Support Resources
Resources for Tutoring and Help
For Faculty
High Impact Practices
Dr. Kathleen E. Landy, Assistant Dean for Teaching and Learning | L 315 x5082
Academy Assessment
Dr. Victor Fichera, Principal Investigator for the Academy Assessment Protocol| A 302 x6643
Dr. Ian Beckford, Academic Affairs Director of Policy Analysis for General Education and Student Learning Outcomes | L-316x2161
Starfish Early Alert
Mr. Ed Molina, Starfish Technical Lead, Office of Academic Affairs | S 245 x 5603
Faculty Coordinators
Business Academy
Dr. Cheryl Tokke, Assistant Professor, Business | A 405 x5423
Ms. Hsiaofang (Sharon) Huang, Lecturer, Business| A-405 x6245
Health Related Sciences Academy
Dr. Cheryl Spencer, Professor, Nursing | M 322 x6085
Dr. Mangala Tawde, Associate Professor, Biological Sciences and Geology | M 215 x5506
Liberal Arts Academy
Dr. Anita Ferdenzi, Professor, Social Sciences| M 116 x5403
Mr. Benjamin Miller, Assistant Professor, English | H 456 x6617
Dr. Trevor Milton, Assistant Professor, Criminal Justice| M-121 x5570
Mr. David Rothman, Lecturer, English | H 324 x 5216
Dr. Agnieszka Tuszynska, Assistant Professor, English| H 428 x6302
Science, Technologies, Engineering & Mathematics Academy (STEM)
Dr. Moni Chauhan, Professor, Chemistry | S 443 x5573
Mr. Danny Mangra, Associate Professor, Engineering Technology | T 9 x5714
Visual and Performing Arts Academy (VAPA)
Mr. Arthur Adair, Assistant Professor, Speech Communication and Theatre Arts | H 125 x5637
High Impact Practices Coordinators
Academic Service Learning
Dr. Steven Dahlke, Associate Professor, Music |H-140 x5531
Collaborative Assignments and Projects
Ms. Alisa Cercone, Lecturer, English | H 428 x5209
Dr. T. Kiki Byas, Assistant Professor, English | H-428 x5530
Common Intellectual Experiences
Dr. Robin Ford, Assistant Professor, English | H 416 x5392
Diversity/Global Learning
Dr. Meg Tarafdar, Assistant Professor, English | H 428 x5311
Undergraduate Research
Dr. Sharon Lall-Ramnarine, Professor, Chemistry | S 442 x5572
Writing Intensive
Dr. Elise Denbo, Assistant Professor, English |H-428 x5356
Dr. Robert Donley, Assistant Professor, Mathematics & Computer Science |S-332 x5581
Dr. Larisa Honey, Assistant Professor, Social Sciences | M 120 x6014