Undergraduate Research at QCC
Undergraduate Research
The CUNY Research Scholars Program at Queensborough Community College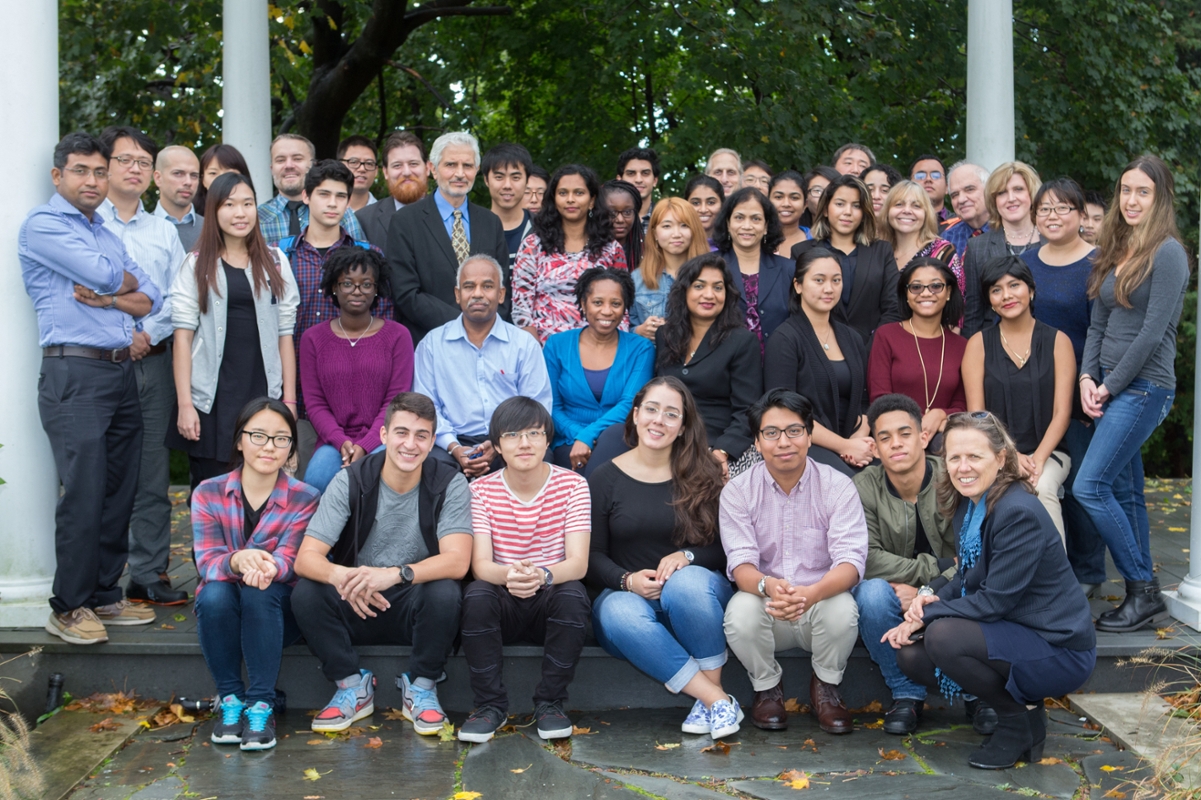 QCC CUNY Research Scholars Program Mentors and Students at 10-21-16 Orientation

Now Accepting Applications
The Undergraduate Research Committee at Queensborough invites faculty-student teams to apply for the 2017-2018 CUNY Research Scholars Program. The application must be submitted by a QCC faculty member. This program provides funding for students to engage in individual research projects with faculty mentors in Science, Technology, Engineering, Mathematics (STEM) and Social science. Full-time associate degree students at any level of their academic career with a minimum GPA of 2.7 can participate.
The 2017-2018 cycle of the program will provide funding for thirty student-faculty pairs in the form of a $5,000 stipend for each student and $1,200 for the faculty mentor. Faculty will be funded to mentor or co-mentor a maximum of two students.
Successful student applicants are expected to participate in the laboratory (or computer laboratory) experience for one full academic year plus a summer and complete 400 hours of research/independent study. In addition to participating in research, student interns are expected to attend workshops on laboratory safety, responsible conduct in Research and weekly research/scientific career related workshops. Student interns are also expected to present a poster/talk at the college level in the fall semester and at the CUNY summer symposium. Student interns who do not complete the entire program and attend the program events will not qualify for the entire stipend.
STEM and Social Sciences faculty members who plan to mentor undergraduate research students this year are invited to apply for these scholarships together with their student mentees. Guidelines for mentor applications and Information sessions will be held in CETL (Room L-313) on Friday, September 8th from 10:00 am to 11:00 am as well as in S-420 on Wednesday, September 13th from 12:10 pm to 1:00 pm. Student mentees are welcome to attend these events.
Additional program guidelines (PDF) opens in a new window
The deadline for submitting complete applications with faculty and student information is 11:59 pm on Friday September 15, 2017. Please submit a faculty application opens in a new window. Research students will be e-mailed a separate link to submit their information upon submission of the faculty application. A review process will be conducted and the recipients of the scholarships will be announced no later than Monday, October 2nd.
Sharon Lall-Ramnarine
Campus Director for the CUNY Research Scholars Program
Campus Coordinator for Undergraduate Research
Professor
Department of Chemistry, Science Building 442
Queensborough Community College, CUNY
222-05 56th Avenue, Bayside, NY 11364
Phone: 718-281-5572; Fax: 718-281-5078
Conference Presentation Opportunities
Seeking Strategies for Undergraduate Research Programs Success? Then don't miss CUR's "Undergraduate Research Programs: Undergraduate Research Collaborations" Conference.
Conference Dates: June 27-29, 2017 — Northern Arizona University, Flagstaff
DEADLINES:
All abstracts and proposals: January 17, 2017

Early bird registration: April 24, 2017

Final registration: May 31, 2017
Do you have something to share: a great program, unique process, assessment initiatives, or an interesting and exciting aspect of your undergraduate research program? Are you ready to network and learn from your colleagues? This conference is for you and is designed for programs at any stage, including the development phase! Be a part of it! Session topics include (but are not limited to):
Themes:

High Impact Learning Strategies: Methods, approaches, courses and practices that have proven very effective in achieving learning outcomes that incorporate undergraduate research. This can include the retooling of existing courses, applied research in courses and imbedded research projects within courses.
Undergraduate Research Administration and Budgeting - Nuts and Bolts: Approaches that have proven effective in managing and organizing undergraduate research and/or in funding the means by which the research can be undertaken. Budgeting innovations, successful central strategies, institutional support etc. are all applicable.
Assessment: Strategies for evaluating undergraduate research projects, using data to improve the experience or providing feedback for funding support.
Internationalization: Incorporating an international element to undergraduate research, including research-based travel, media-assisted collaboration, data exchange or the mechanics of organizing an international undergraduate research component.
Undergraduate Research Collaborations: Examples of effective partnerships with undergraduate researchers, pairing strategies, team projects, the ethics of collaboration in undergraduate research.
Diversity in Research: Effective strategies for promoting diversity-serving undergraduate research, undergraduate research that informs diversity issues, collaborations that have brought in diverging perspectives to undergraduate research.
Session formats vary from panels, 75-minute interactive sessions, 10-min short presentation, and poster sessions.
---
Important note: CUR is asking that if you submitted or plan to submit an application to host CUR URPD 2019, please contact Tavia Cummings as soon as possible.
Student Presentations at Conferences
2016 Society for Advancement of Chicanos/Hispanics and Native Americans in Science (SACNAS)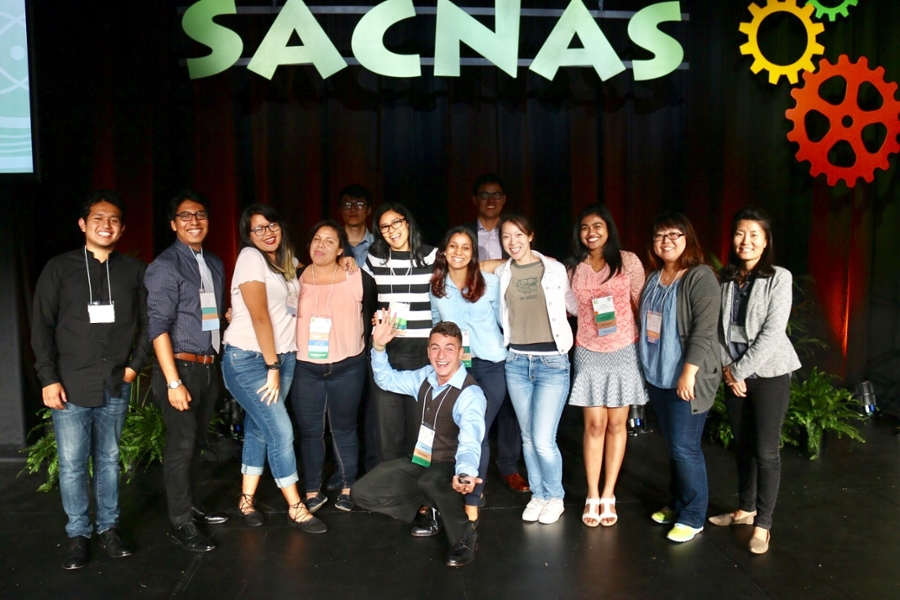 2016 Society for Advancement of Chicanos/Hispanics and Native Americans in Science (SACNAS)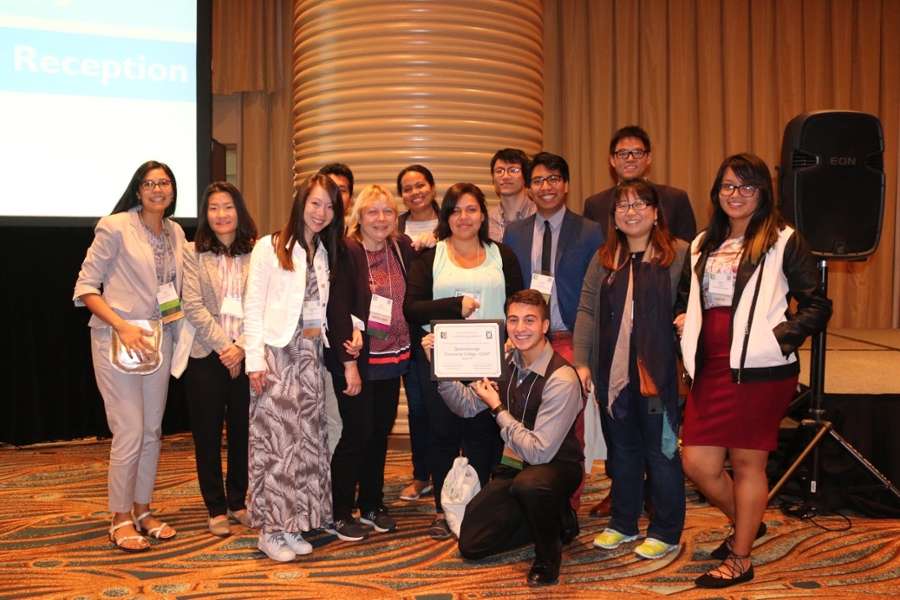 2016 Society for Advancement of Chicanos/Hispanics and Native Americans in Science (SACNAS)
Internship Opportunities
DOE Scholars Internship Program - Application Open Through December 15, 2016
Scientific research conducted through the U.S. Department of Energy (DOE) supports an improved quality of life for all Americans. With a mission focused on discovering solutions to power and to secure America's future, DOE is committed to:
Energy security
Nuclear security
Scientific discovery and innovation
Environmental responsibility
Management excellence
What is the DOE Scholars Program?
The DOE Scholars Program offers unique opportunities that introduce students or post-graduates to the agency's mission and operations. Participants in the DOE Scholars Program gain a competitive edge as they apply their education, talent and skills in a variety of scientific research settings within the DOE complex.
CUNY Summer Undergraduate Research Program (CSURP)
What is CSURP?
The CUNY Summer Undergraduate Research Program (CSURP) provides undergraduate students with a unique, hands-on research experience. The program matches students with a faculty mentor conducting research in one of five research disciplines:

Environment Science
Nanoscience
Neuroscience
Photonics
Structural Biology

For 10 weeks, students perform research under the guidance and supervision of their faculty mentor. The program culminates in a poster session in which students present their research to peers, faculty and administrators.

What are the benefits of CSURP?
Students accepted into the program receive:
$4,000 stipend (taxable)
Monthly MTA unlimited MetroCards
Optional limited university housing at no cost
10 weeks of hands-on research with a faculty mentor
Weekly seminars featuring a mix of current research, career development workshops and tours of local institutions
UR Team Composition
Fall 2017
Department: UR Team Representative
Art & Design: Kathleen Wentrack

Biological Sciences & Geology: Andrew Nguyen

Business: Christina Manzo

Chemistry: Sharon Lall-Ramnarine

Engineering Technology: Michael Lawrence

English: Melissa Dennihy

Foreign Lang. & Literature: Wei Lai

Health, Phys Ed., & Dance: Andrea Salis

History: Frank Jacob

Library: Christine (Mi-Seon) Kim

Mathematics & Computer Science: Andrew Bulawa

Music: Steven Dahlke

Nursing: Georgina Colalillo

Physics: M. Chantale Damas

Social Sciences: Lakersha Smith

Speech Communication & Theatre Arts: Franca Ferrari-Bridgers
QCC becomes a partner of The Community College Undergraduate Research Initiative (CCURI)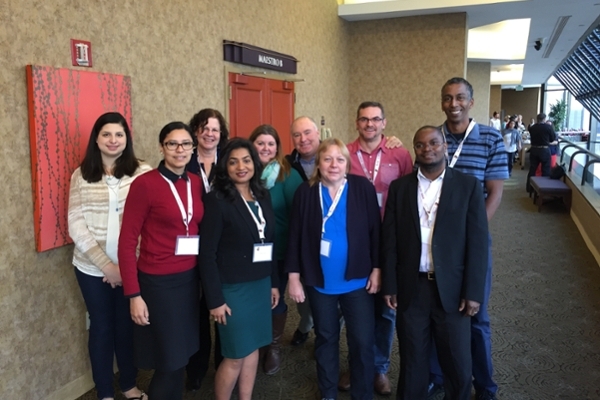 QCC team at the Community College Undergraduate Research Initiative (CCURI) meeting in Philadelphia, November 10-13, 2016.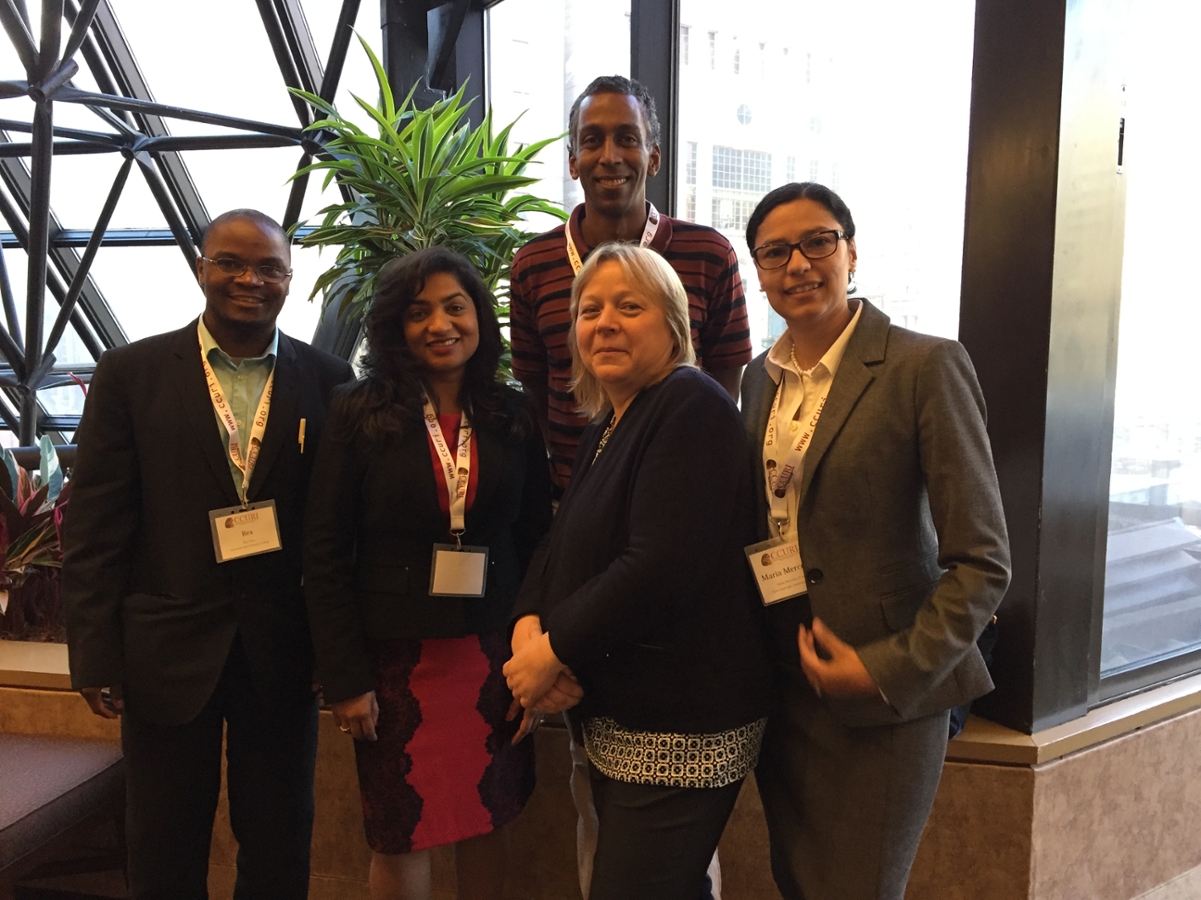 Special Announcement on 2017 NASA Glenn Faculty Fellowship Program (NGFFP)
NASA John Glenn Research Center (GRC) in Cleveland, Ohio, is accepting applications from full-time, qualified STEM faculty in accredited US colleges and universities, for the summer 2017 NASA Glenn Faculty Fellowship Program (NGFFP), tenured at GRC. The ten-week Fellowship starts on Monday, June 5, through Friday, Aug. 11. The opportunity is open to mainly US citizens. Minority Serving Institutions (MSIs) and women, under-represented and under served faculty members are encouraged to apply. The application period for the 2017 NASA Glenn Faculty Fellowship Program (NGFFP) opens on Monday, December 5, 2016 and closes at 11:59 PM (EST) on Thursday, February 16, 2017. The ten-week stipends for Faculty Fellows are: Assistant Professor $14,000 Associate Professor $15,000 Full Professor $16,000​.
The application form and instructions are readily available at the website:
NSF - REU in Nanotechnology/Biomedicine at University of Georgia (Summer 2017)
The University of Georgia focuses on hands-on and interdisciplinary research experience at the interface of nanotechnology and biomedicine. More than 30 faculty participants from the College of Engineering, College of Arts and Science, and Medical School inspire students by creating an atmosphere of collaboration and creativity. Students will participate in interdisciplinary research projects that apply nanotechnology to specific biomedical problems. Each REU student will be co-mentored by paired faculty from the nanotechnology and biomedical disciplines on a collaborative research project.
PROGRAM INCLUDES
Hands-on research in state-of-the-art facilities
Weekly career development seminars, workshops, and field trips
Group social activities
Presentations in research symposiums and BMES annual meeting in Phoenix, Arizona
ELIGIBILITY
Undergraduate students majoring in science or engineering
U.S. Citizen or permanent resident
Minorities and women strongly encouraged to apply
AWARD
$5,000 stipend
Travel allowance
Accommodation
Application deadline is February 19, 2017. Selections will be based on a combination of research interests, academic qualifications and faculty recommendations.
Program Dates: May 22, 2017 – July 28, 2017
Undergraduate Research Day at Queensborough Community College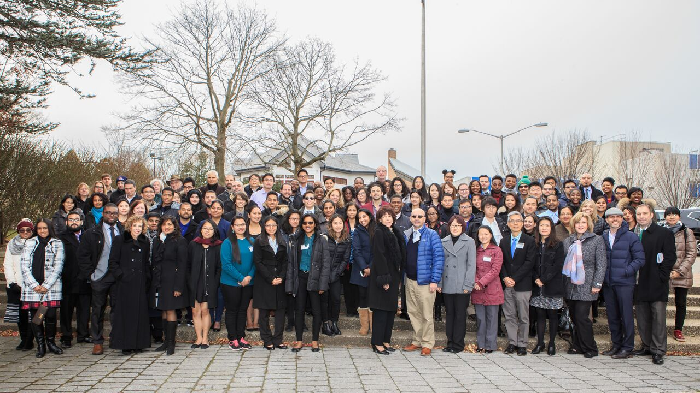 Undergraduate Research Day at Queensborough Community College Story
Students presented a total of 80 posters at the Undergraduate Research Day conference, providing a showcase of Queensborough's faculty-led undergraduate research efforts across the disciplines. The event, held on December 9 in the College's Student Union, was spearheaded by Dr. Sharon Lall-Ramnarine, Professor in the department of Chemistry. Approximately 150 students, faculty and staff attended the event.
Additional organizers were the College's Undergraduate Research Committee, the Community College Undergraduate Research Initiative (CCURI) team and the Center for Excellence in Teaching and Learning (CETL).  Queensborough recently partnered with CCURI, which incorporates undergraduate research into community college curricula to engage students at the beginning of their academic career. (Read the news story on the college website)
UR as HIP turns two!
Undergraduate research (UR) in higher education institutions is 200+ years old. And Queensborough has a strong history engaging students in research via stand-alone research courses, independent study courses, Honors pro- jects, paid or unpaid internships, and grant-funded programs.