Undergraduate Research at QCC
Undergraduate Research
2018 Undergraduate Research Day Program
Click
here
to view the 2018 QCC Undergraduate Research Program.
2018 Undergraduate Research Day at Queensborough Community College
Please join us on Friday, December 7, 2018, as we showcase faculty-mentored undergraduate research efforts by students. The Across the Disciplines Undergraduate Research Showcase will take place in two parts:
10 AM - 12:00 PM in the Kupferberg Holocaust Center
KHC Student Research Fellows will give oral presentations
12:30 - 4:30 PM in the Student Union
All UR students and faculty will present posters
Presenters, please click here to submit an abstract by 11/23/18.
All faculty engaging students in all forms of UR are urged to participate with their students.
Please RSVP to undergraduateresearch@qcc.cuny.edu
2017 Undergraduate Research Day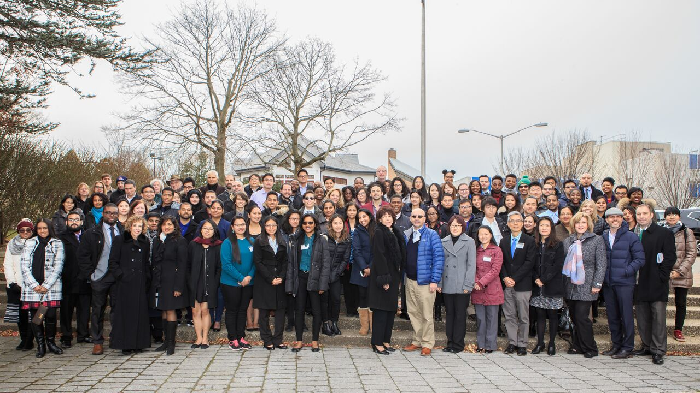 Undergraduate Research Day at Queensborough Community College Story
Students presented a total of 80 posters at the Undergraduate Research Day conference, providing a showcase of Queensborough's faculty-led undergraduate research efforts across the disciplines. The event, held on December 9 in the College's Student Union, was spearheaded by Dr. Sharon Lall-Ramnarine, Professor in the department of Chemistry. Approximately 150 students, faculty and staff attended the event.
Additional organizers were the College's Undergraduate Research Committee, the Community College Undergraduate Research Initiative (CCURI) team and the Center for Excellence in Teaching and Learning (CETL).  Queensborough recently partnered with CCURI, which incorporates undergraduate research into community college curricula to engage students at the beginning of their academic career. (Read the news story on the college website)
UR Team Composition
Fall 2018
Department: Research Committee Representative
Art & Design: Kathleen Wentrack

Biological Sciences & Geology: Andrew Nguyen

Business: Christina Manzo

Chemistry: Sharon Lall-Ramnarine

Engineering Technology: Dugwon Seo

English: Melissa Dennihy

Foreign Lang. & Literature: Melida Sanchez

Health, Phys Ed., & Dance: Rezan Akpinar

History: Clarence Hall

Library: Christine (Mi-Seon) Kim

Mathematics & Computer Science: Andrew Bulawa

Music: Scott Litroff

Nursing: Georgina Colalillo

Physics: M. Chantale Damas

Social Sciences: Lakersha Smith

Speech Communication & Theatre Arts: Franca Ferrari-Bridgers

Office of Academic Affairs: Dean Shiang-Kwei Wang

Office of Sponsored Programs: Moira Adams