Office of the President
Office of the President
Welcome from the President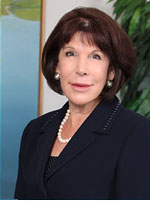 Dear Friends,
Welcome to Queensborough Community College.
For more than fifty years, Queensborough has served students from the entire New York City region as a starting place to pursue their academic and career goals by providing a quality, affordable education in a supportive environment.
Queensborough proudly reflects the local Queens community—the most culturally diverse county in the United States. We distinguish ourselves from other higher education institutions in America with our ethnic diversity, including nearly equal populations of African Americans, Asians, Caucasians and Latinos. In fact, more than one-fifth of our students were born in other countries, and 34% speak a language other than English at home.
Our recent surge in enrollment brings the student population to more than 15,000 students enrolled in Associate degree or certificate programs, and another 10,000 students attending continuing education programs on our campus. Accredited by the Middle States Commission on Higher Education, Queensborough Community College offers Associate in Arts (A.A.), Associate in Science (A.S.), and Associate in Applied Science (A.A.S.) degrees as well as transfer and career degree programs. The College also offers non-credit courses, certificate programs, and access to the visual and performing arts.
The top two reasons students attend Queensborough are to transfer to a four-year college or university—over half of our students transfer to a four-year CUNY college after earning their Associate degree—and to obtain the necessary skills for career advancement.
A key goal for the College is to provide an academic environment that strengthens students' commitment and makes it possible for them to graduate or complete their goals in a timely manner.
Our nationally recognized Queensborough Academies offer every first-time, full-time student personalized academic and student support throughout their college career at Queensborough. While other colleges have implemented similar programs, Queensborough is the only community college to offer the initiative institution-wide, encompassing all of its programs of study. All of the five Queensborough Academies—Business; Health Related Sciences; Liberal Arts; Science, Technology, Engineering and Mathematics (STEM); and Visual and Performing Arts (VAPA)— provide special learning opportunities and activities, along with personalized guidance from Academic Advisers.
An important component of The Academies are high impact learning experiences such as service learning, writing intensive courses, internships, and educational opportunities at the College's three cultural resource centers, The Kupferberg Holocaust Resource Center and Archives, the QCC Art Gallery, and the Performing Arts Center. These enriched learning experiences serve to reinforce classroom teaching and deepen our students' commitment to their education.
Another hallmark of the College is research. Our faculty, 81% hold doctorates or terminal degrees, are actively engaged in community college pedagogical research to study and improve the teaching methodologies to benefit our students. They also conduct research in their academic disciplines, publish their findings, and compete internationally in academic forums. The faculty is equally dedicated to fostering critical thinking within a student-centered learning environment to provide students the space to pursue their own intellectual development.
As an entering student, you are encouraged to ponder your future beyond Queensborough—be it to earn your baccalaureate degree, or to advance to a professional career. Our faculty and administrative staff will help you to be successful in reaching your educational and professional goals. I wish you a rewarding experience while you are with us at Queensborough Community College, and the achievement of your goals and dreams in the years ahead.
Sincerely,
President