Undergraduate Research
2019 Undergraduate Research Day
Please click
here
to view the 2019 Undergraduate Research Day Photobook
2019 Undergraduate Research Day
The 2019 QCC UR Day will be held on Friday, December 6, 2019. All faculty engaging students in all forms of UR
are urged to participate with their students.
Click here to RSVP if you WILL present and attend the UR Day
The QCC UR Day is hosted by the Office of Academic Affairs, the QCC Research Committee, and the Center for Excellence in Teaching & Learning (CETL)
Sponsors: QCC Clubs & the CUNY Research Scholars Program (CRSP)
2019 UR Day Agenda
11:30 Registration and Poster set-up (Student Union Lobby)
12:30 Welcoming Remarks (Student Union Lobby)

Dr. Joan Petersen HIPs Undergraduate Research Coordinator
Dr. Timothy Lynch President, Queensborough Community College

12:40 Dr. Shiang-Kwei Wang, Dean for Research: Highlights of UR at QCC
12:50 Dr. Ron Nerio Research Program Director, Greetings from CUNY Office of Research
1:00 Group Photo (Stairs between Library & Administration Buildings)
1:15 Poster Session (Student Union Lobby)
3:00 Closing Remarks (Student Union Lobby)

Dr. Joan Petersen HIPs Undergraduate Research Coordinator

3:05 UR Networking Social (Student Union Lobby)
2019 Undergraduate Research Day Presenters, Abstracts and Poster Labels
Click here to view all accepted UR Day presenters and the assigned label IDs
Poster Guideline for Presenters
You may use an existing poster from a recent presentation regardless of the size. If you are printing a new poster, the guidelines are below. Posters will be printed from Wednesday, November 26 – December 5th. Faculty/students are required to take their posters on a flash drive to the assigned departments for printing.
Posters will be displayed on trifold poster boards (36'' x 48'') on tables or easels
Posters can be a single large poster (36" x 48" or any size that can fit on that board) or 8 ½ x 11 sheets secured onto the trifold
A trifold poster display board will be supplied to each presenter at the event
One poster will be allowed per student for work conducted in the summer or semester
Landscape format preferred
Posters printing will be divided in the following way:
POSTER PRINTING LOCATIONS
Chemistry Department – prints chemistry and physics posters (contact Andrew Xu at Txu@qcc.cuny.edu
Biology Department – prints biology, math and all other department posters (contact Terence Rohan at trohan@qcc.cuny.edu)
Engineering Technology Department – prints posters from engineering  (contact Jerry Sitbon at jsitbon@qcc.cuny.edu
CRSP Poster Template
2018 Undergraduate Research Day Program
Click here to view the 2018 QCC Undergraduate Research Program.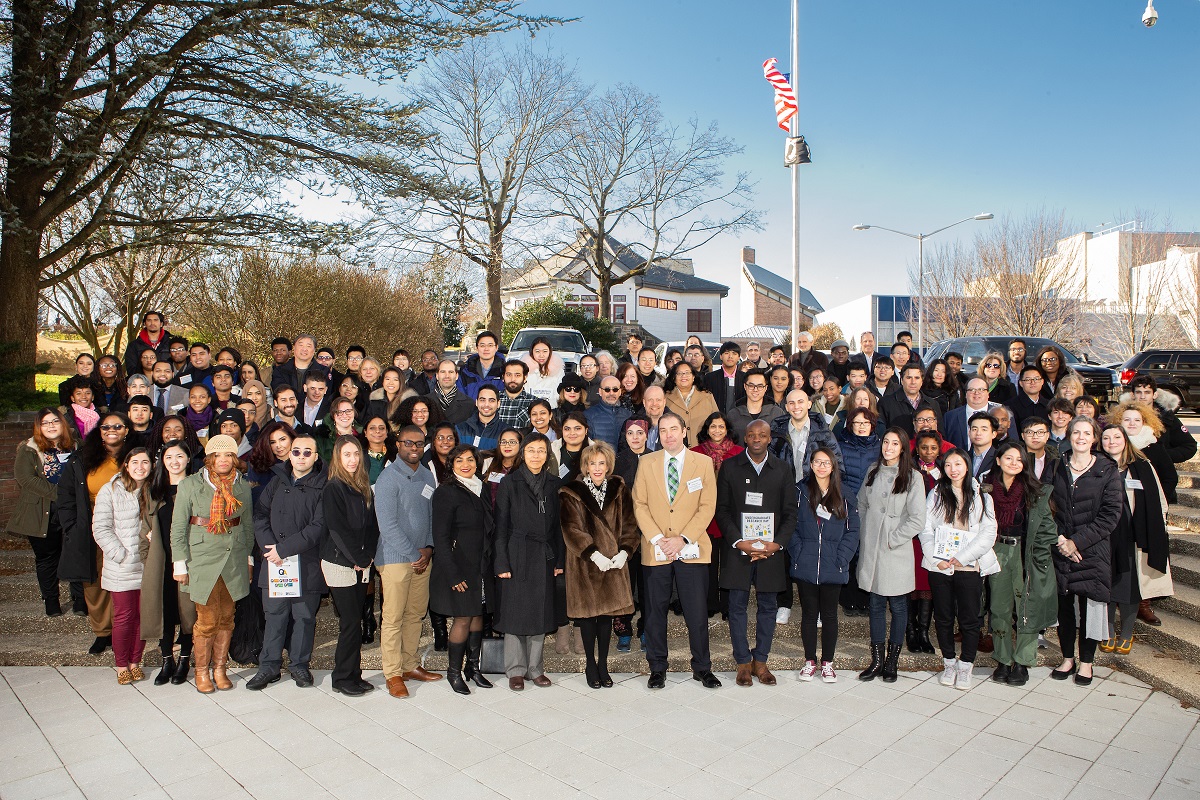 2018 UR Day Group Photo
2018 Undergraduate Research Day at Queensborough Community College
Please join us on Friday, December 7, 2018, as we showcase faculty-mentored undergraduate research efforts by students. The Across the Disciplines Undergraduate Research Showcase will take place in two parts:
10 AM - 12:00 PM in the Kupferberg Holocaust Center
KHC Student Research Fellows will give oral presentations
12:30 - 4:30 PM in the Student Union
All UR students and faculty will present posters
2017 Undergraduate Research Day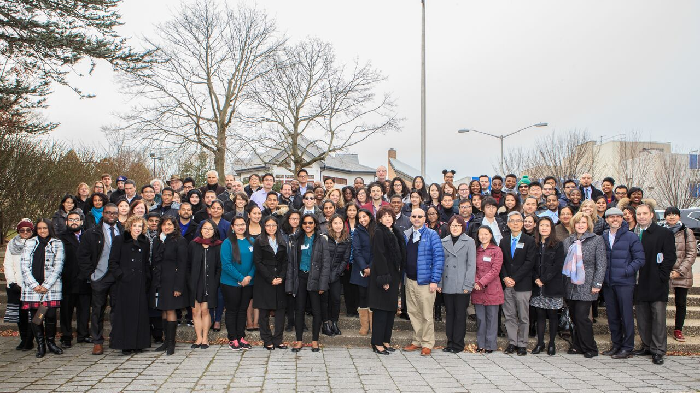 Undergraduate Research Day at Queensborough Community College Story
Students presented a total of 80 posters at the Undergraduate Research Day conference, providing a showcase of Queensborough's faculty-led undergraduate research efforts across the disciplines. The event, held on December 9 in the College's Student Union, was spearheaded by Dr. Sharon Lall-Ramnarine, Professor in the department of Chemistry. Approximately 150 students, faculty and staff attended the event.
Additional organizers were the College's Undergraduate Research Committee, the Community College Undergraduate Research Initiative (CCURI) team and the Center for Excellence in Teaching and Learning (CETL).  Queensborough recently partnered with CCURI, which incorporates undergraduate research into community college curricula to engage students at the beginning of their academic career. (Read the news story on the college website)
UR Team Composition
Fall 2018
Department: Research Committee Representative
Art & Design: Kathleen Wentrack

Biological Sciences & Geology: Andrew Nguyen

Business: Christina Manzo

Chemistry: Sharon Lall-Ramnarine

Engineering Technology: Dugwon Seo

English: Melissa Dennihy

Foreign Lang. & Literature: Melida Sanchez

Health, Phys Ed., & Dance: Rezan Akpinar

History: Clarence Hall

Library: Christine (Mi-Seon) Kim

Mathematics & Computer Science: Andrew Bulawa

Music: Scott Litroff

Nursing: Georgina Colalillo

Physics: M. Chantale Damas

Social Sciences: Lakersha Smith

Speech Communication & Theatre Arts: Franca Ferrari-Bridgers

Office of Academic Affairs: Dean Shiang-Kwei Wang

Office of Sponsored Programs: Moira Adams