CUNYfirst Tools
Techtool: CUNYfirst
What is CUNYfirst?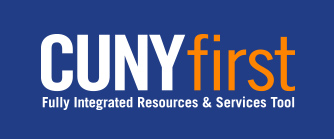 CUNYfirst is...
a Queensborough student going on-line to add a class. Within 24 hours, she receives a clear and comprehensible notification of any effects the changes she makes might have on her Financial Aid will affect how business functions are experienced by faculty, students and staff.
CUNYfirst is...
an employee applying and being selected for a position at another CUNY school. When she arrives at her new job, her up-to-date employment profile is on file, and she receives her correct pay on time, with all changes noted.
CUNYfirst is...
a Queensborough student registering for a class at another CUNY school with ease. With CUNYfirst, every student will have one identity across the entire CUNY system.
CUNYfirst is...
an Accounting Assistant clicking onto an icon on his screen to order items. Electronic authorization for the order is completed in seconds. Likewise, receipt of the delivered goods and traceable inventory are immediate.
CUNYfirst (Fully Integrated Resources & Service Tool) is the name of CUNY's Enterprise Resource Planning (ERP) project. It is an initiative to implement a single, unified ERP system on all of the CUNY campuses. CUNYfirst will play a key role in the transformation of the University and the promotion of an integrated CUNY. It is a suite of software that will replace aging computer systems overseeing Student Administration, Finance and Human Resources that have served CUNY for over a generation.
CUNYfirst represents a change process which will affect how business functions are experienced by faculty, students and staff.
What to expect with CUNYfirst
Students & Faculty
---
Admissions
Testing
Financial Aid
Advisement
Registration
Billing
Records - Grades & Transcripts
Faculty & Staff - Human Resources
---
Payroll
Pension
Benefits
Recruitment
Personnel Records
Business Services and Operations
---
Institutional Research
---
Data Collection
Reporting
Student FAQ's
What is the Student Center?
The Student Center consists of three areas:
Academics, including registration information
Finances, your account history, including an ability to view and pay your balance online, and an ongoing update of your financial record.
Personal information such as home address.
Can I get onto the CUNYfirst System through the CUNY Portal?
No. The CUNYfirst system requires a separate username and password to be entered.
How do I gain access to CUNYfirst?
In order to access CUNYfirst, you must first claim your CUNYfirst account,
Visit the CUNYfirst Website
Click "First Time Users" line at the bottom of the page
Enter your first name, last name, date of birth, and last four digits of your social security number
Click "OK"
Select your Challenge Questions and Anwers (you need five)
Choose a password
Click "OK"
I am an incoming new student. When and how do I register for classes on CUNYfirst?
All new incoming DEGREE students – freshmen and transfers – must meet with an academic adviser BEFORE they may register for any class. You will be notified by the Office of New Student Enrollment of your date for academic advisement.
Once you have received your appointment for advisement, you need to claim your CUNYfirst account. (Link to question/answer on claiming account.)
Freshmen: Your Freshman Coordinator will register you for your fall classes. Transfers: Your academic advisor will assist you in setting up an appointment for registration. Please take this opportunity to learn more about CUNYfirst's registration process.
What about new non-degree students?
You will receive direction on when and how to register in your letter of acceptance. Once you are accepted, you will need to first claim your CUNYfirst account before you may register. Academic advisement is not required for new non-degree students.
As a new incoming student, I am interested in taking summer classes. What do I need to do?
Try to register for summer classes AFTER you have met with your academic advisor, and for transfer students – after you have received your evaluation of accepted transfer credit. However, if that is not possible due to the time constraints with the start of summer classes, you may self-register for summer classes without academic advisement but you must be aware of the following two issues:
Many courses have pre-requisites and co-requisites. These are courses that must be completed or taken simultaneously before you may register for a specific course. This requirement includes completion of remedial work and/or satisfactory scores on or exemptions to the CUNY Assessment test.
Without academic advisement, please understand that your choice of course is not approved by a college advisor or freshman coordinator and, therefore, may not be part of your intended curriculum.
How do I change my classes on CUNYfirst?
In the CUNYfirst Student Center there is a "SWAP" feature in which the courses you request to change will automatically be swapped. You do not need to meet with an Advisor to change your classes.
NOTE: First semester freshmen must see their Freshman Academy coordinator to make any change to their class schedule.
What else will CUNYfirst do?
Additionally, you can:
View your complete student record, and an unofficial transcript can be downloaded and printed.
Make appointments with faculty via CUNYfirst, and schedule times convenient to both of you.
See your complete financial profile, including any financial aid in place for you.
View your tuition and fee balance, and pay by credit card online.
Receive live information streams and communications that let you easily stay connected.
Faculty FAQ's
What can faculty do with CUNYfirst?
Faculty can view rosters and class schedules, perform a class search, advise students, and assign grades. As advisors, faculty will benefit from the resources within CUNYfirst that allow access to the same information as seen by students. Different departments may have access to the same student at the same time, thereby eliminating wait time or the need to send students to different offices.
How will I have access to CUNYfirst?
Everyone (faculty, staff and students) will be given an ID and an initial password to sign into the system. At the first sign on, you will be required to change your password to something familiar to you. You will then be asked to give answers to five security questions of your choice so you can get help if you forget your password. You will change your password many times in a given year to ensure the security requirements that are needed to protect this system.
Can I have more than one role in CUNYfirst?
Yes. For example, let's say you are faculty chairperson. You will have access to CUNYfirst Student processes needed to do your job in your department. You may also have access to Human Resources processes in your role as someone who manages people or hires new employees. Additionally, you may have access to Finance processes for purchasing department or office materialsseeking reimbursement for expenses. With CUNYfirst, access to all functions with one sign-on is in one integrated system!
What are the processes under CUNYfirst?
There are three main areas at CUNY where new processes will be implemented – Finance, Human Resources and Student Administration.
Finance: General Ledger, Procurement (Purchasing, Accounts Payable, Expenses), Planning and Budgeting, Accounts Receivable, Asset Management, Cash and Deal Management.
Human Resources: Base HR Processes, Base Benefit Processes, Recruitment, Time and Labor, Leave Management and Payroll (interfaces with NY State and NYC).
Student Administration: Academic Structure, Course Catalogue, Schedule of Classes, Student Financials, Student Records, Financial Aid and Admissions.
If I am a student at the Graduate Center, but teach as an adjunct at Queens College, does that mean I will have two ID's and have to remember two passwords?
Every person in the CUNYfirst system has one record. That means you will be identified in the system for all that you are to CUNY. This allows for your information to follow you wherever you go and should speed up new employee procedures if you move to a new job at another campus.
What backup systems are in place to make sure CUNYfirst data won't be lost?
The CUNYfirst system is hosted by our partners from Oracle at a site in Atlanta, Georgia. That means our data and processes are going back and forth on the highest quality lines from New York to there. Each day, current CUNY data is replicated at a second site every 15 minutes. The systems are backed up every night. In case of a shutdown, a recovery plan has already been created to ensure a smooth transition to the backup data, and, when our technical teams have it available again, a smooth transition to our primary site.