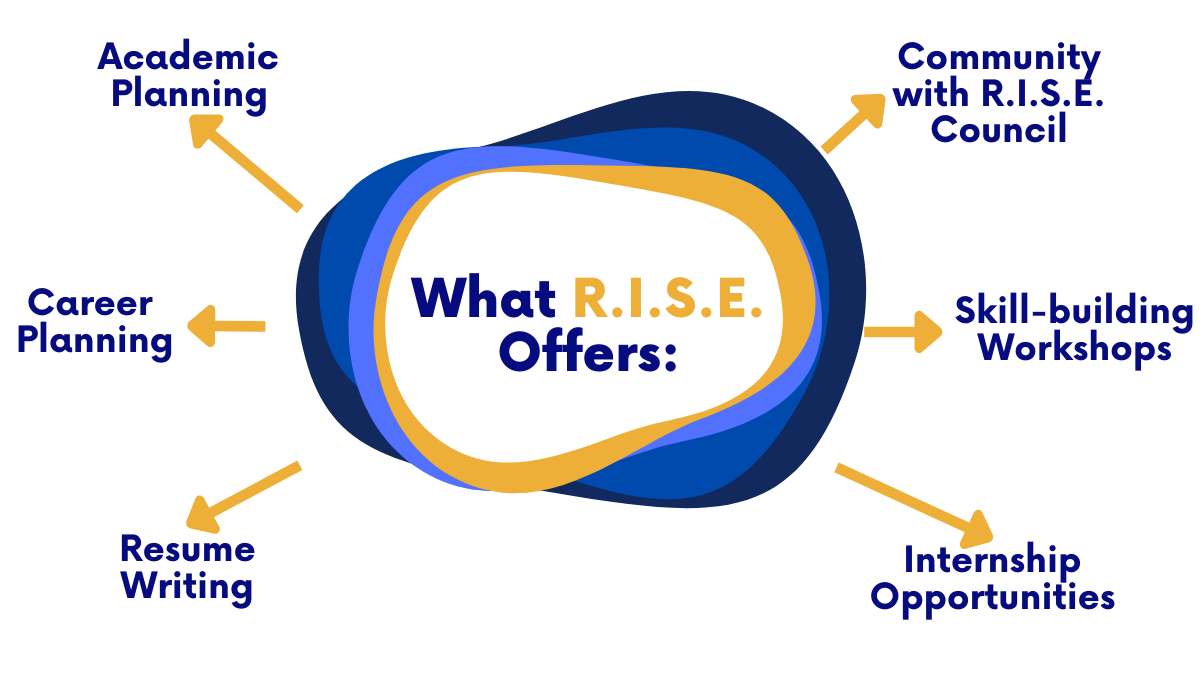 Explore, Plan, Achieve with R.I.S.E.
Discover your academic and career plan while preparing for a meaningful future through personalized planning with the R.I.S.E. program.
Explore

careers and majors to find which is right for you.

Plan

your time at QCC through Academic and Career Success plans.

Achieve

your graduation and employment goals.
Take the Next Step in Reaching your career goals with R.I.S.E.!
Discover your Career Plan. Prepare for a Meaningful Future!
What is R.I.S.E.?
R.I.S.E. 
is a resource for students made up of a community of Career and Technical Education (CTE) specialists who provide unlimited one-on-one meetings for prospective students, current students, and alumni to create a career plan. R.I.S.E. students prepare for a meaningful future through personalized planning to guide their academic and career journey.
Students enrolled in R.I.S.E. will:
Work with CTE Specialists to explore majors to find their right fit

Plan their time at Queensborough and create their roadmap to success

Know when to take the right classes

Know the best timeframe to participate in an internship

Learn how to identify valuable opportunities to complement their studies. 
This planning empowers students to achieve their academic and career goals together with their CTE Specialist.
CTE students are not alone on their journey! R.I.S.E. is committed to supporting CTE students from career exploration to graduation and employment.
What is CTE?
Career and Technical Education (CTE) gives purpose to learning by emphasizing real-world skills and practical knowledge within a selected career focus. CTE at QCC includes studies in all A.A.S. degrees.
Career & Technical Education (CTE) is a type of education that prepares you for real world high-wage, high-skill, in-demand careers in established and emerging industries. CTE emphasizes real-world skills and practical knowledge within a selected career focus. QCC works with industry partners to align your education with employer needs, getting you career ready!

What does this mean? That you are ready for a high-wage job straight after graduating with your A.A.S. degree!

It's More than a Major, It's a Career Path.

Students in CTE programs:

Participate in internships

Engage with mentors

Practice what they're learning with hands-on projects

Make valuable connections while exploring careers you can be passionate about!
A CTE Education prepares you to enter the workforce upon graduation.
What R.I.S.E. Offers
When you join the R.I.S.E. program, you'll have access to a customizable one-stop-shop that can guide you with:  
Free personalized academic and career planning 

 

Unlimited meetings with Career & Technical Education specialists with real-world industry knowledge

Mentorships in your field 

 

Skill-building workshops 

 

Resume writing, internship opportunities, and career exploration 

 
We're Here from Pre-Enrollment to Graduation and Beyond
Pre-Enrollment

Enrolled Students/Students Attending Classes

Post-Graduation/Alumni

Meet with our CTE specialists to do academic and career exploration to help you sort through your options.
We will help you navigate questions like "What do I really want to do?" and "What are my career goals?" and even "Is college right for me?"
We will provide you with in-depth information and counseling about A.A.S. degrees/CTE majors.

Our CTE specialists will help you create personalized academic and career plans based on your interests and what is important to YOU.
We help guide you through the goal-setting process.
We will talk you through picking the best major based on your career goals.
Our specialists will help you sequence your required courses so you don't have to be in school any longer than you need to be.
We will help you create and edit your self-marketing tools.
Our specialists will provide resume reviews and practice interviews.
Our CTE specialists are in communication with employers who inform what skills are needed in their industries.
We host regular skill-building workshops that can help academically, or make you a more competitive job candidate in your industry.

After getting to know you on your academic journey, members of our R.I.S.E. team are able to recommend you to potential employers and help guide you in your next steps.
We are more than happy to keep in continued communication to help you achieve your desired career path.
You still have access to all R.I.S.E. resources and workshops.
Join R.I.S.E. Today!
Take the initiative for your future and make the most of your academic experience! 
To join RISE, take a minute to fill out our questionnaire, and gain access to all of our benefits.
FAQs
Frequently Asked Questions about R.I.S.E.
I am not a QCC student, but considering it and need help deciding what program is best for me, can I join?
YES! RISE has events each semester for students considering CTE Credit & non-credit programs and will work with you individually to help find the program right for you.
This is my first semester at QCC, am I eligible to join?
YES! We welcome new students and hope to help support your educational and career journey to graduation and beyond.
This is my last semester at QCC, am I eligible to join?
YES! The last semester is sometimes just as hard as the first semester. We will help you keep focused and support any transitional needs you may have.
I know what I want to do after I graduate, how can you help me?
We can help by supporting your development of self-marketing materials, making connections to industry partners, and providing wrap-around support as it relates to employment or transferring.
I don't know what I want to major in, how can you help me?
Through Person Centered Planning, we can help you explore your strengths, interests and values, and match them to potential fields of interest. We can provide you with industry insight on potential careers you may have in mind, or connect you to professionals and peers in your area of interest.