Social Sciences
About Us
In addition to our disciplines of study, we offer the following programs:
The Claire Shulman Educational Technologies Center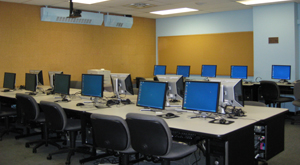 The Claire Shulman Educational Technologies Center is a multimedia facility located in the Medical Arts Building room 129.
The Center was made possible by a grant from the City of New York approved by the Honorable Claire Shulman, President, Borough of Queens.
A dedication ceremony was held on Wednesday, October 17, 2001 to honor Claire Shulman and her support of the center. Queensborough President, Dr. Eduardo J. Marti, and Chairperson for Social Sciences, Dr. Katherine Stabile presided over the ceremony officially naming the center the Claire Shulman Educational Technologies Center.
The facility was designed by Dr. Phillip A. Pecorino and the Queensborough's technical staff to provide for the implementation of a Distance Learning Computer Lab, a Multi-point videoconferencing center, live internet broadcasting of lectures and labs along with Homebound student access via internet connectivity.
---
The center contains 24 computer workstations each equipped with microphone headsets and connected to the Internet providing students with access to the world wide web.
To reserve the Computer Lab in M-129, please email or call Dr. Joseph Culkin, Chairperson.