Clubs and Awards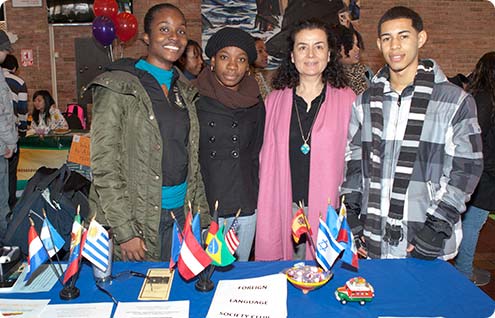 Clubs
The Foreign Language programs are enhanced by the activities of their clubs: the Foreign Language Society (current Advisor Umberto D'Arista) and the Asian Society Club (current advisors Dr. Mann Lin and Dr. Wei Lai). The Clubs holds meetings or activities most Wednesdays during the club hours of 12:00 to 2:00 PM. At the beginning of the semester a slate of officers for each club is elected by students.
Officers of each club plan activities and events under the guidance of a faculty advisor from the department. Their aim is to promote both cultural awareness and social interaction among students. To reach this goal, clubs arrange lectures, films, videos, and a variety of activities often with food and music from the culture they represent. The Foreign Language Clubs have received prizes in prior years from the Office of Student Activities, the latest recipients being H.O.L.A. Club and Foreign Language Society in the academic year 2006-2007.
Club members are also encouraged to take part in College-wide annual events such as Hispanic Heritage month (September 15 to October 15), Puerto Rican Day (during the last week of November), Steuben Parade (2nd week in September), and Italian Heritage month (October 15 to November 15). Special attention is paid to notable historical anniversaries, such as the French Film Festival that marked the bi-centenary of the French Revolution, and the observance of the 500th anniversary of Columbus's arrival in the New World.
In addition, language club members, accompanied by faculty, often make off-campus visits to relevant plays such as Mother Courage by Brecht (FL Society), The Imaginary Invalid by Molière (French Club); operas such as The Magic Flute (FL Society); or musicals such as Cabaret (FL Society). Club members also attend concerts and exhibits at museums such as the Metropolitan Museum of Art or the Museum of Modern Art or other museums exhibiting art of interest to club members.
Become a member or an officer and get involved in the life of a language club!