QCC Students Excel
Alumni Spotlight - Tiffany Rae, (aka Tiffany Brown)
We are thrilled to share the following article from the NY Times about former QCC Dance Major, Tiffany Rae, (aka Tiffany Brown).
A Choreographer and Her Girls Retell a Tragedy Through Dance
Tiffany Rae explores the Birmingham church bombing of 1963, in which four Black girls were killed, in a new dance video.
By Gia Kourlas
Dec. 22, 2020
For the choreographer Tiffany Rae, dance is a language, deeper and more articulate than words. "I'm better at showing you with dance what I need to say than actually talking," she said in a recent interview. "You will understand how I'm feeling."
Part of what drives Ms. Rae — apart from her innate love of dance — is exploring issues rooted in social justice and Black culture. Dance is a way to demonstrate both artistry and activism, and last summer she did both during a protest at Borough Hall in Brooklyn, where she chose dancing over speaking and, to her surprise, the crowd paid attention.
"Everyone sat down," she said. "We didn't even have to ask. It was just so amazing — thousands of people sitting down so everyone could see."
At that protest, Ms. Rae, 24, presented a version of "Underground," which examines the trauma that comes from fighting for racial equality and the continuous cycle of pain in Black communities. She said, "The power we had in our hands, in our faces — it gave a sort of stillness for everybody to be like, OK, this is the time to focus, this is the time to listen."
Alumni Spotlight - J'nae Simmons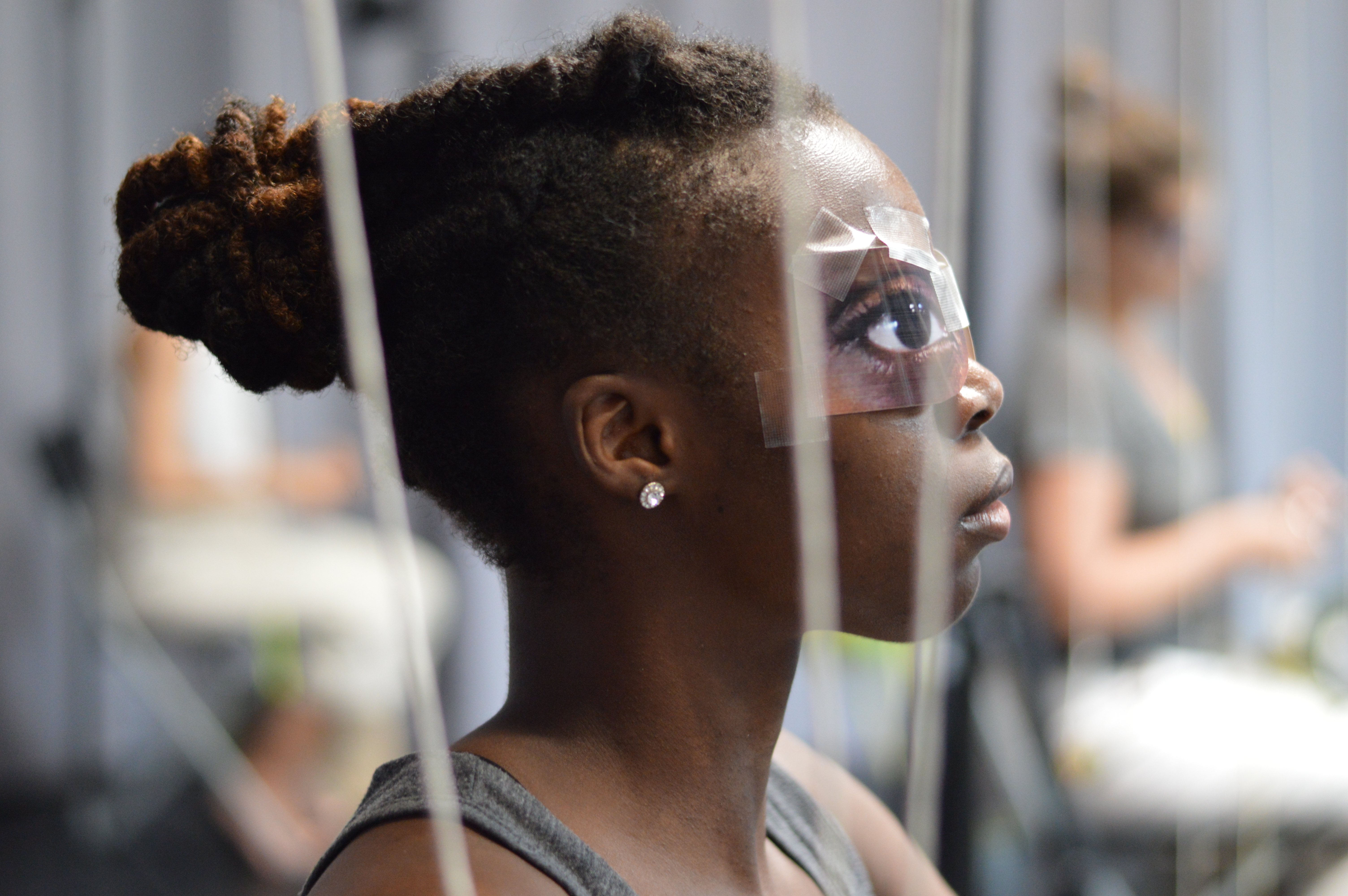 2014 AS in Visual and Performing Arts with a concentration in Dance from Queensborough Community College
2017 BFA in Dance with a minor in Personal Training from Long Island University - Brooklyn
NASM Certified Personal Trainer and Group Fitness Instructor
Freelance Dancer: Edisa Weeks/Delirious Dances, Netta Yerushalmy, Drastic Action, Wally Cardonna, Nathan Trice
I had the opportunity to speak with J'nae about her busy life working as a freelance dancer, a fitness trainer, group exercise instructor and choreographer.
J'nae talked about the ways in which QCC's Dance Program prepared her to complete her undergraduate dance training at LIU and for the professional dance world. "Before Queensborough, I didn't know how to carry myself professionally. I didn't know how to be who I wanted to be. At Queensborough I learned how to hone in and focus on what does being a dancer mean. I learned how to carry myself professionally and I learned…how to really be proactive."
J'nae explained to me the impact of the individualized attention she received at QCC. "Queensborough was a very intimate experience in terms of having faculty and administrators who were invested in the wellbeing of the students." She appreciates that the support she received from QCC Dance is continuing even today. "…even after attending a four-year University and then being in the dance world, I continue to get support  from the faculty at Queensborough…. (QCC Dance Program faculty) are always sending me (information about) auditions or shows or showing up to my shows ….. Just seeing you guys in the crowd. It's like you were there with me in the beginning, and you're still there with me now."
J'nae is currently working with Edisa Weeks/Delirious Dances on a three-part project called Three Rites: Life, Liberty, Happiness. She explained how she began working with Edisa. "I was able to audition for 6 choreographers at one time, which I think I found out about through (Dance Program Director) Emily (Berry). I think I was coming off of an injury at that point, and I just thought, 'I am going to go and give it my best and be seen.' Then I got an email, maybe four weeks …later, where Edisa said 'there is a project I am working on, and I would love for you to be a part of it.' I could hear myself saying in my head 'Oh my god, she wants me to dance with her. That's super great.'"
Three Rites explores the three rights which United States citizens are guaranteed in the Constitution: life, liberty and the pursuit of happiness. "It's about a lot of issues that I never really thought of, and I like being in processes like that where I am able to expand my mind and expand my movement as a dancer."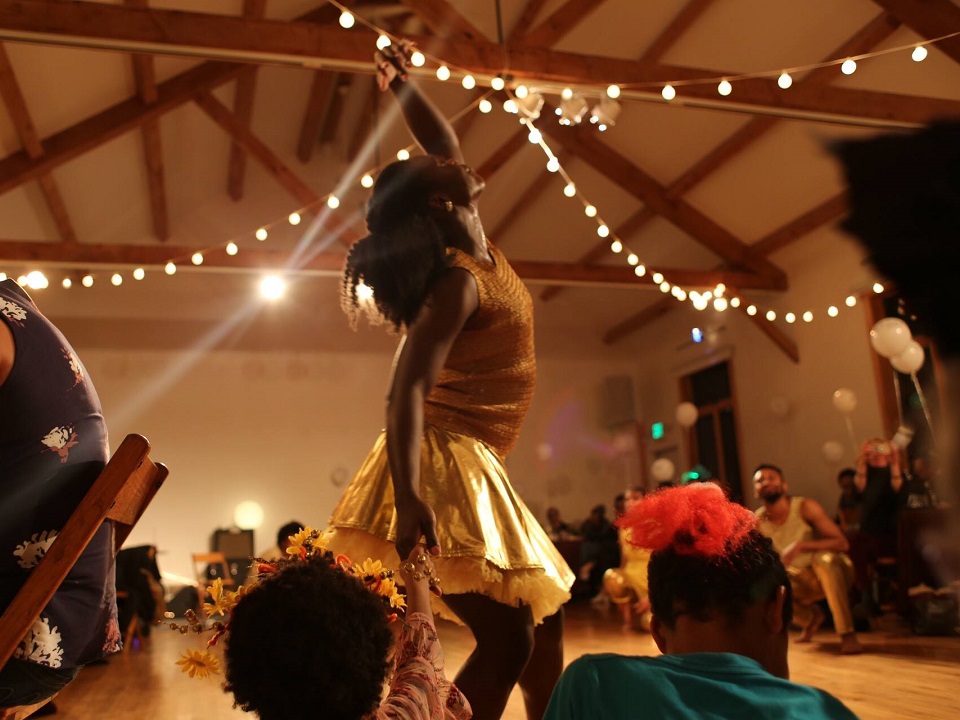 I asked J'nae to explain her involvement in the work. "I am part of the Life and Happiness portions of it. Edisa is exploring …how do we find happiness. Is happiness a journey? Life is touching base on … how the success of a country is determined, whether that is the gross domestic product or the quality of life of the residents."
A work-in-progress version of Life concluded a month-long residency the company had at Topaz Arts in Jackson Heights in June. In the performance, the dancers eyes are covered with enlarged images of their own eyes printed on paper. They performed this way, essentially blindfolded, for almost two hours.
"When I heard we were dancing with our eyes shut, I was like 'Oh no. I'm not a fan of the dark…. I am a very visual person.' It was a huge obstacle for me, but I think that being that I wasn't the only person that was going to be blindfolded helped." Some of the themes this section of the dance explores include sustainability and consumerism. "Working on the project has changed my thinking about the world. I am more mindful about how I am consuming, how I am purchasing things."
J'nae has worked with numerous other contemporary choreographers and dance companies in the two years since she graduated from LIU including: Netta Yerushalmy, Wally Cardona, Nathan Trice and Drastic Action. "I was able to take something away from the process with every single choreographer I worked with - whether that was expanding my brain capacity or learning how I am with people from different countries or different dance backgrounds."
J'nae is also working on her own choreography. She started making dances while at Queensborough. She is now revisiting a work called "Mild Shiift" which she performed as a solo last December at Gibney Dance Center. The upcoming version will include 6 dancers.
I asked J'nae how she got interested in working in fitness. She said, "I fell in love with it at LIU because of the dance wellness program." For her Personal Training minor at LIU, she took 4 classes that prepared her to sit for the NASM certifying exam.
How is she was integrating working in fitness and dancing? "I'm very busy. I love being busy and on the go. I'm a New Yorker." She appreciates that her schedule as a trainer is flexible in order to accommodate her rehearsal and performance schedule. Although the scheduling can be complicated at times, she talked about loving her work in fitness and finding it fulfilling to see people's relationships with their bodies develop in positive ways.
J'nae wanted to share a few pieces of advice with current QCC Dance students. "Soak up as much information as you can. Get out there and network, audition, talk to different people. That's what really helped me. Don't be afraid to come out of your comfort zone. Try different dance forms. The more exposure to different forms, the better, because you never know who you'll meet and when information you get now will come back to help you."
On the topic of auditioning she said, "Don't take things personally. The dance world is cut throat. You will hear a lot of 'no', but don't take it as 'no.' Take it as 'not yet.'" She wisely advised that if you really want to work with an artist or a company, you should invest in studying with them. "Maybe you will have to audition for things over and over before you get a job. That doesn't matter." She also shared this advice, "Give yourself space to not always be public, to recover." In our current culture of constant social media exposure, it's important to have time out to be yourself, to slow down, to rest.
Keeping Up with J'nae