President's Book Club
September 14, 2021
Dear Colleagues,
I thoroughly enjoyed our book discussions last fall and spring and getting to meet so many of you during our time together!
With many of us on campus this fall, the book club will now be offered in a 'hyflex' format. For those who wish to attend in person, we will meet in A-502. For those who prefer to join via Zoom, a link will be provided to join the session.
As always, the book club is open to all faculty and staff and there is no obligation to speak during the discussion. In the past, many colleagues have chosen to participate by listening.
For each book club selection, I will hold a 'hyflex' gatherings for up to 25 people each. The books will be sent to participants at no cost, but I do ask that each person select no more than one book. This will allow as many of our colleagues as possible to participate. Please see the links below for the date and time for each session and to register.
Please also note that the third book, Super Courses: The Future of Teaching and Learning will be divided into three sections and is limited to 25 people who are willing and able to meet all three times. Those dates are on the following Tuesdays: October 5, November 2, and December 7. All sessions are from 3:30 to 4:45pm.
If you participated in last year's book club discussions, you are more than welcome to join us again! And if you didn't get a chance in the past, I hope more of you will join me in the upcoming book discussions. The first option on September 22 is an article rather than a book so there will be time for you to read it before the meeting.
I sincerely appreciate the opportunity to come together over these good reads and extend my thanks to all who offered wonderful book recommendations for this semester. Having so many great choices reminds me of when I was a child and my mom would take me to the bookstore every Friday night to buy one book before running other errands. The feeling I had then was "like a kid in a candy store". I feel the same way now with all the wonderful new book suggestions I have received from you. It was very challenging to select only three. I look forward to reading the books I haven't yet had a chance to start!
I look forward to seeing you!
- Dr. Christine Mangino
Upcoming Book Discussions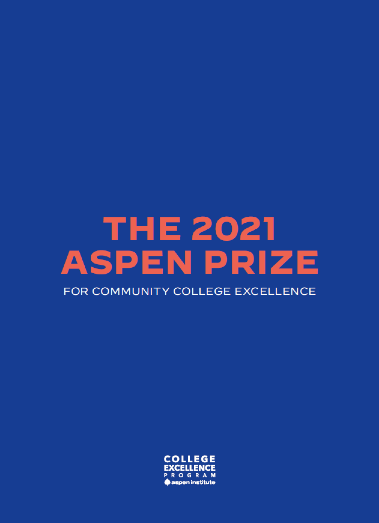 The 2021 Aspen Prize
This 20 page report highlights strategies being used by the top ten community colleges in 2021.
The Aspen Institute College Excellence Program aims to advance higher education practices and leadership that significantly improve student learning, completion, and employment after college—especially for the growing population of students of color and students from low-income backgrounds on American campuses.
The $1 million Aspen Prize for Community College Excellence, awarded every two years, is the nation's signature recognition for America's community colleges—as President Obama called it, "basically the Oscars for great community colleges." The Aspen Prize honors institutions with outstanding achievement in six areas: teaching and learning, certificate and degree completion, transfer and bachelor's attainment, workforce success, equitable outcomes for students of color and students from low-income backgrounds, and leadership and culture. By focusing on student success and lifting up models that work, the Aspen Prize aims to celebrate excellence, advance a focus on equitable student success, and stimulate replication of effective culture and practice.
Wednesday, September 22nd, from 10:00 to 11:15 a.m.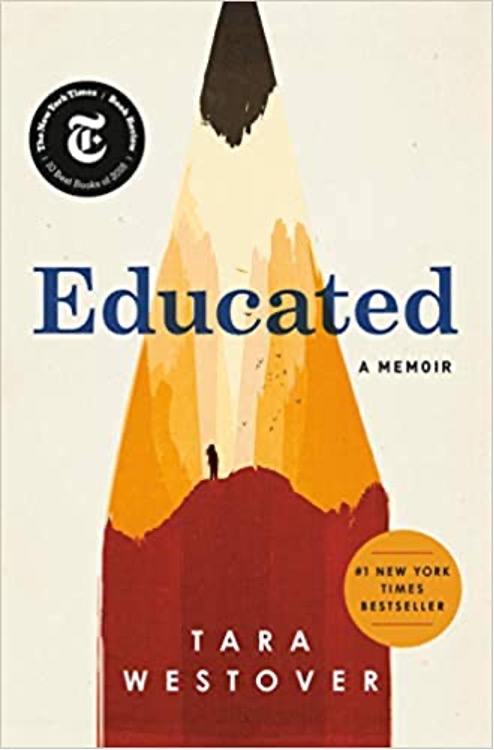 Educated
#1 NEW YORK TIMES, WALL STREET JOURNAL, AND BOSTON GLOBE BESTSELLER • One of the most acclaimed books of our time: an unforgettable memoir about a young woman who, kept out of school, leaves her survivalist family and goes on to earn a PhD from Cambridge University
"An amazing story, and truly inspiring. It's even better than you've heard."—Bill Gates
NAMED ONE OF THE TEN BEST BOOKS OF THE YEAR BY THE NEW YORK TIMES BOOK REVIEW • ONE OF PRESIDENT BARACK OBAMA'S FAVORITE BOOKS OF THE YEAR • BILL GATES'S HOLIDAY READING LIST • FINALIST: National Book Critics Circle's Award In Autobiography and John Leonard Prize For Best First Book • PEN/Jean Stein Book Award • Los Angeles Times Book Prize
Born to survivalists in the mountains of Idaho, Tara Westover was seventeen the first time she set foot in a classroom. Her family was so isolated from mainstream society that there was no one to ensure the children received an education, and no one to intervene when one of Tara's older brothers became violent. When another brother got himself into college, Tara decided to try a new kind of life. Her quest for knowledge transformed her, taking her over oceans and across continents, to Harvard and to Cambridge University. Only then would she wonder if she'd traveled too far, if there was still a way home.
"Beautiful and propulsive . . . Despite the singularity of [Westover's] childhood, the questions her book poses are universal: How much of ourselves should we give to those we love? And how much must we betray them to grow up?"—Vogue
NAMED ONE OF THE BEST BOOKS OF THE YEAR BY The Washington Post • O: The Oprah Magazine • Time • NPR • Good Morning America • San Francisco Chronicle • The Guardian • The Economist • Financial Times • Newsday • New York Post • theSkimm • Refinery29 • Bloomberg • Self • Real Simple • Town & Country • Bustle • Paste • Publishers Weekly • Library Journal • LibraryReads • BookRiot • Pamela Paul, KQED • New York Public Library
Monday, November 15th, 9:30-11:00
Super Courses: The Future of Teaching and Learning
Limited to 25 people who are willing and able to meet all 3 times. Tuesday October 5th, November 2nd, December 7th 3:30-4:45
For this book- it will be divided into 3 sections so please commit to meeting 3 times this semester to discuss the book.
Section 1: pgs. 1-80 (October 5th)
Section 2: pgs. 81-155 (November 2nd)
Section 3: pgs. 156-224 (December 7th)
From the bestselling author of What the Best College Teachers Do, the story of a new breed of amazingly innovative courses that inspire students and improve learning.

Decades of research have produced profound insights into how student learning and motivation can be unleashed—and it's not through technology or even the best of lectures. In Super Courses, education expert and bestselling author Ken Bain tells the fascinating story of enterprising college, graduate school, and high school teachers who are using evidence-based approaches to spark deeper levels of learning, critical thinking, and creativity—whether teaching online, in class, or in the field.

Visiting schools across the United States as well as in China and Singapore, Bain, working with his longtime collaborator, Marsha Marshall Bain, uncovers super courses throughout the humanities and sciences. At the University of Virginia, undergrads contemplate the big questions that drove Tolstoy—by working with juveniles at a maximum-security correctional facility. Harvard physics students learn about the universe not through lectures but from their peers in a class where even reading is a social event. And students at a Dallas high school use dance to develop growth mindsets—and many of them go on to top colleges, including Juilliard. Bain defines these as super courses because they all use powerful researched-based elements to build a "natural critical learning environment" that fosters intrinsic motivation, self-directed learning, and self-reflective reasoning. Complete with sample syllabi, the book shows teachers how they can build their own super courses.

The story of a hugely important breakthrough in education, Super Courses reveals how these classes can help students reach their full potential, equip them to lead happy and productive lives, and meet the world's complex challenges.
Tuesday October 5th, November 2nd, December 7th from 3:30 to 4:45 p.m.