About CLIP
CLIP is a special program that provides an opportunity to learners of English as a Second Language to improve their language skills before they begin taking credit bearing courses. The CLIP curriculum focuses on academic language to prepare students to be successful in college-level classrooms. In addition to learning how to read and write in English, students are taught how to effectively listen to and understand lectures, how to deliver oral presentations, and how to develop skills in studying, note-taking, test-taking, research, and using computer programs relevant at QCC.
Throughout the semester, students receive an orientation to the Queensborough Community College campus and to college life, in general. They attend presentations given by various college representatives from such offices as Advisement, the Writing Center, Financial Aid, and the library, as well as by representatives from different college departments.
CLIP Introduction Video
(English)
CLIP Introduction Video
(Spanish)
CLIP Introduction Video
(Chinese)
How CLIP Works
CLIP has different levels of study: Ranging from Beginner to Advanced.

Classes meet five days a week for five hours a day (25 hours each week)

Students have the opportunity to remain in CLIP for three semesters (up to one year of study).

Enrollment in CLIP is voluntary, and students are not required to remain in the program for the full three semesters, although it is highly recommended.
Who is eligible for CLIP?
In order to enroll in CLIP, students must first apply and be accepted by a CUNY college.

Students must be entering freshmen (or in their freshman year) that have not completed more than one semester at any CUNY college.

Students who have already attended one semester of CLIP may continue for two more semesters.

Students are eligible to attend CLIP if they have failed the same ESL course twice at a CUNY senior college and have been academically dismissed.

CLIP cannot accept students who hold an F1 visa.
Benefits of Attending CLIP
All CLIP classes are taught by highly experienced ESL instructors.

CLIP's specialized curriculum allows students to be maximally prepared for credit-bearing courses.

CLIP provides an extremely inexpensive alternative to other college developmental English courses.

Students receive instruction in a state-of-the-art computer lab for five hours each week where they can work on typing and word processing skills, do Internet research, use English language learning software, produce PowerPoint presentations, and visit websites of particular interest to ESL students.

Students receive advisement and support throughout the program on academic, financial aid, counseling, and other student-centered topics.

When students leave the program, they are fully oriented and familiar with how college works and how to be successful at QCC!
Class Schedule and Fees
CLIP classes meet 5 days a week for 5 hours each day. You are expected to be present for each class.
Spring 2023 Schedule
Classes start January 30, 2023 and end June 05, 2023
Summer 2022 Schedule

|   | Time | Modality |
| --- | --- | --- |
| Morning Sections | 9:00am – 2:30pm | In-Person |
| Evening Sections | 5:00pm – 10:00pm | Hybrid |
Summer 2023 Schedule
Classes start June 26, 2023 and end August 04, 2023
Fall 2022 Schedule

|   | Time | Modality |
| --- | --- | --- |
| Morning Sections | 9:00am – 2:30pm | Hybrid |
| Evening Sections | 5:00pm – 10:00pm | Hybrid |
CLIP is a special program that is funded by CUNY. Students in CLIP only pay a small fee for each semester.
NYS residents (minimum of 1 year): $180 for fall and spring | $75 for summer
Non-NYS residents (or less than 1 year): $450 for fall and spring | $180 for summer
College Discovery, SEEK students and Public Assistance recipients:
$45 for fall and spring | $18 for summer
Instructors & Staff
Administrative Team:
Dr. Maz Nikoui, Director
Ms. Monica Gonzalez, Assistant Director
Ms. Lisa Sita, Program Advisor
Ms. Adriana Kaufman, Office Assistant
Ms. Toula Kontonikolaou, Office Assistant
How to Contact us
Hours of operation: Monday through Friday from 9 a.m. to 5 p.m.
(718) 281-5460 | CLIP@qcc.cuny.edu
Location: CLIP is located in the Y2 Building in Room 2 at Gate 5 along 56th Avenue.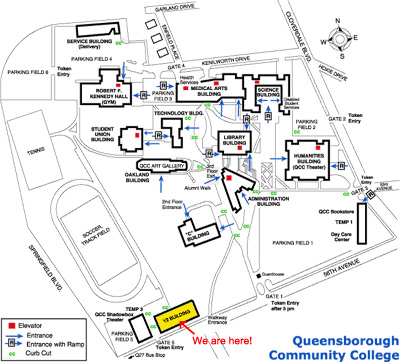 Information Request Form
Request Information
To request information on CLIP, please fill-out the online request form below. You can also email us directly at CLIP@qcc.cuny.edu.