Faculty Research in Physics
Dr. Jillian Bellovary: Origins of Black Holes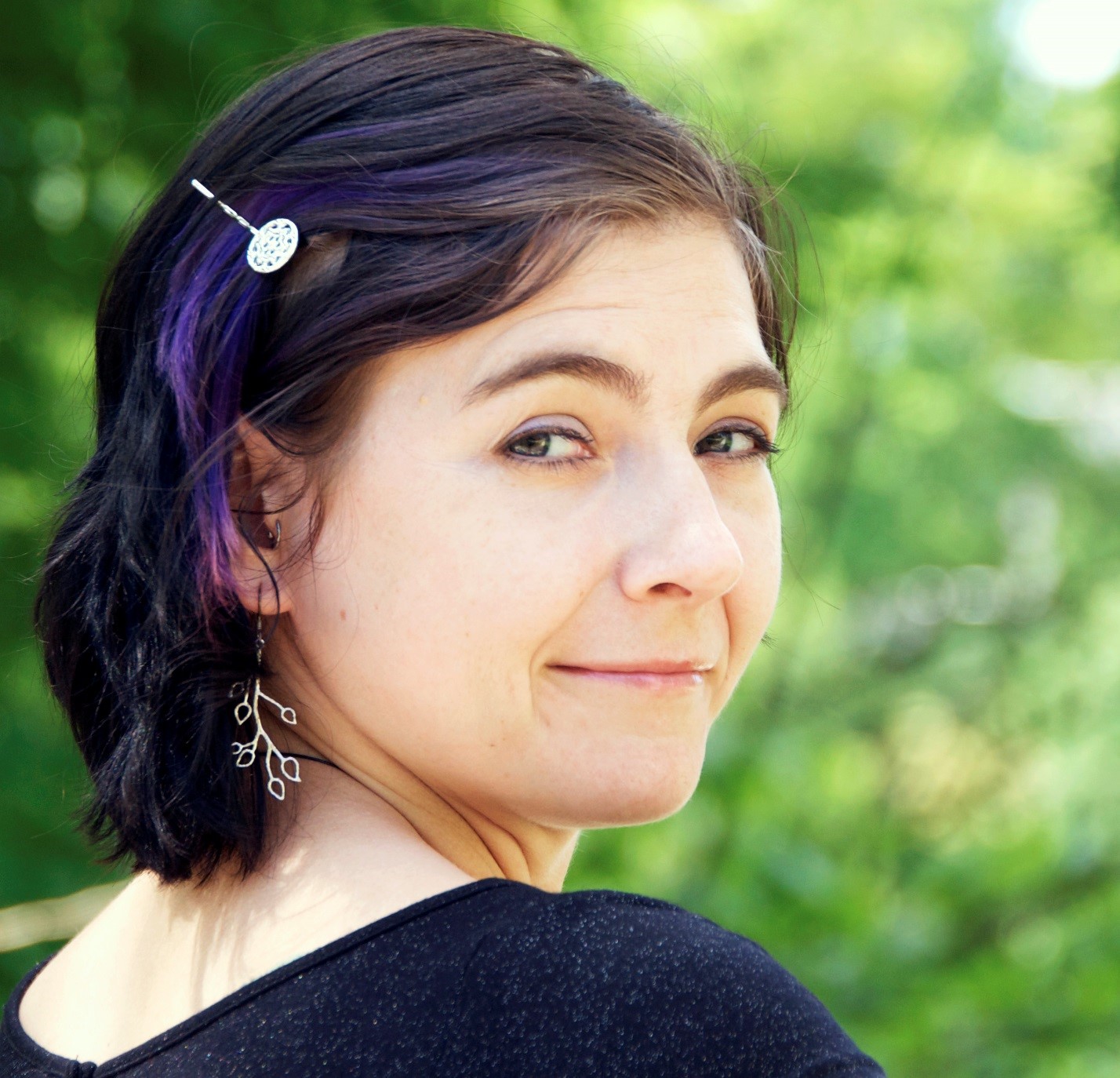 Dr. Jillian Bellovary is a physics professor at QCC who studies black holes. She is most interested in intermediate-mass black holes, which have masses between the regular and supermassive kinds. We're not sure they exist, so she studies them using computer simulations. Professor Bellovary examines how they might form and evolve, and how they interact with their environments. She predicts that we can find them in dwarf galaxies, or wandering in the halos of larger galaxies. She also thinks they could form in the environments of supermassive black holes. Professor Bellovary is also interested in detecting the gravitational waves that are emitted when black holes merge. Her goal is to make a lot of predictions, so that when the next generation of gravitational wave detectors comes online, some of her predictions might actually turn out to be correct.
Supermassive black holes are some of the heaviest, densest objects in the universe! They are usually found at the centers of massive galaxies. But, we don't understand how they got there! When did they form? How do they get to be so big?
Professor Jillian Bellovary is trying to answer these questions using computer simulations. She uses a program called ChaNGa, which combines the laws of physics and with the ways we think the universe works, to create groups of simulated galaxies. In these galaxies, baby supermassive black holes form. She studies how these black holes form, grow, merge with each other, and affect their surroundings. You can help!
This project will make important predictions for a gravitational wave detector that is being designed and built right now. It's called LISA, the Laser Interferometer Space Antenna. Professor Bellovary hopes that she and her students can predict what LISA will detect, which will help us understand how cosmic structure is built at the very beginning of the universe.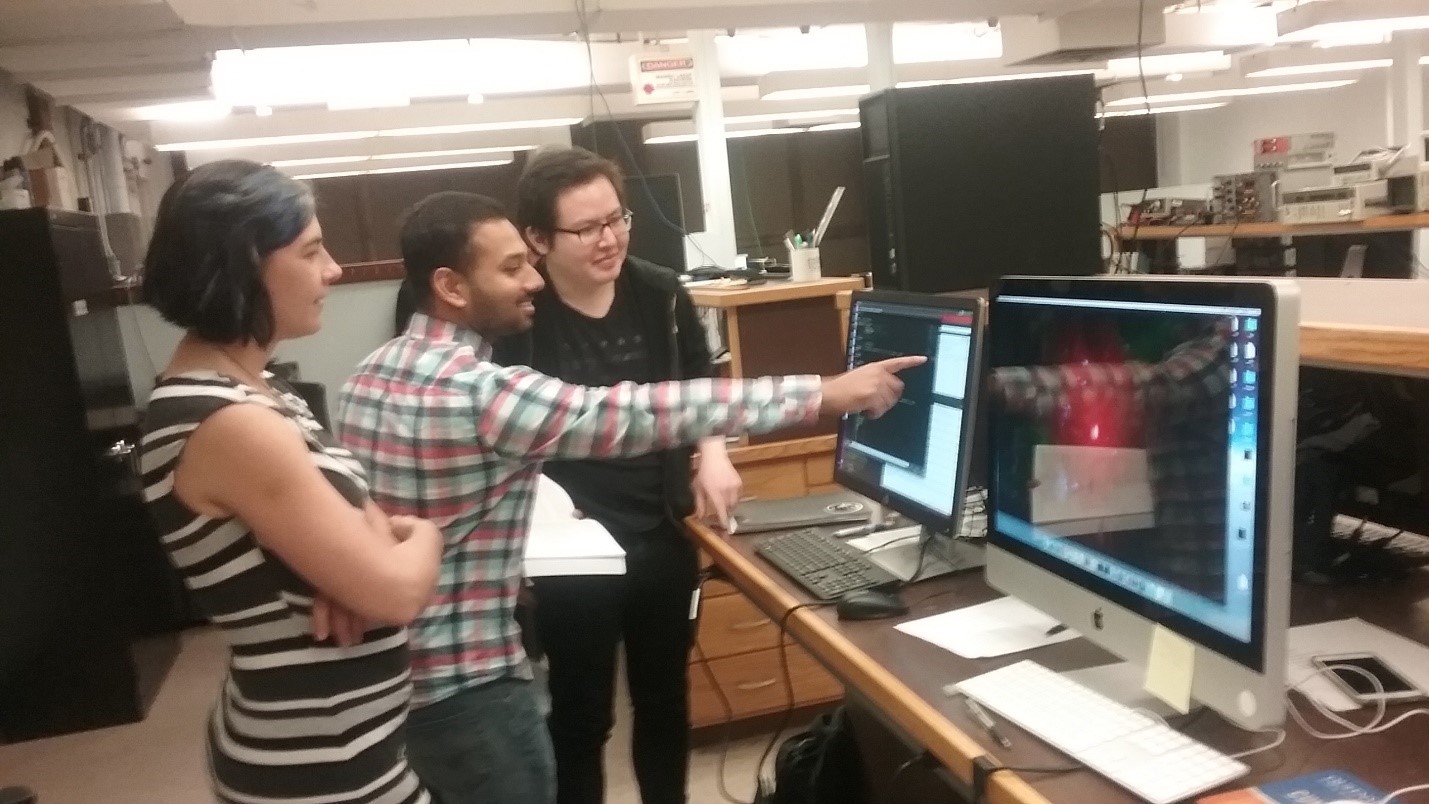 Dr. Rex Taibu: Physics Education Research (PER)
Dr. Rex Taibu has taught studio physics classes for several years. His teaching experience has shaped his research focus. Currently, Dr. Taibu is actively engaged in promoting scientific inquiry attitudes in students through designing, implementing, and assessing innovative inquiry based physics labs. The idea is to explore the many ways (inductive, deductive design, etc.) inquiry learning can be implemented in a laboratory classroom. Dr. Taibu's interest in inquiry lab instruction is driven by an understanding that the traditional approach to lab instruction (which provides step-by-step procedures for students to follow), suppresses students' thinking, makes it difficult for students to construct meaning, and does not provide students with the opportunity to appreciate the nature of science. Dr. Taibu believes that the experiences he gives to his students will later on become even more valuable to students in their future Undergraduate Research projects.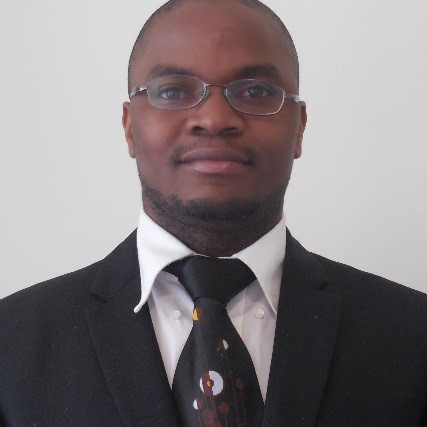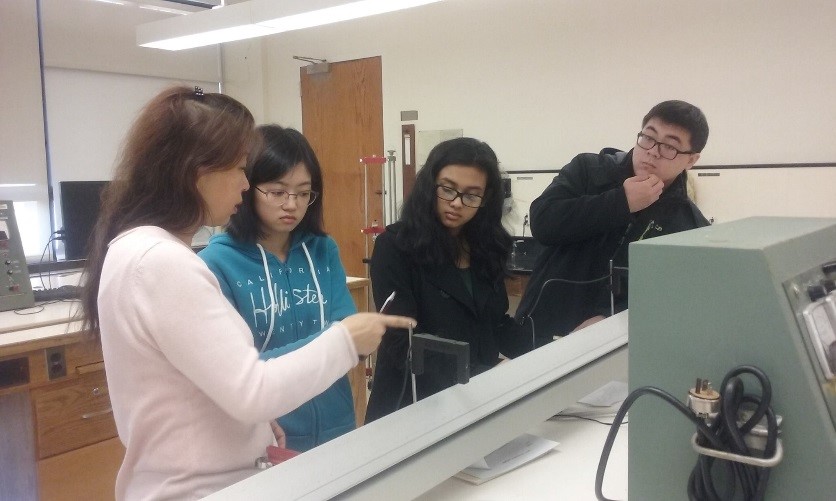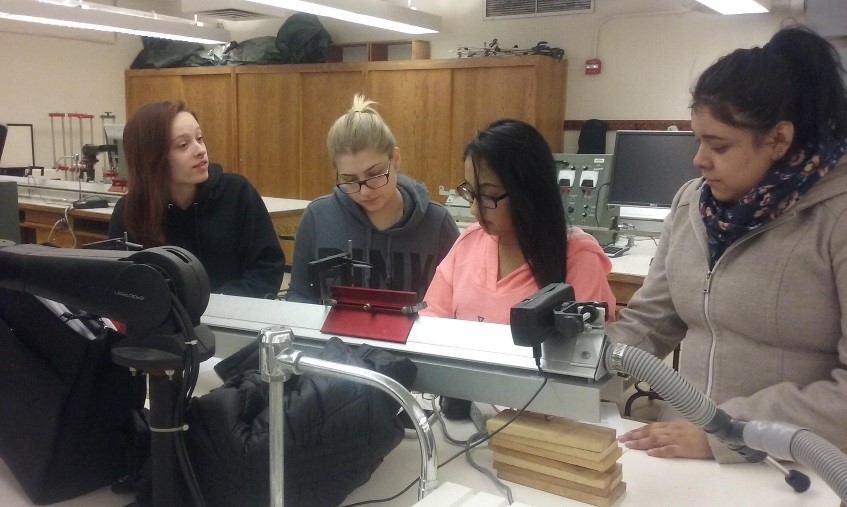 QCC Space Weather Research and Education Program
Dr. M. Chantale Damas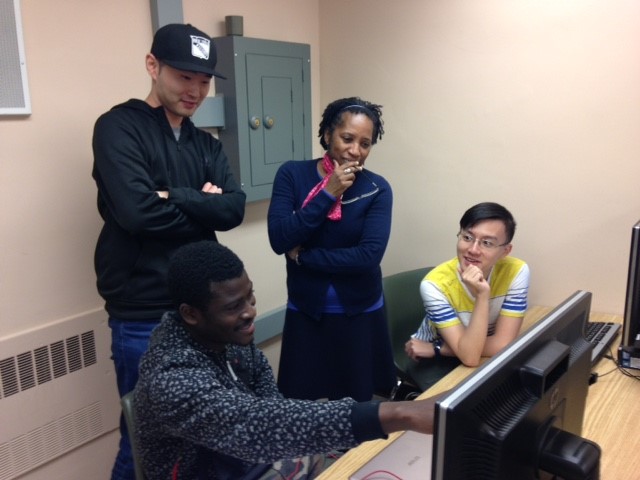 Program Director: Dr. M. Chantale Damas
mdamas@qcc.cuny.edu
Location: Physics Department, Room S-343
Telephone: 718-281-5422
The Queensborough Community College (QCC) has partnered with the NASA Goddard Space Flight Center (GSFC) and the City College of New York (CCNY) to design and implement a high impact practice integrated research and education program in solar, geospace and atmospheric physics under the umbrella discipline of space weather. The program is aimed at both enhancing the STEM experience of community college students, and increase the participation of groups historically under-represented in STEM fields. Students are engaged in a year-long research experience with two components: 1) during the academic year, students are enrolled in a course-based introductory research (CURE) where they conduct research on real-world problems; and 2) during the summer, students are placed in research internships at NASA, CCNY and other partner institutions. Through a strong collaboration with partner institutions, the project will train and retain women and underrepresented community college students in STEM fields.
Eligibility
All students as early as their first semester can participate. Students must commit to being part of the program for one full academic year plus the summer. Only US citizen and permanent residents can receive stipends. Women and underrepresented minorities are especially encouraged.
Support
For participation in the program, students will receive a $5,000 stipemd in the summer. The pogram provides travel awards to students to attend national science conferences to present their work.
This program is mainly supported by the National Science Foundation Geosciences Directorate under NSF Award Number DES-1446704, and the NASA MUREP Community College Curriculum Improvement (MC3I) under NASA Award Number NNX15AV96A. This program is partially supported by NSF award AGS-1359293 REU; QCC US Department of Education Queensborough MSEIP (P120A140057); CUNY Research Scholars
Dr. Sunil Dehipawala: Material Science Research
Principal Investigator: Sunil Dehipawala
We investigate properties such as electronic, optical, magnetic, and structural properties of materials. The macroscopic properties of materials depend on microscopic properties of atoms and molecules. For example charge state of metals and near neighbor bond length & type of neighboring atoms determine majority of properties of metal compounds. Recently synthesis and characterization of nano particles became very hot field in the research. We conduct research on synthesis and characterization of nano particles such as iron, cobolt, and palladium. We used simple synthesis techniques such as sol-gel method, spin coating or vapor deposition. In addition to we conduct research to learn pathways and conditions of arsenic absorption by plants. We use several different techniques such as UV_Vis-Near IR absorption, Mossbauer Spectroscopy, Atomic Force Microscopy, Transmission Electron Microscopy and X ray absorption to characterize samples. Synchrotron sources at Brookhaven laboratory and Cornell university use for X-ray absorption experiments (EXAFS and XANES). Several Queensborough students were able to conduct experiments at these facilities and publish their findings at national and regional meetings.
The "Latent-upload Excel file" for confirmatory factor analysis discussed in the 2017 ASEE Penn State Berks Conference Oct 6-7 is available. Interested researchers could contact Dr Dehipawala and Dr Cheung for a copy of the file. Please send a request- email to sdehipawala@qcc.cuny.edu and tcheung@qcc.cuny.edu and your request will be processed.
Dowload the ASEE Collision Matrix (XLSX) and ASEE Recoil 2 Figures extra (XLSX) files as discussed in the 2018 ASEE UDC Conference on April 6th and 7th.
Download the 2-stopper water column results PDF.
Dr. Raul Armendariz: Cosmic Ray Lab
Assistant Professor Armendariz's research is in particle physics, astrophysics, and electronic detector technology. Students in the group are designing an educational array of cosmic ray detectors consisting of fluorescent plastic scintillator, photomultiplier tubes, and data acquisition electronics; through collaborative efforts select students conduct research at the Brookhaven National Laboratory. Assistant Professor Armendariz manages the QCC QuarkNet Center's educational outreach program with high school physics teachers.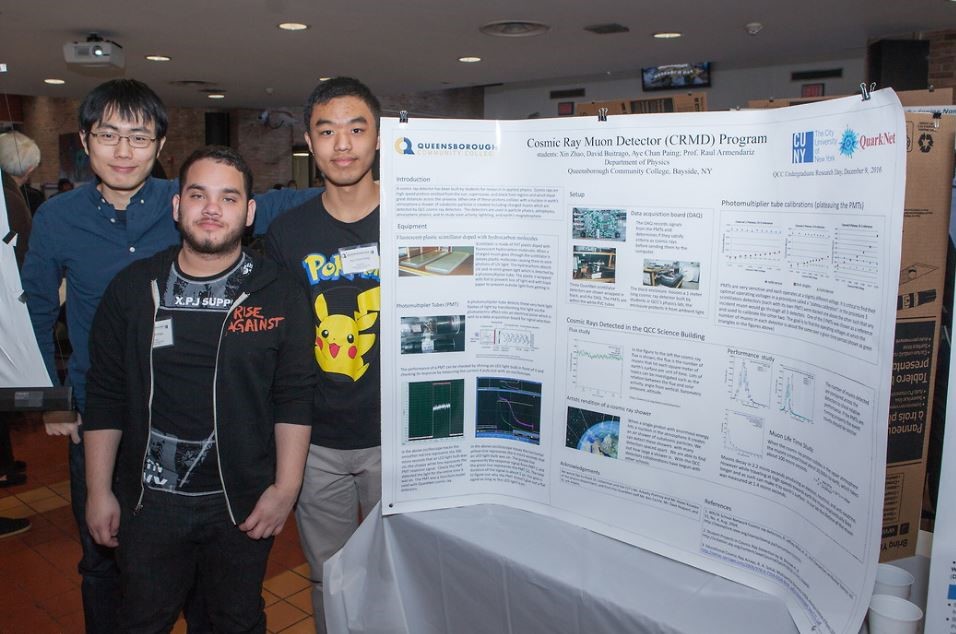 Dr. Kimberly Riegel: Queensborough Acoustics (QuACS) Lab
The Queensborough Acoustics lab focuses on the study of noise control using comparisons between numerical simulations and real world measurements. Dr. Riegel works with undergraduate students on several active projects in various areas of noise control. The acoustics lab is currently building a linux computing cluster. This project aims to create a powerful computing tool to speed the numerical simulations used in scientific research. Creating and maintaining the server builds skills in system management, networking and developing parallelized code. Another active project is the simulation of sonic booms in urban landscapes. Students work on numerical code to simulate both normal and low booms in urban areas to determine if they are acceptable to residents. This is validated by comparisons to NASA test data from supersonic aircraft flights over Edwards airfare base. The last active project is looking at the acoustic environment in musical practice rooms and academic classrooms and the effect that the acoustic have on the performance of musicians and students. QuACS is a collaborative lab that prepares undergraduates to continue doing research at four year institutions and beyond.
Dr. Jillian Bellovary: Unveiling Massive Black Holes in Cosmological Simulation
Professor Bellovary's research group uses state of the art cosmological simulations to study how massive black holes form and evolve. These simulations incorporate the full details of galaxy formation, including star formation, supernova explosions, gas heating and cooling, and black hole formation and growth. In particular, the group is interested in studying massive black holes in dwarf galaxies, which have recently been detected in the nearby universe. These most massive black holes in the tiniest galaxies possess many mysteries. By using a simulation that spans the history of the universe, Professor Bellovary's group focuses on the formation and subsequent evolution of massive black holes in both satellite and isolated dwarf galaxies.