Department of Nursing
About
The Queensborough Community College program in Nursing, established in 1967, has developed into one of the most respected Associate degree programs in New York State. Clinical nursing courses for students are offered in the Fall and Spring semesters. Students are provided many options to continue onto a Baccalaureate Degree in Nursing.
The Nursing clinical curriculum is integrated into the College setting and provides a strong foundation in general education, biological sciences, and social sciences, as well as nursing science. The Associate Degree Nurse is educated to function in a variety of structured health care settings and provide direct care to patients with common, well-defined health care needs.
Queensborough offers a unique Dual/Joint Program with Hunter Bellevue School of Nursing, School of Professional Studies and York College which leads to a baccalaureate degree in Nursing. CUNY School of Professional Studies (SPS) also offers an online BS in Nursing.
Students participate in clinical experiences during each semester of the four core courses in the program, and utilize a variety of private and public acute care hospitals in Queens and Nassau. In addition, the Department has five well-equipped laboratories, a Virtual Hospital utilizing simulation and a Nursing Computer Resource Center.
The program is registered by the New York State Education Department and accredited by the Accreditation Commission for Education in Nursing, Inc. (ACEN), 3343 Peachtree Road NE, Suite 850, Atlanta, GA 30326, Telephone: 404-975-5000. Graduates are eligible to take the National Council Licensure Examination for Registered Professional Nursing (NCLEXRN).
Mission Statement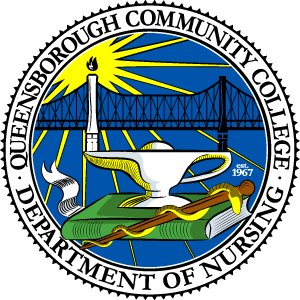 Nursing education is integrated into the total program of our institution of higher education which fosters a collaborative learning-centered community. The Nursing Program provides students a foundation of general education in the humanities, and biological and social sciences. The curriculum contains an equitable distribution between the general education and nursing science components. Opportunities are provided in the college, community and clinical settings for students to acquire, integrate and apply the needed knowledge and skills to become practitioners of nursing in a culturally diverse environment. Students are prepared for articulation with institutions of higher learning and for entry into the job market.
The Nursing Program is staffed with highly qualified faculty who follow a well-planned curriculum that undergoes on-going assessment and revision to maintain instruction of best practice. The curriculum uses the 8 core components for the Associate Degree Nurse (ADN) as a framework for graduate outcomes/competencies, and the interactive relationship among the healthcare concepts of the individual/client, environment, health and nursing. Students are prepared to administer holistic care by integrating general education knowledge with evidence-based nursing practice.
Learning is a life-long commitment and is most effective when the student is actively involved in the education process. Learning is the result of meaningful experiences by which an individual modifies his/her behavior through a sequence of planned and guided activities of increasing complexity. The learning environment is conducive to the development of critical thinking skills, self-confidence and increasing self-direction in the student. Teachers are role models and facilitators who help the learner acquire knowledge and skills. The nursing faculty recognizes that each student is unique and the individual's learning capacity is affected by congitive, affective and psychomotor development, motivation to learn, culture, and previous learning experiences. Students are exposed to a variety of clinical settings including hospitals, community and long-term care facilities - as well as patient populations diverse in age, culture, gender, health status, and socioeconomic background. The faculty integrates innovative evidence-based teaching learning strategies, including state-of-the-art technology, to facilitate student learning that prepares them to respond to changes in health care. Educational activities and support services are intended to enhance the development of personal career goals of students of all ages and cultural backgrounds.