health, physical education and dance
Emergency Medical Technician Program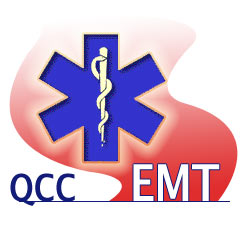 QCC offers a 220-hour EMT course designed to prepare students for the NYS DOH Emergency Medical Technician Certification Exam. The course includes 108 hours of lecture, 88 hours of practical skill instruction, and 24 hours spent on a 911 ambulance under the guide of a preceptor. Students enrolled in the class must be willing to adhere to strict attendance and punctuality policies as mandated by the NYS DOH. 
Current CPR Professional Rescuer (ARC) or BLS for the Healthcare Provider (AHA) certification is required. Standard First Aid or Responding to Emergencies certification is very strongly recommended. Students must be 18 years old by the certification exam date.
Faculty:
Daniel Armstrong, Program Coordinator; Stephen Whitlock, EMT-P, CIC; Lorraine Brink, EMT-CC, CIC; Kevin Rummel, EMT-P, CIC; and Certified Lab Instructors 
Credits: Students completing the course registered for credits will receive 9.5 credits. Call 718-631-6212 to register for credits.
Continuing Education: EMT BASIC Course is offered for no credits, at a reduced fee through the Office of Continuing Education. See current Continuing Education Bulletin for details.
Class Schedule: Sample Schedule (HE-200 & HE-201) -- The class meets Monday and Wednesday evenings from 6pm to 10pm, plus 10 Saturdays from 9pm to 6pm. Two 12 hour shifts on a 911 ambulance is also required. These ambulance sessions will be scheduled by your instructor. See Class Schedule for further details.
REGISTRATION IS LIMITED to 25 CREDIT BEARING STUDENTS. DO NOT DELAY AS CLASS MAY BE CLOSED IF FULL.
Call the Office of Health, Physical Education and Dance at 718-631-6322 for additional information.
EMT BASIC REFRESHER: Refer to the Continuing Education Bulletin