Top Department Stories
Visiting Artist

Queensborough Art and Design Department Visiting Artist Series Presents: Oasa Duverney

November 2016 - 'hello' in smallish simple black type face on a white screen was Oasa Duverney's greeting, the sentiment was echoed in her own soft-spoken tone when she welcomed her audience, students and guests of host, Professor Freya Powell of the QCC Art and Design Department. Duverney had composed a free verse poem to go with her opening images: the first, a black and white drawing of Albert Einstein adjacent to a black and white drawing of Al Sharpton. "Two Als walk into a bar", she announced.

Visiting Artist

Queensborough Art and Design Department Visiting Artist Series Presents: Maria Hupfield

29 March 2016 - It was a full house in attendance for Maria Hupfield, visiting artist and guest of Professor Kat Griefen, herself the head of QCC's Gallery and Museum Studies Program. Hupfield did not disappoint. Standing to deliver she was confident and striking, modest and matter-of-fact in manner with an uncanny knack to engage. She introduced herself in both English and Ojibway, the language of the Anishinaabe Native Americans of Canada. She stated it is a reminder of who I am and where I come from. For the next hour and a half we were treated to who she was, where she came from and where she was headed.

Students

Inspiring Voices: Transforming the World, Lives and Communities, QCC's Women's Caucus for Art/UN Youth Rep Internship Program

Attending the UN DPI/NGO inaugural briefing with the Women's Caucus for Art's two new Youth Representatives, Soha Farooqui and Miranda Barnes (both interns from the Department of Art and Design at Queensborough Community College, CUNY) made for a memorable and particularly inspiring day. Jeff Brez, UN DPI Chief of NGO Relations, Advocacy and Special Events, began the event with a warm welcome and a preview of the year ahead for the NGO community. He noted that this year marks the 70th anniversary of the founding of the United Nations, and quoted Secretary-General Ban Ki-moon's observations that "the year 2015 is a once in a generation opportunity. Our goal is to put people at the center, and protect our one and only planet. Our duty is to end poverty, leave no one behind, and build lives of dignity for all.
Department Update
New Student Gallery for the Art and Design Department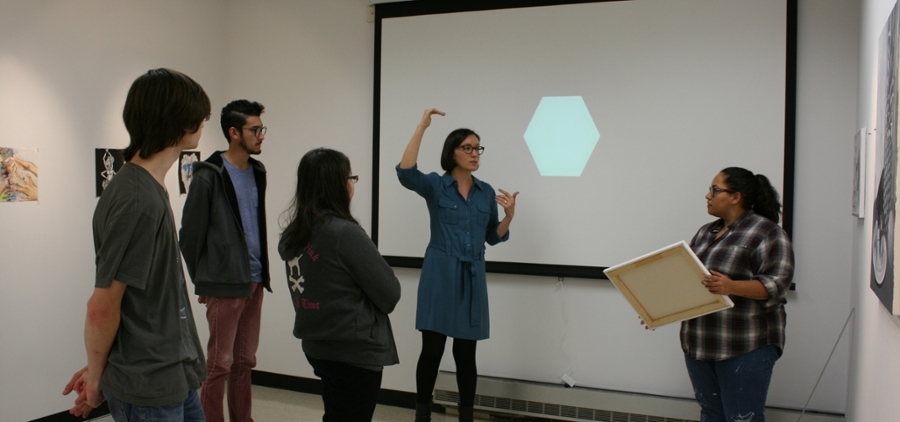 Prof. Griefen and students in the Art & Design Gallery
An exciting new exhibition space opened in the Fall of 2014 in Art and Design Department. The new gallery located in the "C" Building, Room 204-A acts as an experimental laboratory for ideas and creative expression in which students can develop their talents as future artist and curators.
The gallery is student-run, providing invaluable practical experience for students and serves as an ongoing counterpart to the annual Art Students' Exhibition held every spring at our QCC Art Gallery.
The first show in the gallery was held at the time of it's opening and featured a variety of works in different media including collage, drawing and photography. Subsequent shows and exhitbs have provided a platform for our students to showcase their works.