Poodles Are Oodles of Fun At Playdate With Puppies Coming Up On November 29, 11:00am-Noon, Student Union Building
Published: November 10, 2023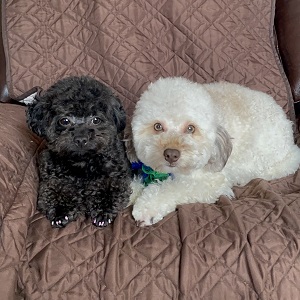 It is a Paw-fect idea! Play and fun are contagious—and what better way to catch this kittenish spirit than watching puppies run around, gobbling treats, and nuzzling in laps. It is one of the feature events to be held during Winter Wellness Week, November 29 through December 6.
"This was a popular event during last semester's Winter's Wellness Week hosted by the Counseling Center," said Queensborough's Lisa Halstead, Student Psychological Counselor. "It is wonderful to see our student's faces light up. This is a wonderful opportunity to socialize with other students and the dogs are very diplomatic, making sure everyone has an opportunity to shower them with attention." The dogs—which all belong to Halstead, will feature a miniature poodle, long legged mini poodle and two Shih Tzu/Yorkie mixed.
Last year, the event got rave reviews. A student said, "This made my day." Another said, "This made me feel better." One said, "This really took my mind off things for a while."
"It is heartwarming to see so many of our students happy and relaxed, for the moments that they spend with the puppies," added Ms. Halstead. "Mental health needs have dramatically increased among students in general. The puppies are a positive distraction. They provide unconditional regard without judgment and touch on the soft side of students during these tumultuous times. "Who knows, maybe the area kennels will be a little bit emptier now!"
Additional events to be held during Winter Wellness Week include gametime stressbusters and making stress balls. Working will also be held on overcoming test anxiety, and additional workshops and activities geared towards supporting mental wellness.
Contact:
Naziat Hassan,
LMHC, Counseling Center, 
NHassan@qcc.cuny.edu
(718) 631-6370

###