Queensborough Community College Partners with Brookhaven National Laboratory to Launch New Radiation Certificate Program
Published: October 26, 2023
Program's Mission is to Bridge Equity Gaps and Open Doors to In-Demand Jobs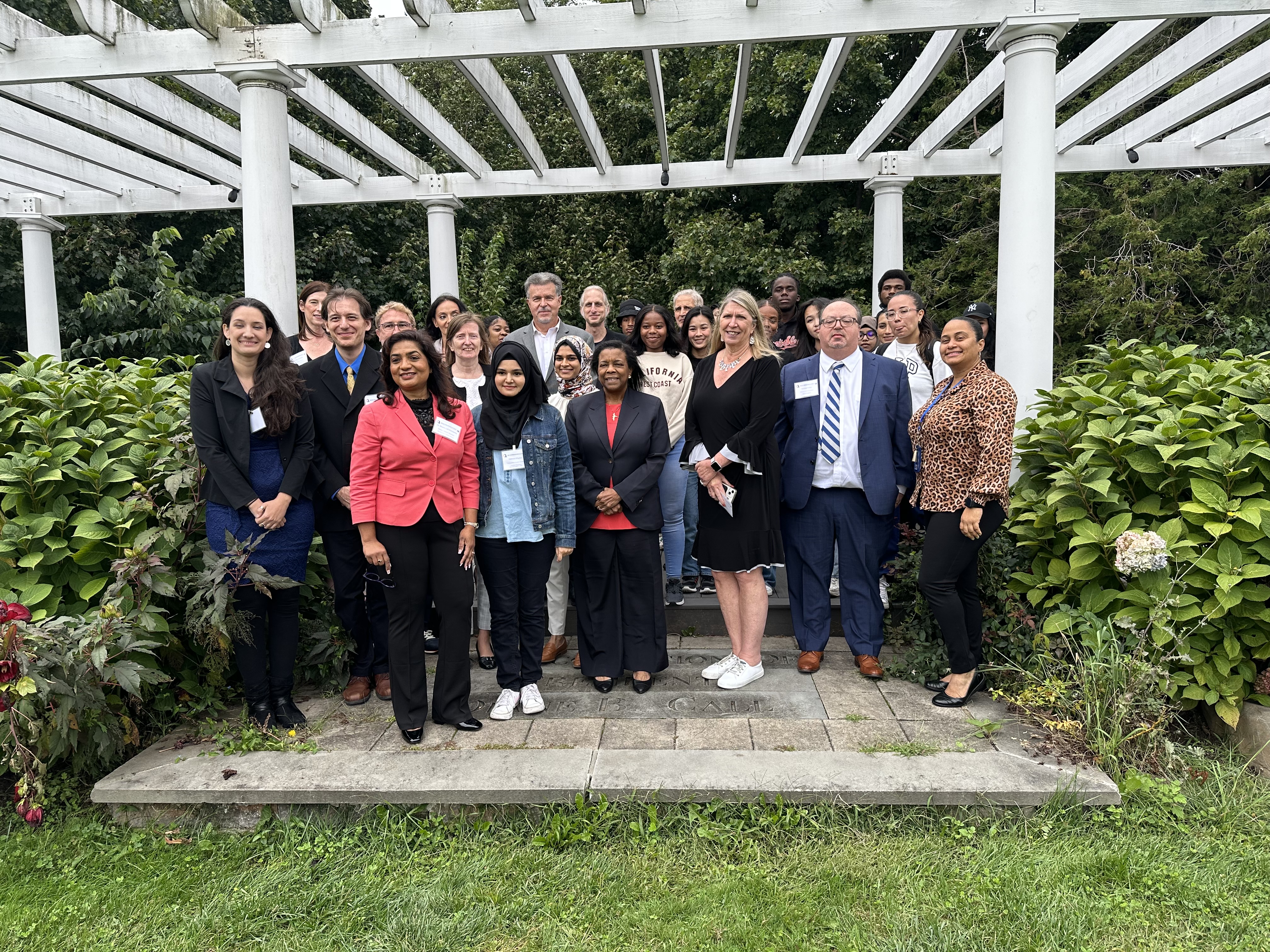 Queensborough Community College is pleased to announce a new partnership with Brookhaven National Laboratory (BNL) to develop Next Generation Radiation Safety Professionals through a Minority Serving Institution Partnership Program.
This new partnership was funded by the Department of Energy's National Nuclear Security Administration Division for $750,000 with $500,000 distributed to Queensborough as the lead institution and $250,000 distributed to BNL as the partner institution. This is the first grant from the Department of Energy awarded directly to Queensborough.
Queensborough and BNL have built a long-standing partnership that has produced remarkable outcomes. More than thirty Queensborough students mentored by Dr. Lall-Ramnarine have participated in sixty summer internship experiences at the lab in chemistry, co-authored several publications, and presented multiple research presentations at scientific conferences.
Queensborough will be the first institution in the NY region to be a part of the National Nuclear Security Administration's (NNSA) Minority Serving Institution Partnership Program. The NNSA's mission is to create and support a sustainable career pathway that prepares a diverse workforce of talented students to make immediate and significant contributions to the Nuclear Security Enterprise (NSE).  According to the program analyst Gregory Jack, from the NNSA.
"This project is part of the first trade and occupation grant specifically for community colleges that NNSA MSIPP has awarded. We look forward to seeing success as Queensborough partners with Brookhaven National Laboratory to teach and train radiation safety professionals."
Dr. Sharon Lall-Ramnarine, who leads the project on the Queensborough side, has always been a strong advocate for students, particularly those underrepresented in scientific fields, bringing students to the Lab through internships, the Visiting Faculty Program (VFP), and finding them open positions to advance their career.
"Radiation safety is a field that offers students in demand skills that will open doors to a range of sectors  as radiation safety technicians across the Department of Energy complex, in the National Nuclear Security Enterprise, in medical facilities and in radiopharmaceutical industries," explained Lall-Ramnarine, Queensborough chemistry professor.
Lall-Ramnarine's co-director Paul Sideris, a fellow chemistry professor, is a Stony Brook University graduate. He had several opportunities to visit the Lab while he worked on his doctorate.
"The fact that we have a national lab relatively close to the college is such an incredible resource," recalled Paul Sideris. "When I was a graduate student, it was common for research groups to take their students to Brookhaven. It brought these courses to life and exposed students to the unique instrumentation and facilities housed there."
Full-time Queensborough students pursuing a science degree are eligible to enroll in this certificate program. They will receive a $600 stipend to subsidize their tuition and textbook costs and can apply for a summer internship at BNL that will provide an additional $6,500 stipend. The program includes two courses in radiation safety that offer hands-on training. At the end of the internship, Brookhaven employees will help graduates with job placement, not just within the Lab but across all DOE (Department of Energy) sites.
To help implement the program on Brookhaven's end, Queensborough teamed up with scientists of Brookhaven Lab's Nonproliferation and National Nuclear Security Department: Giuseppe Camarda, Chris Pickett, Sidra Zia, and Susan Pepper, along with several specialists in different areas of radiation safety.
###

Contact:  Alice Doyle