CUNY Queensborough Community College Selected by the Gardner Institute to join the inaugural cohort of Transforming the Foundational Postsecondary Experience
Published: September 27, 2023
The first cohort of 11 institutions takes on the challenge of redesigning the first two years of college so that every student can graduate; additional cohorts to follow.
Queens, NY- September 27, 2023 - Queensborough Community College is thrilled to announce its selection as a participant in a new national initiative, Transforming the Foundational Postsecondary Experience. Led by the Gardner Institute, a leading national student success non-profit organization, this initiative has been made possible partly through the generous support of Ascendium Education Group, the Bill & Melinda Gates Foundation, ECMC Foundation, and The Kresge Foundation.
The Foundational Postsecondary Experience initiative aims to transform the critical first two years of college education, during which students create the foundation of ultimate success and degree completion.  The effort will help institutions focus on inequitable performance gaps and take action to improve student learning and success.
By participating in this initiative, Queensborough Community College will collaborate closely with the Gardner Institute and the ten other institutions in the inaugural cohort over five years to develop innovative strategies, enhance teaching and learning practices, and promote student success and retention. The effort will help the institution move towards eliminating demographics, zip codes, and other variables as the best predictors of who does or does not succeed.
"Our equity-focused work is grounded in our desire to effectively respond to our students' varying needs and expectations to ensure their success," said Queensborough Community College President Christine Mangino. "Partnering with the Gardner Institute gives us an additional resource to create meaningful systemic changes that deliver equal outcomes across all racial and gender groups."
Dr. Drew Koch, CEO of the Gardner Institute, shared, "We are thrilled to welcome CUNY Queensborough Community College to the inaugural cohort of Transforming the Foundational Postsecondary Experience. The five-year commitment demonstrates the institution's dedication to transforming the postsecondary experience for all of their students."
Koch continued, "This is a bold action. The college clearly recognizes that doing hard things requires long-term commitment, and improving student success in ways that maintain access, eliminate performance gaps, and uphold quality is very hard. But CUNY Queensborough Community College is committed to doing this hard work. That is why it was selected to take part."
The eleven participating institutions in the inaugural Transforming the Foundational Postsecondary Experience cohort enroll nearly 115,000 undergraduate students. Over two-fifths (43%) of those students receive a Pell Grant; over two-fifths (41%) identify as African American, Hispanic, Indigenous, or two or more races. The institutions include: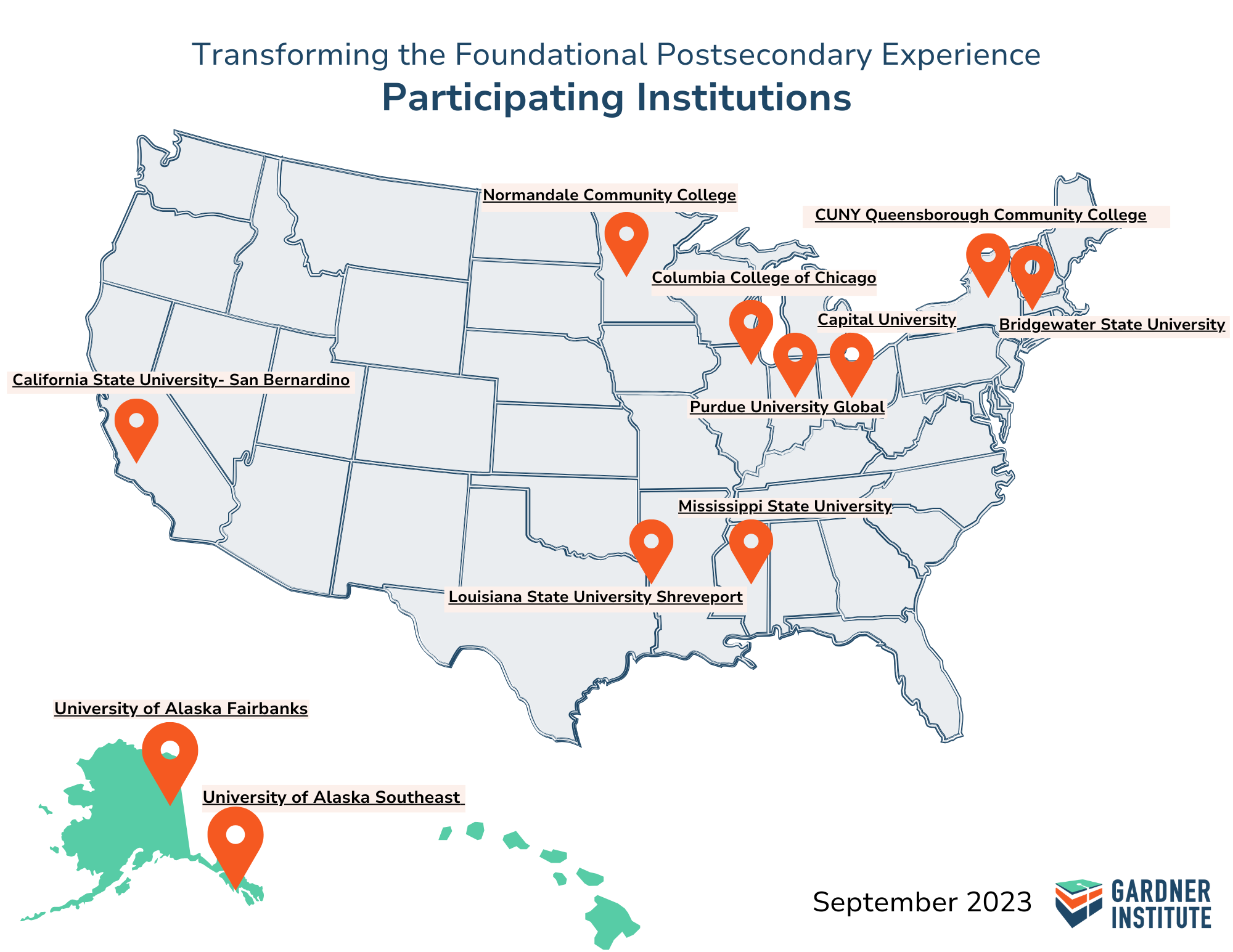 For further information about Queensborough Community College's participation in the inaugural Transforming the Foundational Postsecondary Experience cohort, please contact:
Tanisha Mallette
Chief Content Officer and Director of Communications
Tanisha.Mallette@qcc.cuny.edu
718-631-6686
For more information about the Gardner Institute and/or the Transforming the Foundational Postsecondary Experience effort, please visit https://gardnerinstitute.org/service/transforming-the-foundational-postsecondary-experience/ or contact:
Katie Locke
Director of Communications, Marketing, and Engagement
locke@gardnerinstitute.org
###
About Queensborough
Queensborough Community College, a campus of The City University of New York (CUNY), is one of the most diverse colleges in America and has a national reputation for the upward mobility of its graduates. The college offers in-person and hybrid classes and more than 40 degree programs, including a new cybersecurity program and a fully online business degree.
Queensborough is the highest-ranked community college in New York State and is among the best community colleges in the country, according to a 2023 report released by WalletHub.com. It is the sixth year in a row that Queensborough has been listed as a top institution of higher education by WalletHub for its education outcomes, career outcomes, and affordability. They, along with equity, access, and opportunities, are hallmarks of Queensborough Community College. And they are essential to Queensborough's students' upward and inter-generational social mobility.
Accreditors have also commended Queensborough for its genuine care for student success, its small college feel, and the quality of its student support services. Because Queensborough is part of the City University of New York (CUNY), a quality education is guaranteed.
About the Gardner Institute
The John N. Gardner Institute for Excellence in Undergraduate Education is a non-profit that partners with colleges, universities, philanthropic organizations, and others to help them create and implement strategic plans for student success focused on improving teaching, learning, retention, and completion. Through doing so, the Institute strives to advance higher education's larger equity, social mobility, and social justice goals.
###

Contact:  Tanisha Mallette