Stop & Shop Funds Queensborough Community College In-School Food Pantry to Meet Needs of Food Insecure Queensborough Students, Families
Published: August 02, 2023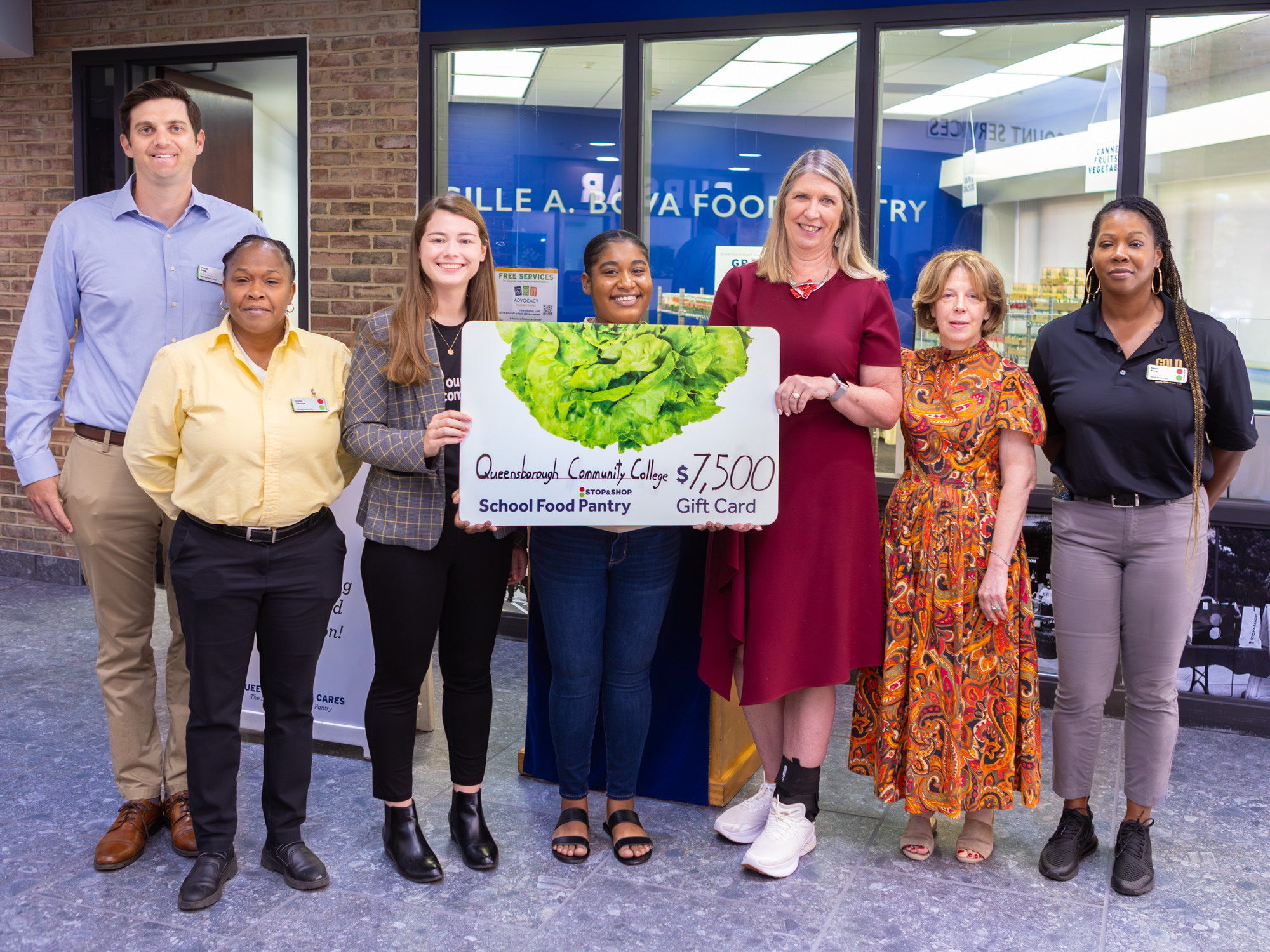 Queensborough Community College and Stop & Shop held a check donation ceremony that will fund the school's 'Lucille A. Bova Food Pantry' for the upcoming school year. The pantry, which will serve over 2,200 Queensborough Community College students and their families, is being supported by a $7,500 donation from Stop & Shop that will enable the College to purchase the specific food items and other essential products that the students and their families need.
 The Stop & Shop School Food Pantry Program was established to help limit barriers impacting students' ability to succeed in the classroom by making sure that they have consistent access to food. Stop & Shop supports local schools' existing food pantries or helps them establish a new one by providing gift card donations to help stock their shelves.
 "We appreciate our partnership with Stop and Shop," said Queensborough President Christine Mangino. "Since moving the Lucille A. Bova Food Pantry to a central location in the Administration Building, we have been able to assist more of our students. This donation will help us to continue to meet the increased need."
 Nearly half of Queensborough Community College students are Pell eligible, and even more receive financial aid from various sources. The use of the College's food pantry increased 150% in the last academic year alone.
 "Stop & Shop is proud to support the efforts of Queensborough Community College, because every student should have access to food and not have to worry about when they will have their next meal," said Daniel Wolk, External Communications Manager for Stop & Shop. "The Lucille A. Bova Food Pantry ensures students at Queensborough Community College receive the food they need. Students cannot learn when they are hungry, and we are proud to support the college in ensuring they are fueled for success."
Stop & Shop currently supports over 180 School Food Pantries across its five-state footprint. For more information about Stop & Shop's School Food Pantry program, visit https://stopandshop.com/pages/school-food-pantry-program.
About Stop & Shop
A neighborhood grocer for more than 100 years, Stop & Shop is focused on delivering a wide assortment of fresh, healthy options at a great value through strong weekly sales and everyday low prices. Its new GO Rewards loyalty program delivers personalized offers and allows customers to earn points that can be redeemed for gas or groceries every time they shop. Stop & Shop customers can choose however they want to shop - whether it's in-store or online, which offers both delivery and same day pickup. The company is committed to making an impact in its communities by fighting against hunger, supporting our troops and through overall incredible acts of care. The Stop & Shop Supermarket Company LLC is an Ahold Delhaize USA Company and employs more than 54,000 associates and operates more than 400 stores throughout Massachusetts, Connecticut, Rhode Island, New York and New Jersey. To learn more about Stop & Shop, visit
www.stopandshop.com
.
###

Contact:  Alice Doyle