Queensborough Author David Rothman's New Novel Tempers Real-Life Horrors with a Dose of Imagination and a Teaspoon of Magic
Published: September 06, 2023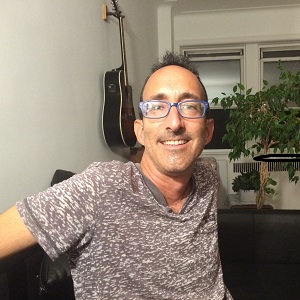 David Rothman, a native New Yorker, has taught (ESL) English as a Second Language and Creative Writing at Queensborough Community College for nineteen years. He also has a distinguished career as an award-winning author of fiction and short stories including The Lower East Side Tenement Reclamation Association (2020) (Omnidawn 2018 fabulist fiction prize), and Guided by Voices, fiction prize with Glimmer Train Press.
Rothman's latest novel is Lelya Dorche and the Coney Island Cure (Madville Publishing, July 2023). He received a Professional Staff Congress (PSC) CUNY Award Grant for Creative Writing in 2021, allowing him to do research for his book.  Rothman shared his inspiration to author the novel and the inspiration he receives from his students, who share some of the most compelling stories of all.
QCC (Queensborough Community College): Let's start with the definition of magical-realism and how this genre applies to Lelya Dorche and the Coney Island Cure.
Rothman: Magical realism demands that we suspend our prevailing belief system and buy into another. The writer's job is to make 'magical characters' seem as believable as possible, and at the same time, have them transcend reality into the sphere of fantasy.
In the spring of 2020, Elmhurst Hospital in Queens was ravaged by the COVID pandemic, and the surrounding neighborhoods, including my own neighborhood of Jackson Heights, became known as the epicenter of the epicenter.
Like everyone else my world was turned upside down and I knew that writing would be my lifeline to process the chaos and tragedy that was choking our city. So, I turned to one of the seven stages of grief --- bargaining—as the keystone for my book.
The main character in my book, Andrew, is introduced as an assistant director of a funeral home one mile from Elmhurst Hospital. One day, during a bike ride in Coney Island, he meets a legendary witch doctor named Lelya Dorche, who makes him an offer that could better his chances of keeping his COVID-positive elderly parents and his asthmatic 13-year-old son, Miro, off the ever-expanding list of virus mortalities. To keep up his end of the bargain, Andrew will have to find his way to Bulgaria (no small task considering that there is a ban on passenger flights to Europe) to secure 10 liters of a rare Macedonian pine sap, a key ingredient of Lelya Dorche's proven remedy.
QCC: Does he find it?
Rothman: Yes!
QCC: So, stark realities can be overcome by hope and possibilities.
Rothman: Absolutely.
QCC: Do you see parallels between the book's themes and the life experiences of your students?
Rothman: A lot of discoveries occur in my classroom; it is a meeting place where students feel safe to share their writing. I have been teaching for a long time and know that our students are amazing. Here, the classroom meets the world and the global connections we make will last a lifetime. In my English 101 course, we are reading a work of non-fiction by Sonia Nazario, entitled, Enrique's Journey. It's an unforgettable story about a Honduran boy's efforts to reunite with his mother, who years earlier had crossed into the United States with the goal of finding a means to support herself and her family.
Just a few days ago in class a student raised his hand and told the class that his mother is from the same village as Enrique, San Pedro Sula, a town that in recent years has been labeled as 'the murder capital of the world'.
This is a very tough time in general for immigrants. They face discrimination and economic challenges. Meeting places like classrooms make space for students to raise consciousness about these kinds of issues.
QCC: Back to Lelya Dorche and the Coney Island Cure, could you take us through how your novel interlaces with history?
Rothman: I imagined a melting pot of characters with a Roma witchdoctor, a Filipino nurse, a Jewish funeral home director, and a Ukrainian smuggler in a race against time to save lives outside the official realms of government and capitalism.
In the novel, Lelya Dorche's natural-healer, partner-in-crime is a Filipino woman named Gumay. The story of how Gumay's family ended up in Coney Island is based on a true one. In 1905, many members of the Igorrote mountain tribe from the Philippines were brought over to Luna Park in Coney Island to amuse paid customers. It was like a human zoo with the tribal members living in thatched huts set up yards from the Atlantic. It was the biggest sensation in New York at the time.
QCC: As a writer yourself, is there a distinct way you approach creative writing assignments?
Rothman: You need to break down the idea that there is any right or wrong way to write. Once students understand there is no mold, the sky's the limit. We all have great stories to tell. Last semester, I introduced a unit on local journalism and let the students choose campus issues of importance to them. The result was some stellar articles based on campus surveys and interviews, some of which were published last spring in Communiqué, the QCC student newspaper.
QCC: When was the last time you visited Coney Island?
Rothman: I was at Coney Island recently to visit a used bookstore called "Here is a Bookstore." Then I walked along the boardwalk and thought about my own family history. My grandfather, a cab driver, witnessed the original Luna Park burning down in 1944.
###

Contact:  Alice Doyle