Blackstone Is Launchpad For Queensborough Student To Take Her Business Idea And Run With It
Published: June 23, 2023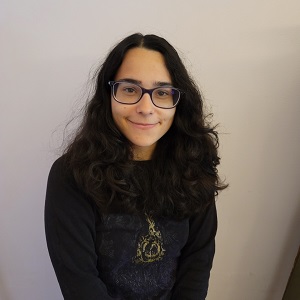 Nineteen-year-old Sharon Whinston, a Digital Art & Design student at Queensborough Community College will transfer to the Cleveland Institute of Art (CIA) on a $20,000 Gund Family Scholarship in recognition of her outstanding art portfolio and superlative academic performance. The CIA is one of the nation's leading accredited independent colleges of art and design.
Much has happened in Whinston's journey leading up to these remarkable achievements.
"That's for sure!" said Whinston, a life-long resident of Queens. She was homeschooled throughout high school and per NYS regulations, did not receive a diploma. But almost as soon as she enrolled in the spring of 2022 as a non-matriculated student, she received support from faculty in the art and business departments to obtain her GED in June in 2022 and, her illustration mentor Liz Di Giorgio and Dr. Christine Mooney, Business, Team Member, Blackstone Launchpad, encouraged her to participate in the Blackstone Innovation Challenge.
"This was an opportunity to test the waters and see if I could market my artwork."
Whinston went on to the QCC Blackstone LaunchPad Start Up Series program to learn about the financial and legal obligations of running a business. Blackstone is a non-profit campus-based entrepreneurship resource at Queensborough for motivated and ambitious students of all backgrounds geared towards introducing entrepreneurship as a feasible career path.
Whinston participated and simultaneously served as a Blackstone LaunchPad Innovation Ambassador for Queensborough students in the Innovation Challenge program. 
Ever since, Blackstone LaunchPad--which focuses on firsthand development skills like ideation, implementation, and communication-- has been the throughline in nurturing her entrepreneurial talent. In Blackstone, Whinston further explored the growth of Paws & Prints.
"My childhood cat Cream passed away during the pandemic and it was even more painful because I couldn't go out and see friends. All I had were photos of Cream and it was too difficult to look at them, so I started drawing Cream from memory. The pandemic really took away a lot of our support systems."
"I discovered my passion for illustration out of a painful period in my life and Queensborough helped me take that passion to the next level through Blackstone and my wonderful mentors. Everywhere I turned there were professors who understood me and were committed to helping me succeed."
Whinston continued her success as a presenter at the March 2023 Open conference sponsored by Venture Well, an organization that assists student innovators to discover and validate their target market and prepare for investment.
And in June of 2023 Sharon was one of only a few community college students chosen nationally to participate in a paid Blackstone LaunchPad Summer Founders program.  "I think I caught their attention by upping my Paws & Prints business idea from just portraits to physical products like key chains, custom mugs, t-shirts and pin badges."
Also in June, Whinston served with Professor di Giorgio, as a United Nations Youth Representative for the Women's Caucus for Art Internship where she was included in briefings and drafted summaries of the meetings which are posted on the United Nations website.
Now, Whinston is looking toward transferring soon to the Cleveland Institute of Art where she will major in Biomedical Illustration.
"My major is a combination of science and art which for me is the best of both worlds. Science interests me and art is my passion. Now I have an opportunity to fuse the two together. And it answers my practical business side too since I want a stable salary after I graduate. Doors will open for me to become a surgical illustrator, an educational illustrator, a courtroom illustrator, or a career in a related field."

Blackstone LaunchPad at QCC
Entrepreneurship is now a viable option for students. The QCC Blackstone LaunchPad program helps lay the foundation for building companies and develop the skills necessary to move forward with any chosen career. What's more, the Blackstone LaunchPad offers opportunities to widen your network beyond the QCC campus with participants at other CUNY schools, as well as many colleges around the world.
-END-
###

Contact:  Alice Doyle