Bevilacqua Scholarship Award
Published: June 08, 2023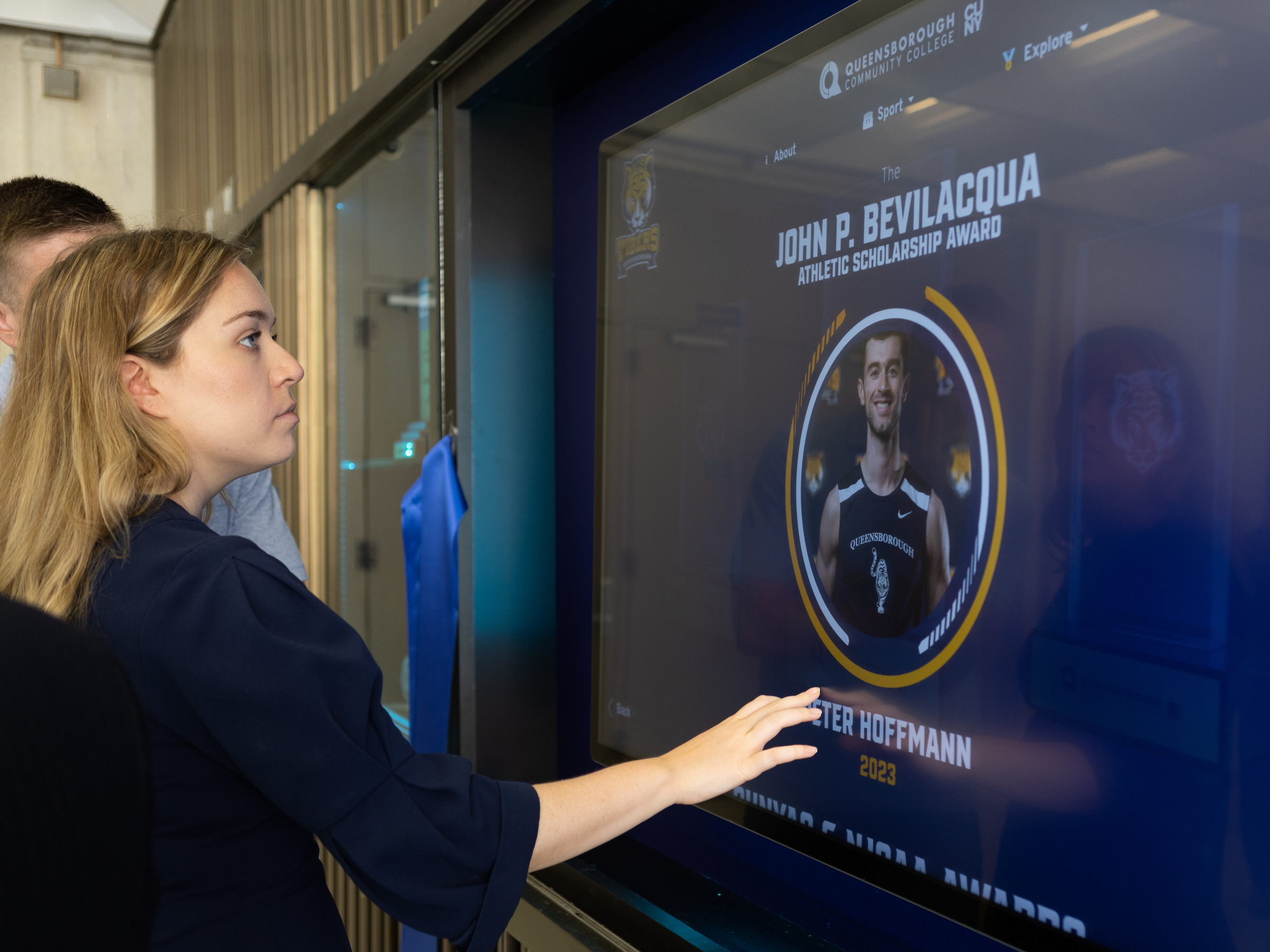 "Through his legacy, I recognize the best in me." Peter Hoffmann, recipient of The John P. Bevilacqua Athletic Scholarship Award - presented to an outstanding Queensborough student-athlete who is a candidate for graduation. 
When Peter Hoffmann graduated from the Academy of American Studies in Long Island City, Queens, he wasn't sure what his next steps would be except that sports would play a major role in his decision.
He was a natural athlete when he began practicing martial arts in his youth. In high school he discovered his love for running and joined the cross-country team.  "I liked the connection between competition and camaraderie with teammates. I made a lot of friends and had great coaches."
And that's exactly what he found at Queensborough Community College too. Now, after two years of athletic and academic achievement, Hoffmann has been awarded the first John P. Bevilacqua Athletic Scholarship Award. The scholarship honors the memory of John Bevilacqua, who was a gifted student athlete, a devoted father and longtime partner of Queensborough President Dr. Christine Mangino, who made the last years of his life the best years of his life.  John Bevilacqua worked in one of the towers on 9/11 and passed in January 2022 due to cancer related to that horrific morning.
Hoffmann said, "The John Bevilacqua Scholarship Award is the greatest honor I have ever received. Though I did not have the privilege of knowing Mr. Bevilacqua, his story has inspired me to always value sportsmanship, education and to cherish my bonds with friends and family."
John Bevilacqua was a first-generation college student and attended Johns Hopkins University where he was a two-sport athlete. He then attended St. John's University School of Law and began his career as an attorney for the Security & Exchange Commission. After working as a litigator with Salomon Smith Barney, John went on to be a Director and Divisional Counsel for Merrill Lynch.
Hoffmann, a criminal justice major, grew up in Astoria. "I enrolled at Queensborough to sort out what path I wanted to take. I experienced so many wonderful things here that I will remember forever. If I had to do it over again I would do it the same way."
His Queensborough story began with an email from the athletics department, looking for students interested in team sports. He responded immediately, and soon joined cross country and track and field.  
"I was wowed from the start. My wonderful teammates, as well as Athletic Trainer Ivan Mak, Athletic Director Jon Hochberg, coaches Chris Omeltchenko, and assistant coaches Aziwoh Ayafor and Jacqueline Mullen were amazing. Their mentorship also gave me the confidence I needed to excel in my courses."
Hoffmann received impressive recognition over the past two years, starting with the 2021 Rookie of The Year for Cross Country.
This year he received All American 2022-23 in the 4x800 meter relay race and 2023 CUNYAC Scholar Athlete Honorable Mention. He was named the CUNYAC overall champion in the 2023 3000-meter Steeplechase, and the Queensborough track and field team were named champions in the Distance Medley Relay Race.
Hoffmann was named CUNYAC Scholar Athlete twice in 2021, once in 2022, and again in 2022-23.  He won the QCC Scholar-Athlete Award for 2022-23 and was placed on the Dean's List for 2022-23, an honor reserved for the most outstanding students.
Hoffmann will transfer to Queens College in the fall to study political science. He is already in touch with the running coach, planning to join the track team.
###

Contact:  Alice Doyle