It would be a long commute from East Flatbush, Brooklyn, to Bayside, Queens, but when Elijah Bernard learned that Queensborough ranks #1 among community colleges in NYC and NYS, he knew it would be worth it.
Published: May 11, 2023
And it has been.
An honors student, Bernard will graduate in June with an AS in Forensic Science and transfer to John Jay College of Criminal Justice's Dual/Joint program in Forensic Science. Recent advances in chemistry, biology and computer science have created new opportunities in fields such as forensic science and criminalistics. This program provides a science-based foundation for students to transfer to John Jay College of Criminal Justice (minimum GPA of 2.5 required) and receive their Bachelor of Science degree.
Bernard enrolled at Queensborough in the fall of 2021, soon after he arrived in the U.S. from his home country of Trinidad/Tobago.
Two short years later, he was named a 2023 Jack Kent Cooke Semi-Finalist.
"I worked incredibly hard to be a successful student," said an emotional Bernard. "I am so grateful to my mentors who saw something in me and helped me develop into the student I am today. I remember how intimating it was at first to connect with people and make friends. Their belief in me gave me the self-confidence I needed."
Among his mentors was Dr. Sharon Lall-Ramnarine, Professor, Department of Chemistry who guided him in his first research project in February 2022 on the "development of electro spin ionic liquid polymer divers for Dye-Sensitized-Solar-Cells".
That spring he was accepted into a summer internship program at City College to begin research on the development of electrolytes using ionic liquids for low temperature lithium metal batteries for space.
"The opportunities for growth at Queensborough are phenomenal," said Bernard, Vice President of the Science Research Alliance Club since fall 2022. "For that I am so grateful and want to make a difference for my fellow students; helping them learn more about scholarships and research opportunities."
His latest research activity was in April at a Collegiate Science and Technology Entry Program (CSTEP) conference in Lake George, New York. "It was a great opportunity to explore the resort, get out on the water and meet new people."
He will return to City College for his summer internship in June and plans to graduate in fall 2023 and transfer to John Jay College of Criminal Justice in spring 2024.
"Thanks so much to everyone who supports our students to engage in research and prepares them to stand out this way when they represent us."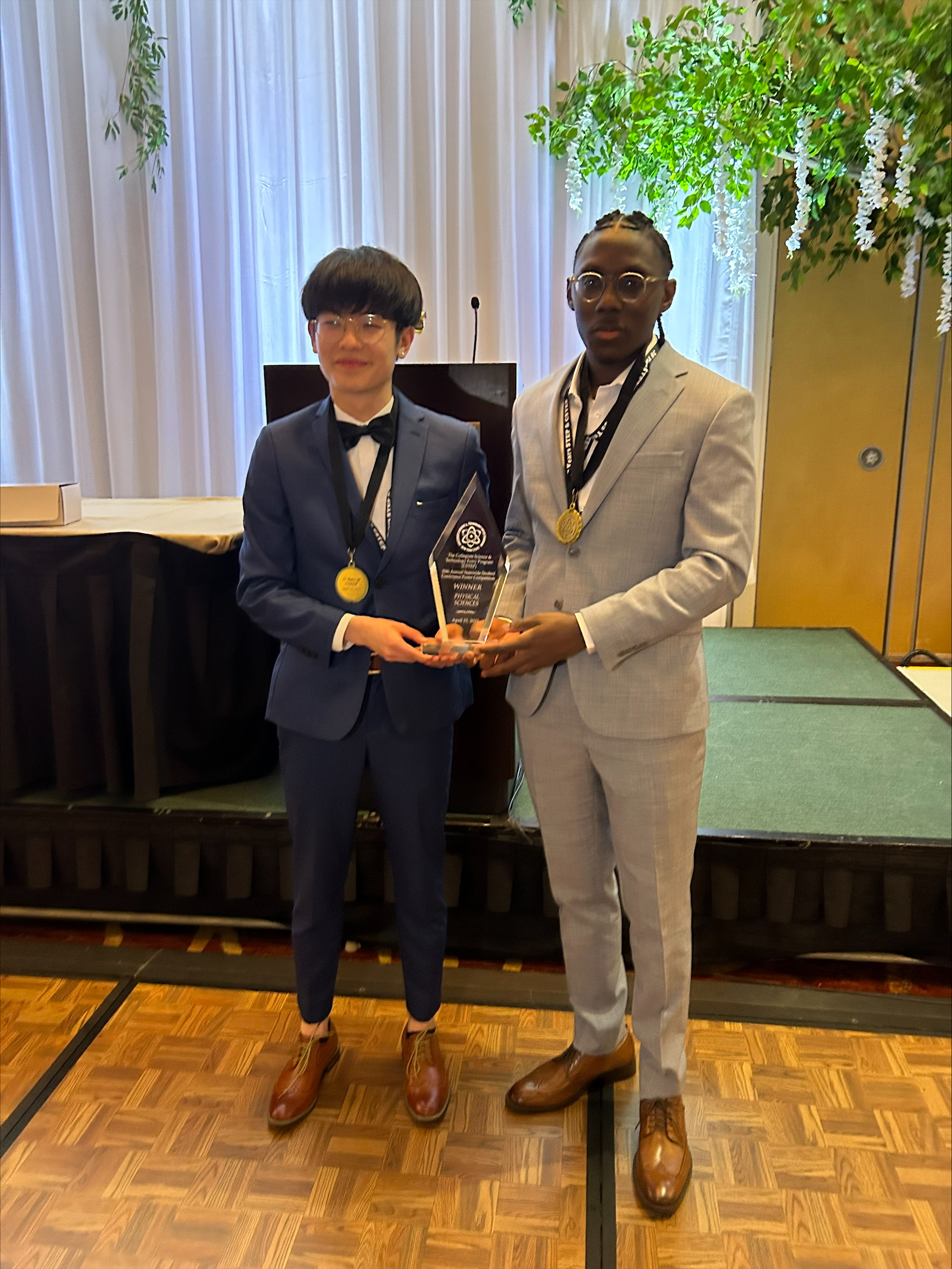 Photo: Queensborough students and 2023 CSTEP presenters Ho Martin Yueng (first place winner) and Elijah Bernard (92/100).
###