On Sunday, Andrea Salis's Wish to Race the NYC Marathon Came True
Published: November 09, 2022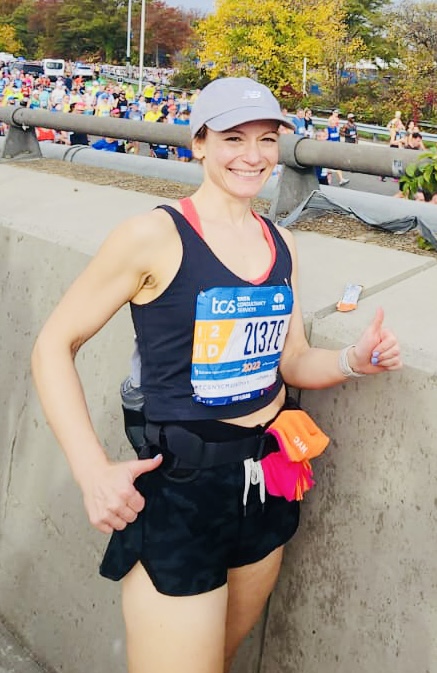 "I've always loved to run" remarked Andrea Salis, Ph.D. Chair, Health Physical Education and Dance Department at Queensborough.
A dedicated athlete and fitness enthusiast, Dr. Salis excelled in sports growing up and has continued to make fitness a priority in her life. She ran cross country in high school and has continued to be a disciplined runner even through the Covid-19 pandemic when she ran the virtual NYC Marathon in 2020. 
Dr. Salis is a proud member of the Alley Pond Striders running club, the CunningHammers and Cross Islanders running groups, which are all located in Queens.
Now Dr. Salis's wish to run the NYC Marathon came true Sunday, November 6, 2022. 
"It was an exhilarating feeling to know that I was among runners from all over the world who have come together to share this momentous experience."
Dr. Salis prepared for this event for several months, using the New York Road Runners Organization's 16-week training schedule to help her stay on track. She remarked, "lt's so important to train consistently if you want to run a good race." 
Dr. Salis commented, "On Sunday, November 6th, I awoke at 3:30am full of excitement for the day. I met my running partners and we drove into midtown to catch the 5:30am bus to Staten Island. We carried our breakfast with us to stay fueled for the wave 2, 9:45am start time.
The NYC Marathon is a challenging course and the warm and humid weather on Sunday made it even more so. Yet the amazing crowds and vibrant energy in NYC is like no other.
Dr. Salis added, "It was wonderful having my family and friends there to cheer me on." 
"There were moments when you feel like you can't go on. But you find the inner strength to carry you through."
###