In the Press
Creating Art in New Directions: A Queensborough Art Instructor Brings Characters to Life on a (Very) Large Scale
Published: September 19, 2016
Ryan Seslow, who teaches Two Dimensional Design in the Art & Design Department at Queensborough Community College, works with applied arts, new media and net art. He is passionate about creating graffiti, or street art, which he says "motivates him in almost all aspects of his work."
His most recent street art is displayed at the annual Welling Court Mural Project in Astoria, Queens.  Called "S L O W", the mural stands nearly 15 feet wide by 10 feet high and took approximately 8 hours to complete. It features two identical white characters against a vibrant, multi-colored background. The characters are holding spray canisters as if to say, "Yes, together we created this beautiful mural!"
Seslow grew up in New York City and started creating street art at age 14. While describing the e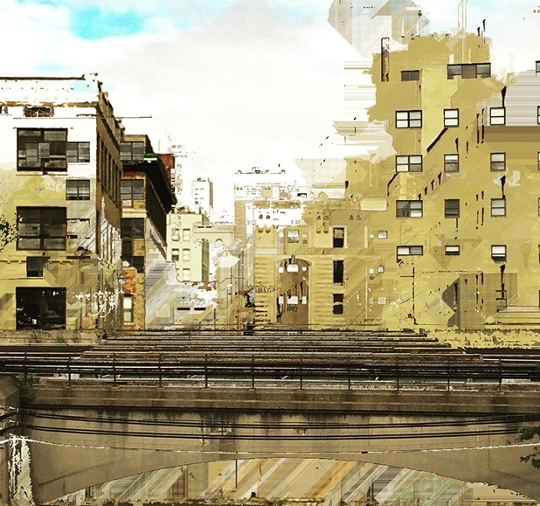 volution of graffiti from its crude beginnings in the '70s to the colorfully stylized and amazingly detailed art form that it is today, he noted his early inspiration included what he refers to as 'art in motion' - the once ubiquitous graffiti on subway trains.
"It was really a brilliant marketing idea that allowed graffiti artists to gain free, repetitive, and powerful exposure." And as Seslow spoke of power, he emphasized that the power of self-expression is what drew him to teaching at Queensborough.
"Here, students are empowered to explore their interests across an incredibly varied curriculum and array of electives," says Seslow, who has introduced graffiti art content into all of his classes. "When a student is not one hundred percent sure of his or her ability in my class, I like to intervene and show them they have as much ability as anyone else."
He added, "I want to teach students to think differently and apply what they learn in my class into their field which will work to their advantage."
"Pushing art into new directions is exciting—I want to use every tool I can to bring that feeling to my students."
Seslow has been teaching at Queensborough since 2004. He also teaches at York College, LIU Post and Iona College.
Image courtesy of Ryan Seslow (http://www.ryanseslow.com/category/news/)
###