Dr. Scott Litroff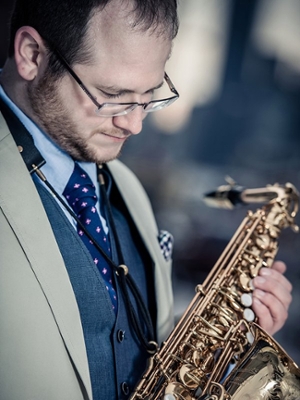 Scott Litroff is a saxophonist recognized for his equal passions as a performer and educator in both jazz and classical styles. Scott performed his solo debut at Lincoln Center's Alice Tully Hall, and has performed at venues including Merkin Hall, Yoshi's Club San Francisco, Jazz Alley in Seattle, and Akebono Hall in Japan. He has performed alongside some of the world's finest musicians including Ray Anderson, Bakithi Kumalo, Steve Salerno, and Nellie McKay, and has performed under the baton of renowned conductors including George Manahan, Rosen Milanov, Joseph Colaneri, and David Hayes. Dr. Litroff is currently Assistant Professor of Music at Queensborough Community College. Scott previously held positions as Adjunct Professor of Saxophone at Adelphi University, Instructor of Saxophone at Stony Brook University, Applied Saxophone Instructor at Suffolk Community College, and Jazz Director of the Stony Brook Pre-College Program. He is also an active clinician in the Tri-State area. 
Dr. Litroff enjoys collaborations with composers, and has commissioned new works for saxophone by David Loeb, Andriy Lehiky, Sidney Boquiren, David Campbell, Karl Hinze, Jason Gerraughty, and Dawn Chambers. He also frequently records albums incorporating contemporary jazz styles, having collaborated on three albums with the Oatmeal Jazz Combo. Their second album, All Stirred Up, received a one-page review in Down Beat Magazine.
Dr. Litroff's numerous awards and honors include the prestigious 2013 Samuel Baron Prize, the 2012 Ackerman Prize in Music, the 2011 Bob Meyers Award for Excellence in Jazz, First Prize in the Stony Brook University Graduate Concerto Competition, First Prize in the Mannes Concerto Competition, and Two-Time Winner of the Stony Brook Undergraduate Concerto Competition.
Dr. Litroff received Doctor of Musical Arts and Bachelor of Arts Degrees from Stony Brook University, and a Master of Music Degree from the Mannes College of Music. His former teachers include Ray Anderson, Allen Won, Christopher Creviston, and Ralph Lalama. Scott is an Endorsing Artist for P. Mauriat Saxophones.