QCC Blackstone LaunchPad
Entrepreneurial Journey at QCC
Blackstone Campus Visit
Blackstone LaunchPad presents: Beyond the Court: Equity, Inclusivity & Innovation
Through the Blackstone LaunchPad, entrepreneurship becomes a viable option for students to lay the foundation for building companies and developing the skills needed to move forward with any chosen career.
QCC's Blackstone LaunchPad program supports and elevates underrepresented students from diverse backgrounds and perspectives to level an unequal playing field.
Whether you have the next big idea or are simply curious to know more about the skills necessary to succeed in entrepreneurship, get going with a profile on StartupTree!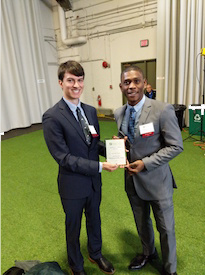 What is entrepreneurship?

An entrepreneur is a risk-taker with an idea and a passion. An entrepreneur is someone with drive who will continue to persevere even after hearing no. You must decide that your idea is worth investing in!
Pitching a business idea in front of an audience can be downright terrifying.
Sometimes what's even scarier than hearing a no, is someone saying yes. What if your pitch results in someone telling you to run with it?
Are you prepared?
Well, there's no better time than now to start a company. So, what does it take?
Believe in your idea
Be willing to pitch it over and over again in front of a wide variety of audiences
Learn how to network
Be open to growth
Be open to criticism
Know when and how to pivot
Get comfortable with being uncomfortable
Does that sound intimidating? Our team knows it can be! The good news is that you do not have to do it alone. Let Blackstone LaunchPad at QCC help launch you into entrepreneurship!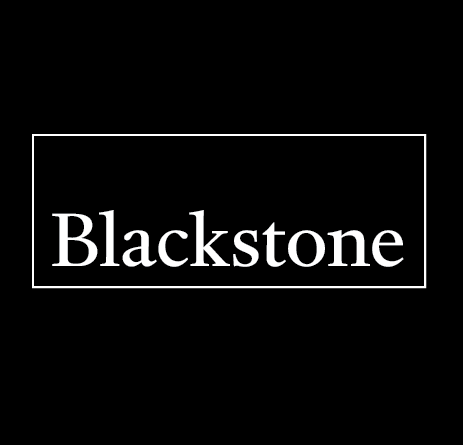 What is the Blackstone LaunchPad?
Since its founding in 2007, the Blackstone Charitable Foundation has been committed to creating economic opportunities for diverse and historically underrepresented communities. The Blackstone LaunchPad network helps college and university students gain entrepreneurial experiences and competencies to build successful companies and careers.
The Blackstone LaunchPad network makes entrepreneurship and entrepreneurial skills accessible and relevant for all college students to help them build thriving companies and careers. Students learn by doing, gaining knowledge and critical skills to help them succeed as a founder or contributor to the innovation economy.
With connections to a global network of mentors, events, funding, talent, job opportunities, and more, you can gain key entrepreneurship skills to build a successful company or build your resume for success in landing a job after college and advancing your career. LaunchPad's ever-expanding network encompasses campuses with predominantly underrepresented populations.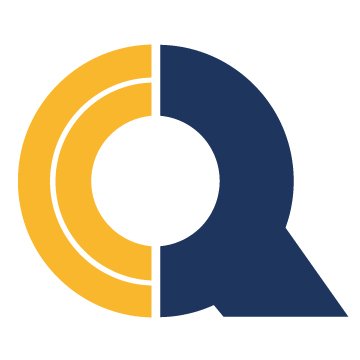 Blackstone LaunchPad at QCC

Entrepreneurship is now a viable option for students. The QCC Blackstone LaunchPad program helps lay the foundation for building companies and develop the skills necessary to move forward with any chosen career. What's more is the Blackstone LaunchPad offers opportunities to widen your network beyond the QCC campus with participants at other CUNY schools, as well as many colleges around the world.
Who is it for?
Whether you are curious about entrepreneurship, have an innovative idea, or are ready to take the next steps with your business, the QCC Blackstone LaunchPad has an option for you! There aren't any prerequisites to participate! The Blackstone LaunchPad is open to QCC students and alumni with an innovative idea or desire to learn more about entrepreneurship regardless of their major. 
What can I expect?
The Innovation Challenge:
The Innovation Challenge is the first program in our entrepreneurship series. It is designed for you to understand the problem you are solving with your innovation and push you to get out of your comfort zone through customer discovery to understand the market and the needs of your potential customers. This virtual cohort includes three workshops and mentorship designed for you to truly begin understanding the market you are entering. You will walk away from this cohort with a clearer understanding of how to move forward with your innovation. You will receive a stipend!
Startup School:
The Startup School is the second program in our entrepreneurship series. Now that you have a clearer understanding of your innovation and the market you are entering, this cohort is designed for you to work with our team to understand the legal, financial, and marketing implications of forming and running a business. This virtual cohort includes six jam packed workshops designed for you to truly begin understanding the necessary steps to take before going to market. You will walk away from this cohort with advice from experts in the fields of law, marketing, and finance. You will receive a stipend! *Participation in the Innovation Challenge or comparable program is necessary as a prerequisite for this cohort as it will build on content from the Innovation Challenge.
Talent LMS:
Are you curious about entrepreneurship but not ready to commit to a program? Enroll in a 10-module self-paced course! Email Christine Mooney at cmooney@qcc.cuny.edu to enroll.
Ready to begin? Visit StartupTree to create a profile.
Opportunities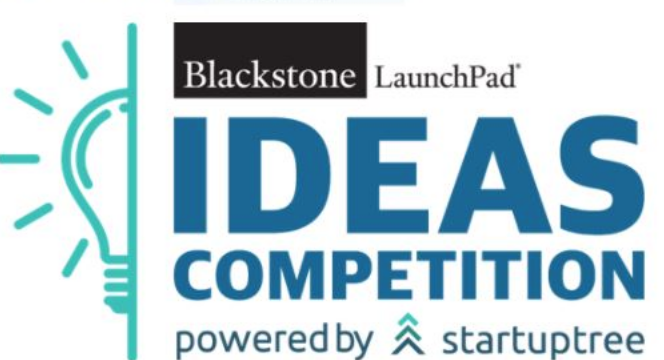 Ideas Competition
The LaunchPad Ideas Competition is designed to provide students with early-stage ideas to compete for cash prizes!
More importantly, participating students will gain access to the LaunchPad program on their campus, to get the support on their entrepreneurship journey and skill-building.
This signature program supports LaunchPad's goal in de-risking entrepreneurship, broadening accessibility, and diversifying engagement with a focus on recruiting underrepresented and under-resourced students to participate. 
The competition is completely virtual, hosted on the StartupTree platform.
Choose Your Track
Participants will need to select 1 of the following 4 tracks. 
Social and Climate Impact: sustainability, education, human rights, poverty alleviation, racial and social justice
Health & Life Science: biotech/sciences, health & medical science, healthcare
Consumer Products & Services
General 
🏆 Prizes
The winners of the QCC Round will take home  $1,000. Furthermore, four (4) finalists from  each campus will move forward to the  Network Round competing for:
$10,000 in additional prize money to further develop your idea
Expert consultations for branding and logo design, plus technology and product strategy sessions
👤 ELIGIBILITY
The applicant must...
be a current student (undergraduate or graduate-level) ​ 
be a founder/co-founder (i.e., the person with the original idea) 
be in the earliest stages - have an idea or have just started building on an idea 
create a profile on Startup Tree and apply as an individual or in teams of  2
---
QCC STEM Innovation Challenge
Do you have a research project or business idea? Is it a STEM based project?
The QCC STEM Innovation Challenge is designed specifically for QCC students who want to learn about business and work on a STEM IDEA! The Innovation Challenge is an easy way to meet your peers, earn a stipend and build your resume. All you need to apply is a STEM based problem or business idea!
Create a StartupTree account to apply!
Earn a stipend!
Learn about customer discovery!
Make your idea a business or resume builder!
*Apply by September 23rd
Program Highlights
Startup School
In June, QCC and BCC partnered for the inaugural Startup School cohort. This cohort was so unique because most participants were returning Blackstone LaunchPad participants from the Innovation Challenge.
Startup School focused on three significant areas to consider when creating a business: finance, marketing, and law. The three-week cohort consisted of 2 workshops per week. Stewardship Council members assisted in lining up four spectacular guest speakers.
The industry experts educated the participants on steps to consider before taking a business to market. The LaunchPad team provided workshops to break apart concepts, spoke to how the concepts directly relate to individual businesses and looked at case studies to problem-solve concepts. Participants walked away from workshops with actionable steps to take in each area, a plethora of resources and contacts to utilize as they build their businesses.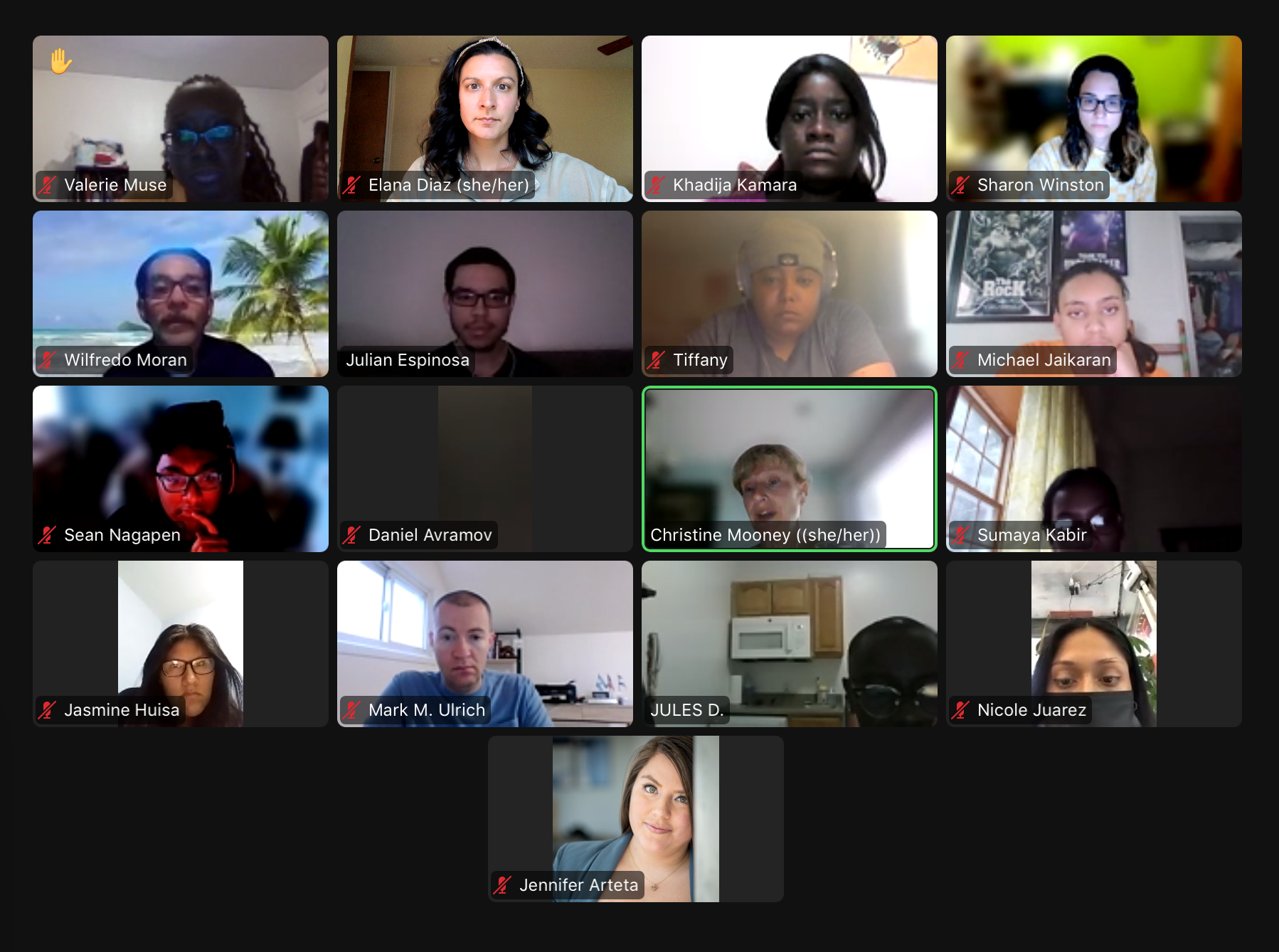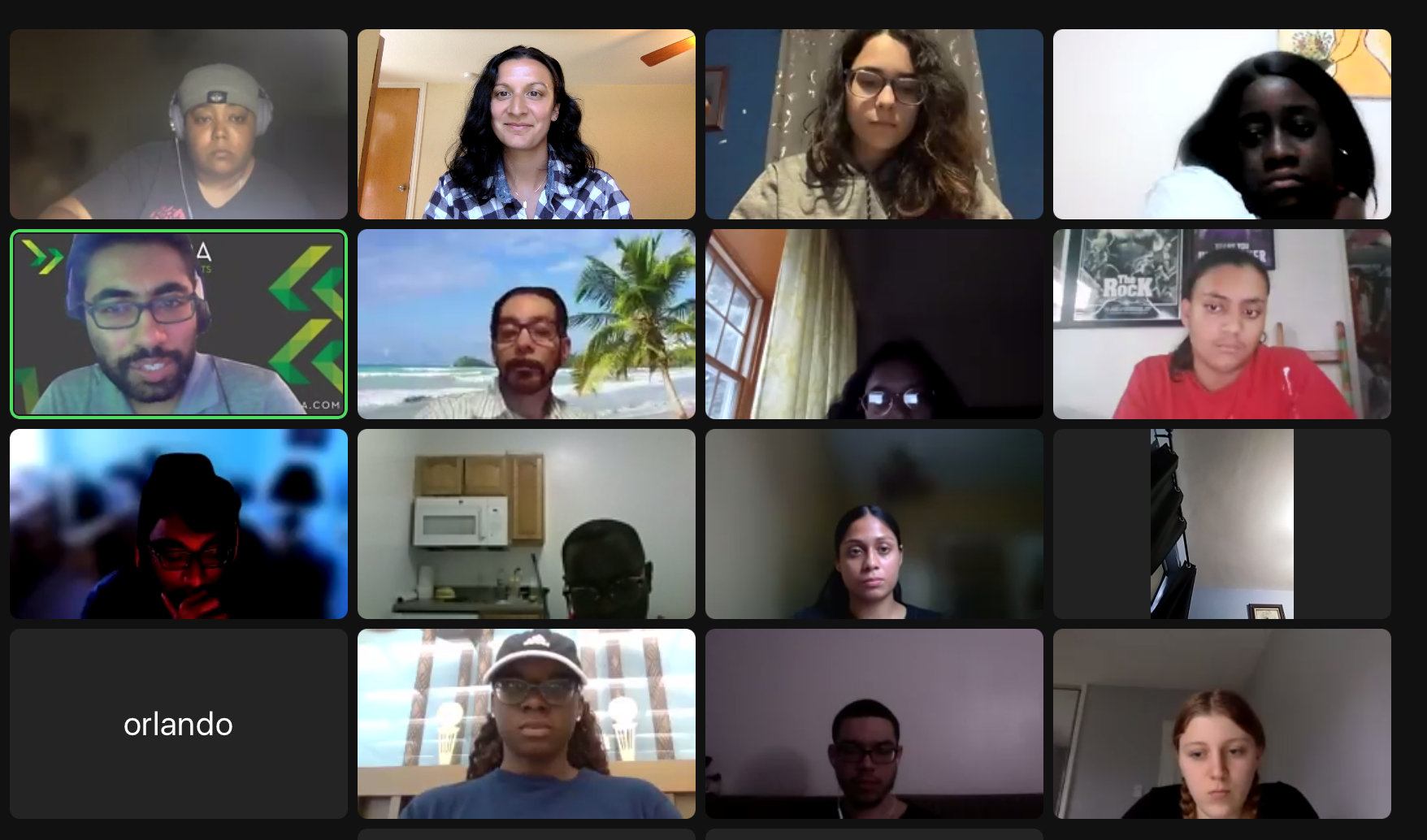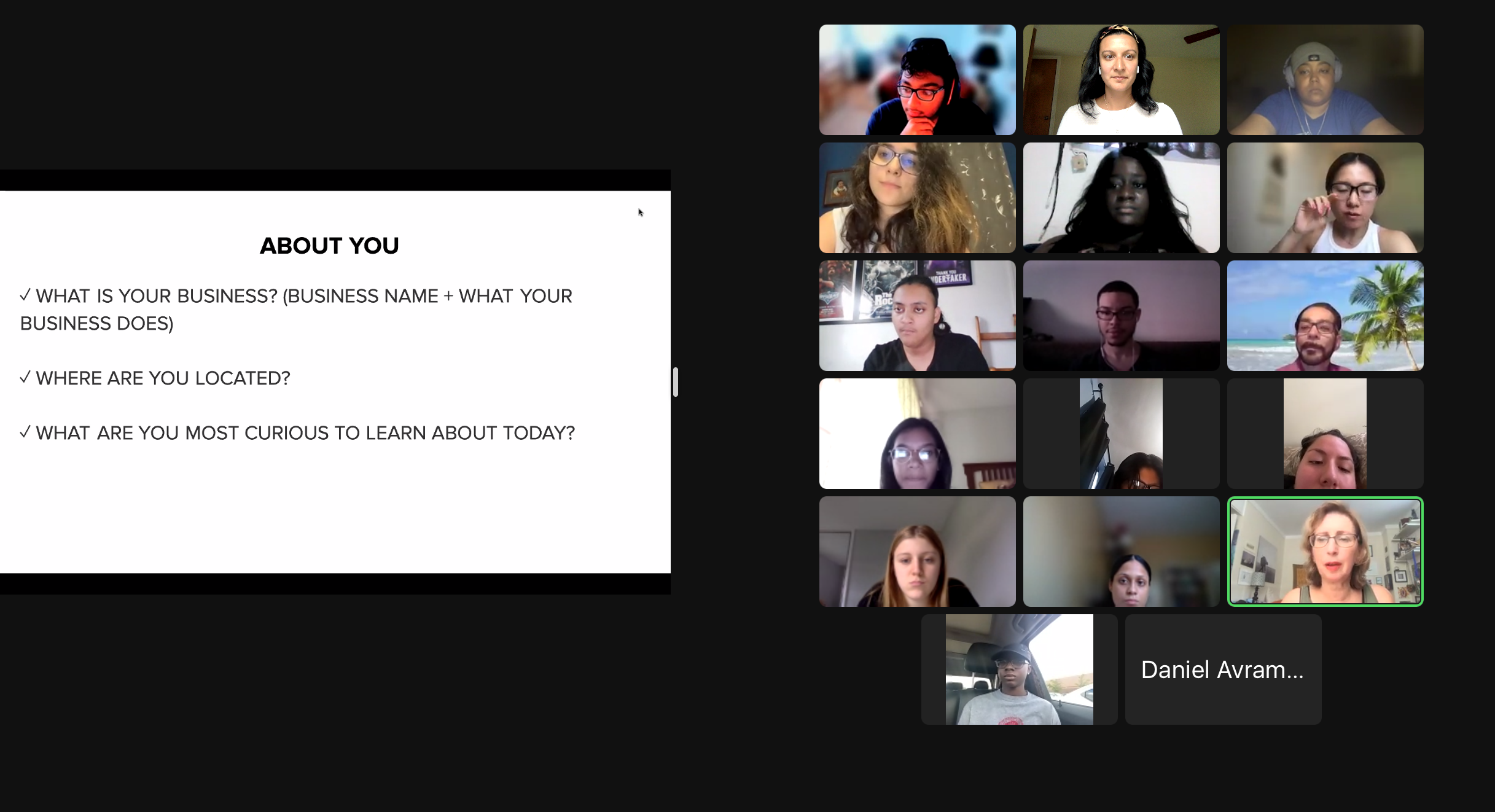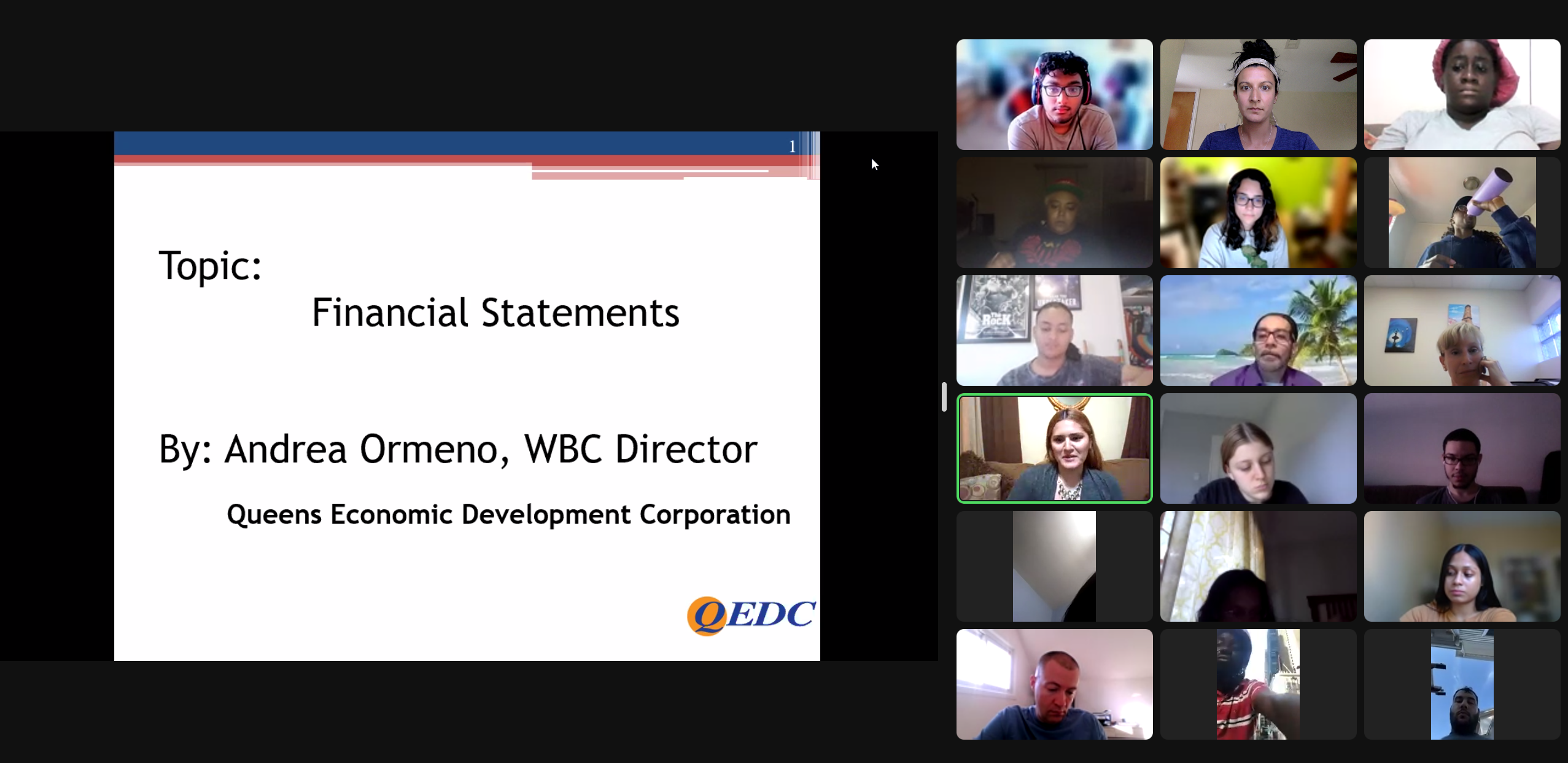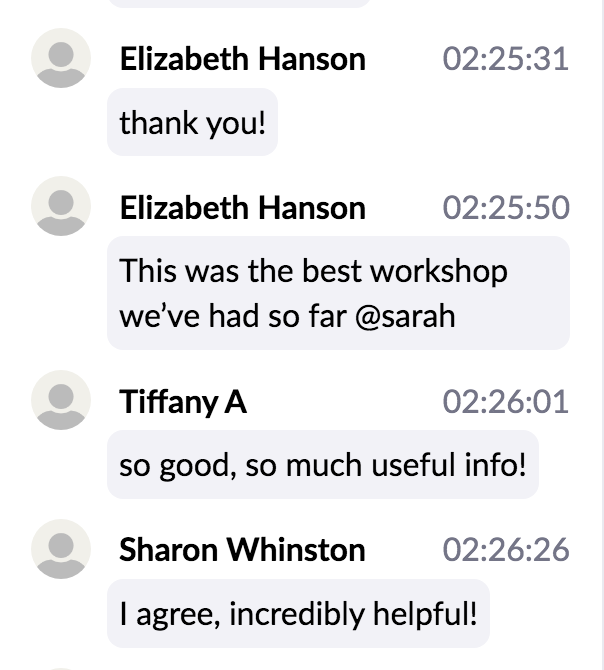 Testimonials:
"I gained so much information. I will be revisiting my notes for at least the rest of this year as I start up my business. All the speakers were amazing. I love the community that we have built from last cohort to now."-Startup School Participant
"This Cohort was amazing and provided a great learning opportunity. It helped to bridge the gap from concept to actually making the business."-Startup School Participant
"The StartUp School was an extremely informative virtual program, as I accumulated tons of information about starting a business from the legal responsibilities, marketing, and accounting. Each session had new people and new information. Having new people at each meeting benefited me because it was excellent to hear different opinions and perspectives, opening up new thoughts for my business."
The Innovation Challenge
Participants entered the cohort with only a business idea and quickly learned how to research whether or not there is a market for their idea. Business ideas ranged from customizing uniforms to creating a storefront in the local community. Participants learned about the importance of problem-solution fit when starting a business and how to conduct customer discovery interviews. Each week, students reflected on their learnings from their interviews and shared how their ideas evolved.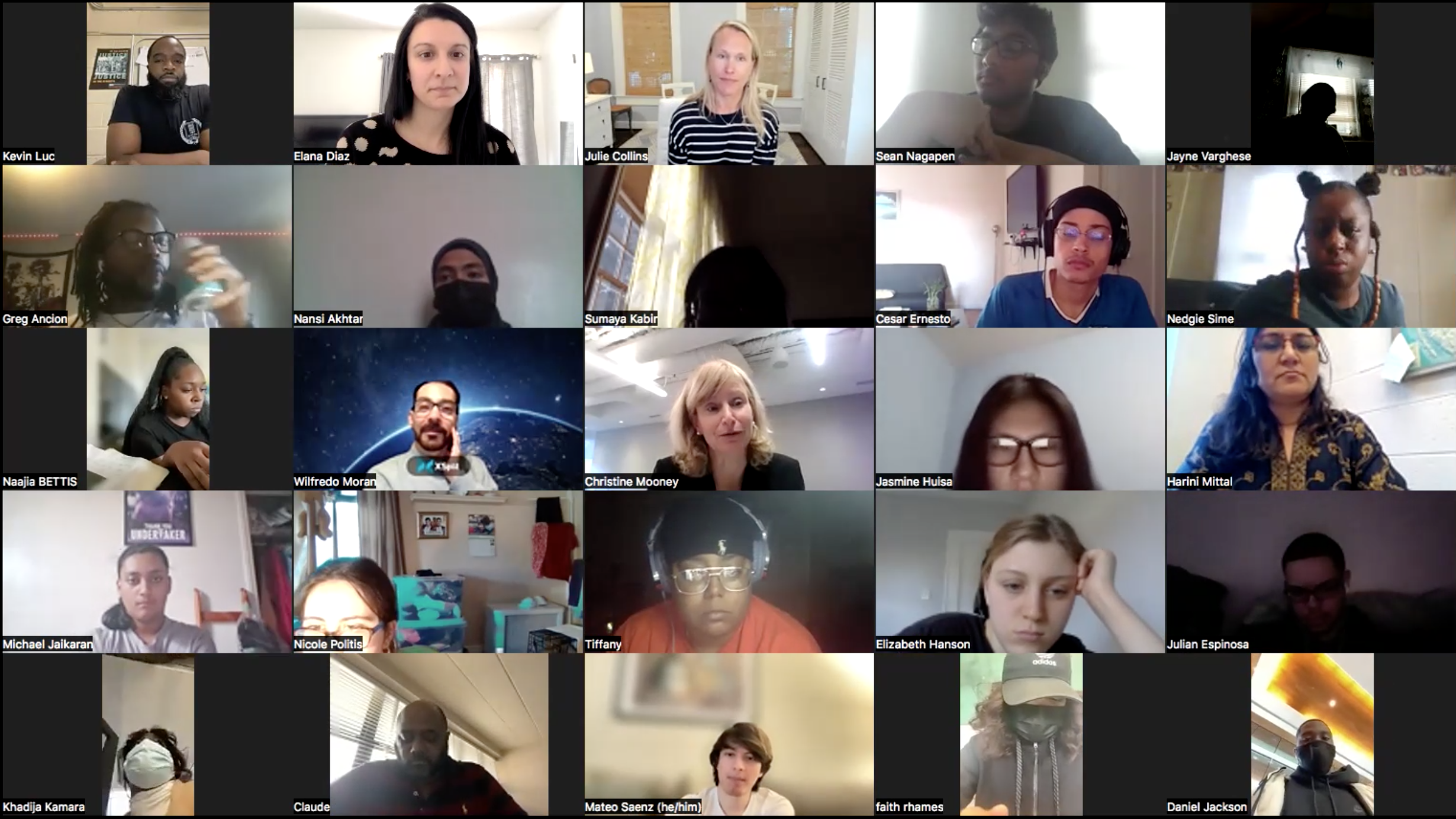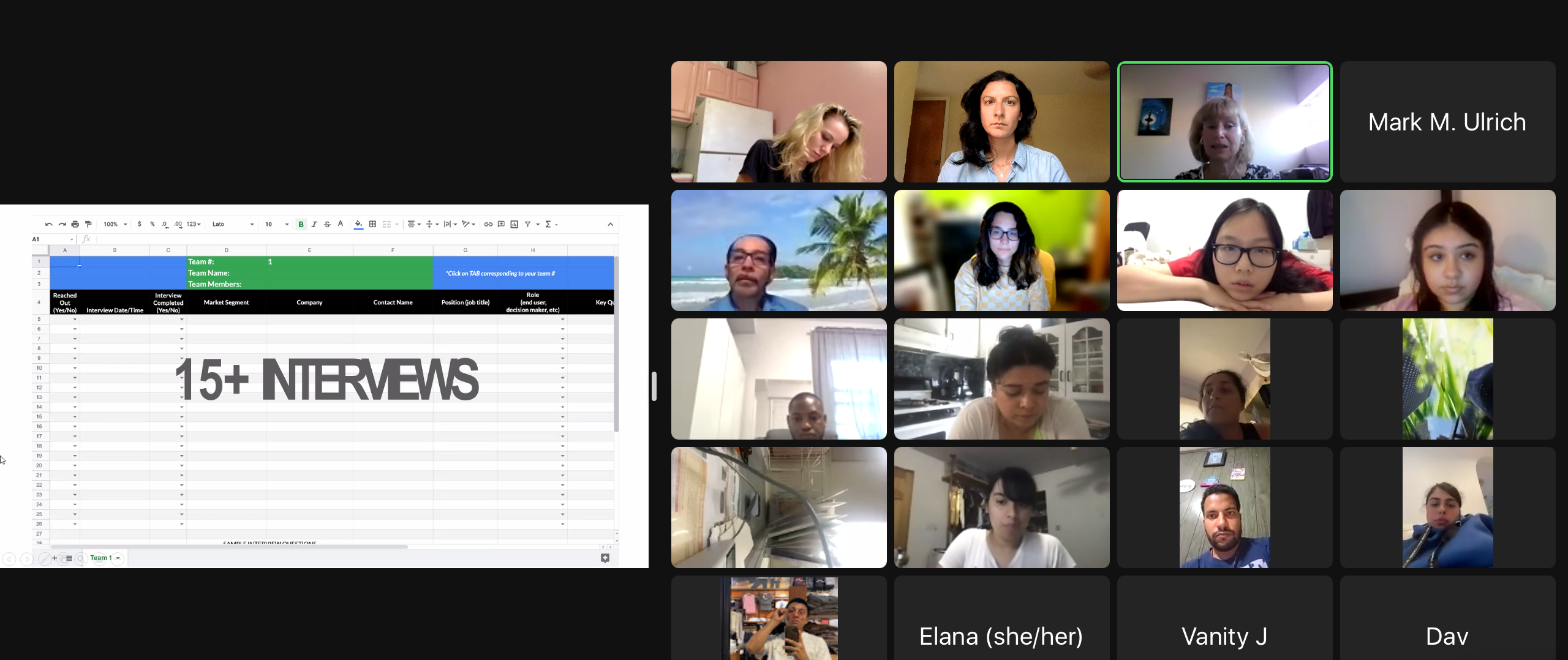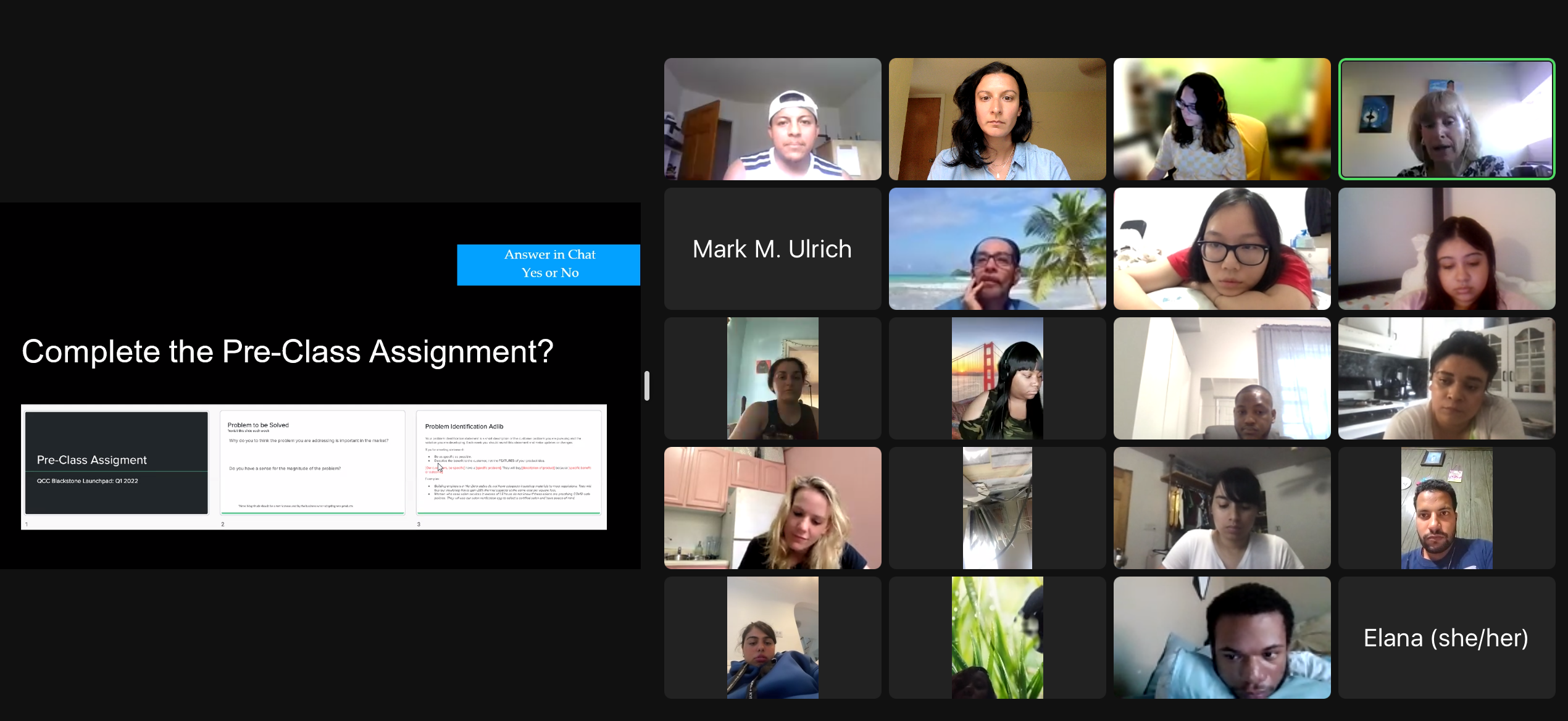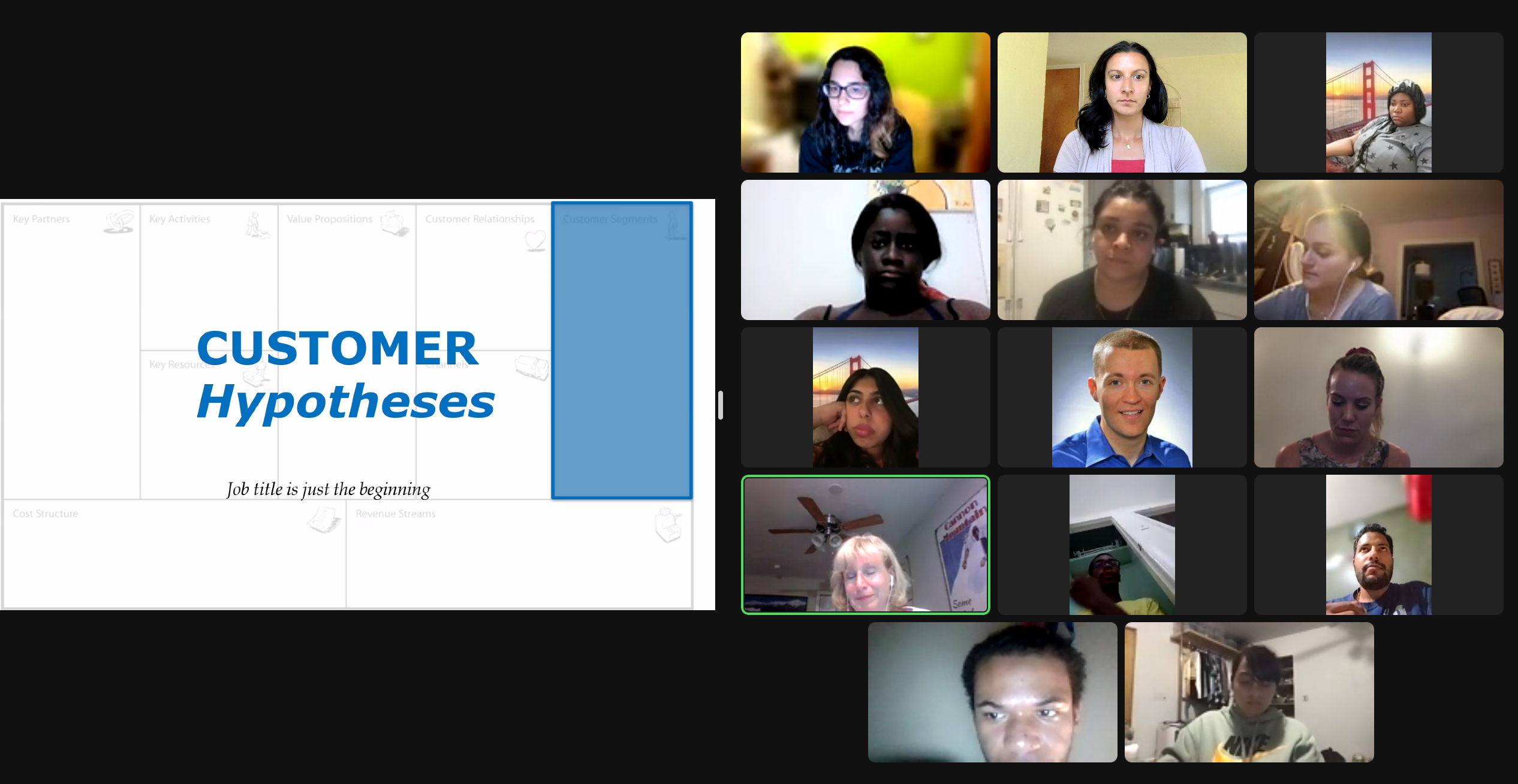 Testimonials:
"After attending this program, I gained the insight and confidence to take the next steps to creating an actual product instead of just holding onto my idea."
"My mind was bending around my customer discovery, and my big idea kept changing because of my customer interviews. This was more valuable than any business dream could have been because my customers made me face reality through their honest interviews."
"The mentorship meetings with the professors that took the time to assist us with our innovations was very helpful and motivating during this entire process."
"Joining the program, I was very anxious and scared of interviewing people. However, after conducting my 16 interviews, I feel much more calm talking to people. And I feel like that is such a valuable skill I have developed over the 6 weeks."
News
Queensborough's Entrepreneurial Stars Get Tapped For Prestigious Summer Program
Blackstone LaunchPad who partnered with Future Founders, has announced the latest cohorts of the Blackstone LaunchPad Fellowship, a virtual 7-week immersive program designed to support student entrepreneurs across the network. Run in partnership with Future Founders, the 2022 Summer Blackstone LaunchPad Fellowship will empower 90 student startups with entrepreneurial resources, mentorship, education, and financial assistance. Current students as well as alumni who graduated from 2015 to present, are eligible. Each student participant will receive a $5,000 stipend and mentorship...Read More
2 QCC students and 1 alumni have been accepted into the Blackstone LaunchPad Fellowship powered by Future Founders! The Fellowship is a program designed to help entrepreneurs explore ideas and build startups. Each participant will earn $5,000!
Daniel Avramov will continue working on his startup PocketBed: an auto inflatable portable housing solution to people that have trouble with stable housing and security.
Elizabeth Hanson will continue working on her startup Build A Bouquet: an innovative alternative to flowers.
Mateo Sáenz will continue work on his startup Eagle-i: a device to help first responders save more lives after a disaster by leveraging cutting edge technology and automation.
The Fellowship is a virtual program that is largely self-driven but also offers relevant startup workshops, peer networking events, mentor connections, and other opportunities to build entrepreneurial skills. Congratulations!
We have exciting news for Queensborough Community College!
The Blackstone LaunchPad is expanding to nine City University of New York (CUNY) colleges across all five New York City boroughs. QCC happens to be one of them! Read this announcement to learn more about what the Blackstone LaunchPad is, and how you can be a part of this as a QCC student regardless of your major or experience.
Connect with us
Visit Blackstone Launchpad to learn more

Top
Create a profile on StartupTree

Contact Information
Christine Mooney
Program Director
 CMooney@qcc.cuny.edu