Raquel Corona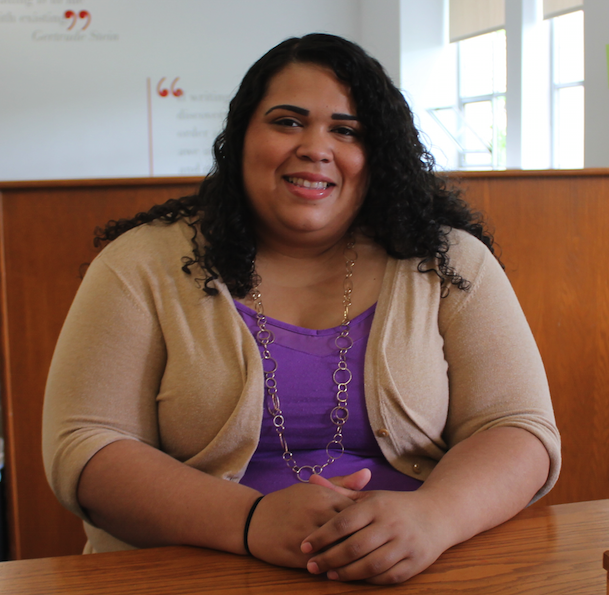 Raquel C. Corona
Lecturer, Department of English, Queensborough Community College, City University of New York (CUNY)
Office Information:
Humanities Building: H428 - Desk 3B
718-281-5477
Education:
Ph.D. in English, St. John's University, 2021

M.A. in English, Binghamton University, 2012
B.A. in English, Cornell University, 2007
Bio:
I began my time at Queensborough Community College in the spring of 2013 as part of the CUNY Start program, an initiative that helps students improve their entrance exam scores and get out of remediation.
I worked as an advisor and coordinator for the program helping students adjust to college and develop life skills. Prior to this, I worked as a higher education professional in residence life and student leadership. Eventually, I became an adjunct in the English department and pursued my interest in teaching more formally by attending graduate school and beginning my doctoral degree. During my time in graduate school I had the opportunity to become a full-time Lecturer in the English department. As a lecturer, I have continued making progress in graduate school and I am excited to say that my studies have come to a close. I defended my dissertation and my Ph.D. will be conferred in May of 2021.
Teaching Philosophy:
The eight years I spent as a higher education professional working in various departments ranging from residence life to advisement as well as other special programs that support students in their pursuit of a college education have truly shaped my teaching pedagogy and my commitment to student-centered and socially just teaching practices.  I believe that writing is a process and I help students understand writing through a community-based approach.  In my classes students develop several drafts and work in groups consistently throughout the semester to discuss their writing and get feedback from their peers.  In my classroom, I believe all students have something to offer their peers about the world and about writing.  I very much lead class discussions in this manner and with the genuine hope that we can all come into the classroom to learn from each other.
Research Interests:
My research interests include Latino literature, rhetoric, and Black and Latinx feminisms as well as the study of the Latinx female body in various media. My dissertation is a rhetorical exploration of how transnationalism affects the dissemination and circulation of stories about the Latinx female body and sex.  I am committed to a decolonial feminist lens as it is crucial how Latinxs resist and challenge hegemonic narratives of their bodies as hypersexualized beings within the coloniality of power.
Publications:
Review of Antiracist Writing Assessment Ecologies: Teaching and Assessing Writing for a Socially Just Future by Asao B. Inoue, Composition Studies, 44.2 (Fall 2016): 215-218. https://www.uc.edu/content/dam/uc/journals/composition-studies/docs/bookreviews/44-2/44.2%20Corona.pdf
Fellowships & Grants
Adjunct Professional Development Grant, Professional Staff Congress for City University of New York, Summer 2018.
CUNY Dominican Studies Institute Archives and Library Research Award, Recipient, The City College of New York, Summer 2017.
Doctoral Fellowship, Institute of Writing Studies, St. John's University, August 2015 – May 2017
Selected Conference Presentations:
"Engaging Outside our Silos: Collaborating for Student Success." National Conference, Two-Year College English Association, Pittsburgh, Pennsylvania (March 2019)
"Doing Ethical and "Responsible" Transnational Feminist and Archival Research," Feminist Rhetoric Pre-Convention Workshop, "Living Feminist Lives: Materialities, Methodologies, and Practices," Annual Convention, Conference on College Composition and Communication, Pittsburgh, Pennsylvania (March 2019)
"Performing Acts of Resistance: Utilizing Digital Platforms to Challenge Hegemony," Annual Convention, Conference on College Composition and Communication, Pittsburgh, Pennsylvania (March 2019)
""Los Hombres Nomas Quieren Una Cosa": Investigating the Dissemination of Sexual Knowledge in Latino Literature."  Annual Meeting, American Studies Association, Atlanta, Georgia (November 2018)

""¡tomar las riendas de su cuenta!": Transnational Feminist Rhetorics of Dominican Women and their Sexual Bodies," Biennial Conference of the Rhetoric of Society of America, Minneapolis, Minnesota (May 2018)
"Intervention on the Outskirts: Exploring Social Justice Literacies in Writing Center Practices," Annual Convention, Conference on College Composition and Communication, Minneapolis, Kansas City, Missouri (March 2018)
"Decoding Systems of Writing: Negotiation, Understanding and Institutional Positionality," Annual Conference, International Writing Centers Association, Chicago, Illinois (November 2017)
"Vamos Pa'lante:  Envisioning a Supportive and Inclusive Writing Classroom," Annual Convention, Conference on College Composition and Communication, Portland, Oregon (March 2017)
"Integrating Socially Just Practices in the College English Classroom," Workshop Facilitator, Annual Convention, Northeast Modern Language Association (March 2017)
"The Double-Edged Sword of the Oral Storytelling Tradition for Women and Their Bodies," The Cultural Rhetorics Conference, Michigan State University (October 2016)
"The Movement of the Latina's Body During the Sex Act:  Utilizing the Discourse of Storytelling to Map the Patriarchy in a Comparative Project of The Arabian Nights and Junot Diaz's Oscar Wao," The Watson Conference, University of Louisville (October 2016)