Biological Sciences & Geology
Peter A. Novick, Ph.D. Assistant Professor, Department of Biological Sciences and Geology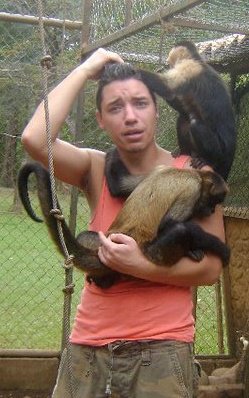 -Contact Information-
Office: Medical Arts 200
Fall 2015 Office Hours:
Thursday:
1:00pm-2:00pm
Thursday:
5:00pm-6:00pm
Friday:
11:00pm-12:00pm
Email: PNovick@qcc.cuny.edu
Office Phone: (718) 631-6091
-Research Interests-
Dr. Novick's research interests include eukaryotic and bacterial genomics, bioinformatics, transposable elements and molecular evolution. While doing his Ph.D. through the CUNY Graduate Center, Dr. Novick did research in the Boissinot lab on the evolution and diversity of transposable elements in the genome of the lizard Anolis carolinensis. He has since continued his research on molecular genetics, analyzing transposable element load and diversity of newly sequenced genomes, working in consortium with the Department of Energy's Joint Genome Institute annotating bacterial genomes, and collaborating with other departemental memebers analyzing the evolution of gene families in Streptomycetes.
-Courses Taught-
BI140: Principles of Biology for Non-Majors
BI201: General Biology I for Majors
BI301: Anatomy and Physiology
BI357: Bioinformatics and Computational Biology
-Education-
B.A. Biological Sciences - University of Delaware (2005)
M.A. Biological Sciences - The CUNY Graduate Center (2008)
Ph.D. Biological Sciences - The CUNY Graduate Center (2010)