Speech Communication and Theatre Arts
Our Degree Programs
A.S. Theatre, Concentration: Acting
A.S. Theatre, Concentration: Technical Theatre
A.A. Liberal Arts & Sciences, Concentration: Communication Studies
A.S. Film, Media, & Production Studies (beginning this fall 2019)
Our Mission Statement
The Department Of Speech Communication and Theatre Arts supports the mission of the college by offering academic coursework that is rigorous in nature, pedagogically sound, and prepares students for further studies and careers in Communication; Theatre Arts; and Film, Media, and Production Studies. Our Department provides students with experiential learning opportunities designed to advance their capacity for expressive, effective communication.
Our Goals
To develop and deliver courses and academic programs that support student success and maintain the highest level of academic rigor.
To encourage and support faculty as teachers, scholars, and members of an academic community who provide college service to advance the goals of the institution.
To collaborate with Academic Affairs, the Office of Pre-College Learning, other academic departments, and the campus community in support of academic initiatives for student success and the college's mission and goals.
To develop and implement processes and practices that assess for student learning in support of the college's dedication to academic excellence.
A.S. Theatre, NAST Accredited, with Concentrations in Acting & Technical Theatre
Spring 2019 Productions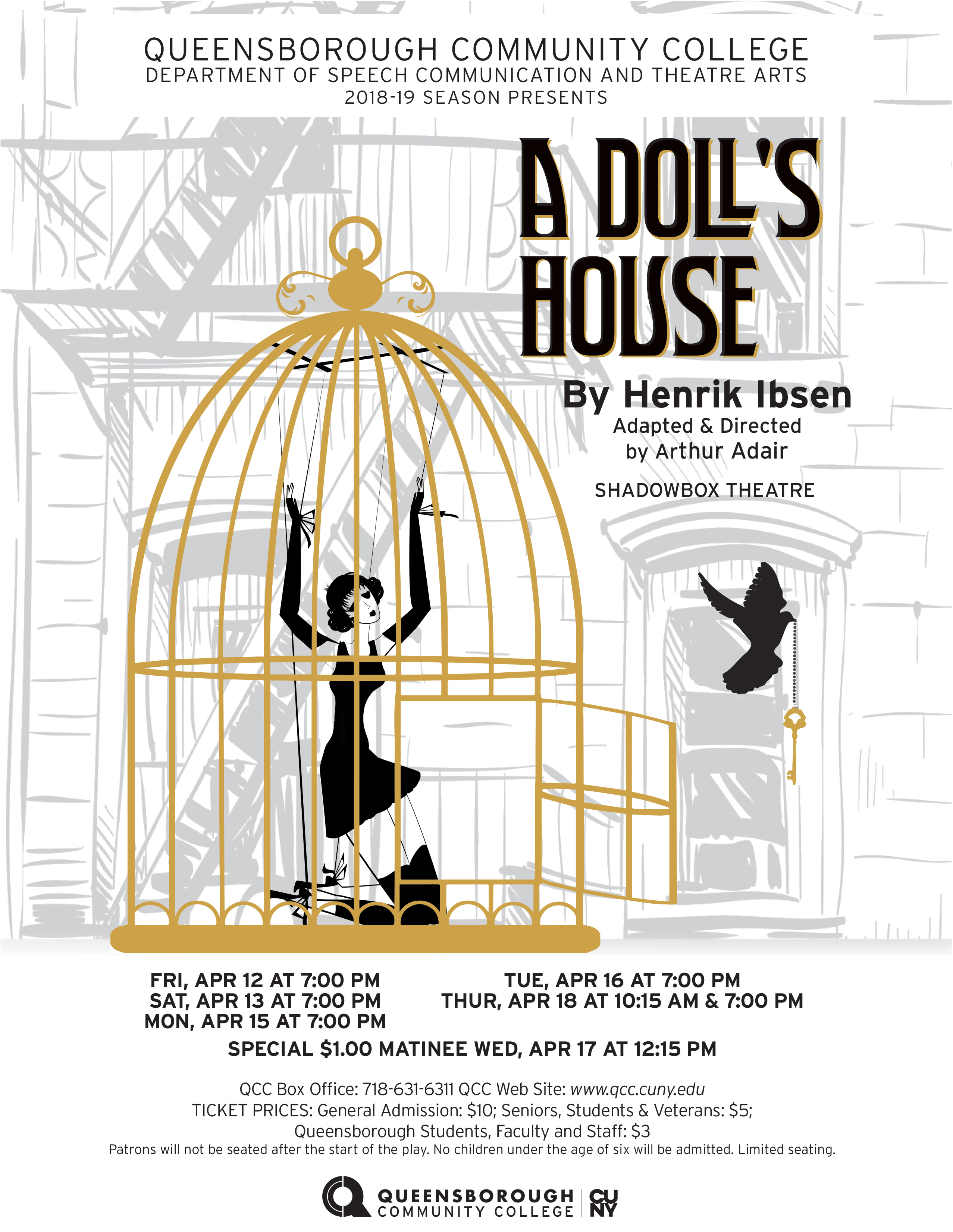 A DOLL'S HOUSE
By Henrik Ibsen
Adapted and Directed by Arthur Adair
The Shadowbox Theatre
Society was outraged, when, in 1879, the father of Realism presented this "modern" tragedy of a woman, married with children, trapped within a male-dominated world. We revisit the work, 140 years later, to see how times have changed.
Friday April 12 at 7:00pm SOLD OUT
Saturday April 13 at 7:00pm SOLD OUT
Monday April 15 at 7:00pm SOLD OUT
Tuesday April 16 at 7:00pm SOLD OUT
Wednesday April 17 at 12:15pm SOLD OUT
Thursday April 18 at 10:15am SOLD OUT
Thursday April 18 at 7:00pm SOLD OUT
Patrons will not be seated after the start of the play. No children under the age of six will be admitted. Limited seating.
Ticket Information & Past Productions