Faculty Member
Dr. Kevin Kolack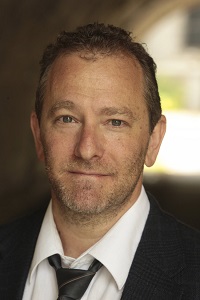 Office: S-408
Office hours: Mon 9AM-10AM,
Tues 2-3PM (in person and also online),
Thurs 11AM-12PM
Phone: 718-281-5037
Fax: 718-281-5078
Email: kkolack@qcc.cuny.edu
Motivated Strategies for Learning Questionnaire
The online MSLQ is located here.
Education
Ph.D., Inorganic Chemistry
1997, Indiana University
B.S., Chemistry, with distinction
1991, The University of Virginia
Students, please visit your class Blackboard page for class-specific information.
For chemistry tips, apps, etc., visit my resources page and the department's useful links page.
Bio
Professor Kolack came to QCC after 13 years at The Cooper Union as well as time at St. Joseph's College, Yeshiva University, and Hunter College. The editor of more than 300 peer-reviewed publications, Professor K has more than 25 years of college teaching experience and a highly eclectic background including 10 years as a firefighter/EMT, licenses for New York City taxi, ambulance, fire truck and helicopter, professional puppeteer experience, training as a fire eater, he competed at the Olympic level in smallbore rifle, and he really enjoys indoor skydiving in a vertical wind tunnel. Dr. Kolack is the lead author of the 3rd edition of "Introductory General Chemistry Experiments" and also wrote and starred in "The Professor K Show," a topical, environmental educational TV program.  Dr. Kolack and his wife Diane (a graduate of the CUNY Baccalaureate in Unique and Interdisciplinary Studies program), live in Queens with their son Teddy.
Teaching Philosophy
My goals in teaching are to enable students to understand the material and put it into practice in the laboratory, to help them improve their ability to communicate their understanding to peers and others, and to encourage them to use their education as a springboard for furthering a critical understanding of the world.

Over my 25+ years in the classroom and laboratory, and long before "student-centered learning" became a pedagogical catchphrase, I have endeavored to produce an interactive environment that is more than a teacher-centered lecture. Despite the challenges in maintaining this environment while instructing 250 students at once in a large lecture hall (which we do not use in the chemistry department at QCC), as opposed to the small seminar classes, laboratories and one-to-one tutoring sessions I've held, based on written evaluations, through my use of technology, real-world examples, and topical references, and by asking questions to be answered orally and in writing during each class, I have been successful in my goal.

Through the Echols Scholar program during my undergraduate years at The University of Virginia, I was able to design my own course of study, enabling me to couple a BS in Chemistry with economics, philosophy, and advanced studies in Eastern Religions. (My wife was fortunate enough to take part in a similar program at CUNY, and I strongly encourage QCC students interested in such a program to discuss CUNY BA with me.) I continued my multidisciplinary studies in graduate school at Indiana University, transitioning from my organic undergraduate major guided by Frank Carey (with a medical school organic chemistry undergraduate research project and a physical chemistry senior thesis with Ian Harrison) to an inorganic Ph.D. with George Christou, while also auditing courses in Tibetan language and patent law, becoming a firefighter-EMT-Hazardous Materials Technician and firefighter instructor, and taking performance classes in New York and Chicago. In my first class every semester, I encourage my students to really question why they have chosen their course of study, and how it could be better tailored to suit their needs. My aim is for them to learn something, rather than for them to view their classes as merely a means to an end, or their grades as the product they purchase with their tuition.

Especially in my laboratory courses, I have the reputation for pushing students to challenge themselves with written assignments, as I firmly believe that in our culture, how your ideas are expressed is often (for better or worse) of equal importance to their content. In small seminar classes and labs, I am also able to have students describe topics and techniques orally, for which there is no better substitute to gauge full understanding of the material.
I am a strong believer in the use of technology in the classroom, and make extensive use of cutting-edge instructional techniques in my lecture courses.
Courses Taught
CH106L - Chemistry and the Arts Laboratory
CH120 - Fundamentals of Chemistry
CH127 - Introductory General Chemistry
CH127L - Introductory Gen. Chem. Lab
CH128 - Introductory Organic Chemistry
CH128L - Introductory Organic Chem. Lab
CH151 - General Chemistry I
CH151L - General Chem. I Lab
CH152- General Chemistry II
General Chemistry 1 & 2 (Indiana University, The Cooper Union)
General Chemistry 1 & 2 Laboratory (Indiana University, The Cooper Union, Yeshiva University)
Introductory General Chemistry for Health Professionals (Hunter College)
Chemistry and the Environment (Indiana University)
Organic Chemistry Laboratory (The Cooper Union, Yeshiva University)
Analytical Chemistry Laboratory with lecture (The Cooper Union)
Publications
Kolack, K.; Svoronos, P.; Irigoyen, P. Introductory General Chemistry Laboratory Experiments, 3rd ed.; Kendall-Hunt: Iowa, 2017.
Tawde, M.; Boccio, D.; Kolack, K. Resolving Misconceptions through Student Reflections. J. Coll. Sci. Teach., 2017, 47 (1), 12.
Flowers, P.; et.al. (Kolack, K.- Reviewer). OpenStax, Chemistry [Online]; OpenStax CNX, 2017; http://cnx.org/contents/85abf193-2bd2-4908-8563-90b8a7ac8df6@9.424.
Tawde, M.; Boccio, D.; Kolack, K. Resolving Misconceptions to Enhance Learning in Gateway STEM courses. J. Microbio. Bio. Educ., 2016, 16 (1), 119.
American Chemical Society. (Kolack, K.- Reviewer). Chemistry in Context, 2nd ed.; ACS: Washington, D.C., 2000.
Seela, J.; Knapp, M.; Kolack, K.; Chang, H.-R.; Huffman, J.; Hendrickson, D.; Christou, G. Structural and Magnetochemical Properties of Mono-, Di-, and Trinuclear Manganese(III) Dithiolate Complexes, Inorg. Chem., 1998, 37(3), 516-525.
Kolack, K. From biochemistry to molecular materials: a new perspective on transition metal carboxylates. Ph.D. Thesis, Indiana University, June 1997.
Presentations
Bejar, D.; Persaud, A.; Carpenay, C.; Kolack, K.; D'Arista, U.; Molloy, J. Actively Engaging Students Using Blackboard's Building Blocks and LTIs (SoftChalk, VoiceThread, and PlayPosIt), Northeast Connect Conference: Teaching and Learning in the 21st Century, Bronx, NY, Nov 10, 2017.
Kolack, K. Perspectives on an Online Chemistry Course: The Beginning and the End, 217th Conference of the Two Year College Chemistry Consortium, American Chemical Society: Division of Chemical Education, Bronx, NY, May 26-27, 2017.
Kolack, K. A new chemistry experiment: Implementation of a partially online chemistry course for allied health majors at Queensborough Community College, 44th Mid-Atlantic Regional Meeting of the American Chemical Society, Bronx, NY, June 9-12, 2016.
Fall 2018 Teaching Schedule
Monday
Tuesday
Wednesday
Thursday
Friday
Saturday
8 am
 
 
 
 
 
 
9 am
Office Hour
(S-408)
 
CH151 X14
(S-415)
 
 
10 am
CH151 X14
(S-415)
"
 
 
11 am
"
"
Office Hour
(S-408)
 
 
12 pm
CH151 X13B
(S-412)
Club

CH127 F4
(S-412)

 
 
1 pm
"
 
Hours
"
 
 
2 pm
 Office Hour
(S-408 & via
Blackboard
Collaborate)
CH151 X13B
(S-415)
"
 
 
3 pm
 

 CH151L J2A

(S-407)

"
 
 
 
4 pm
 
 "
 
 
 
5 pm
 
 "
 
 
 
 
6 pm
 
 
 
 
 
7 pm
 
 
 
 
 
 
8 pm
 
 
 
 
 
 
© 2013-2018 Dr. Kevin Kolack