Faculty Member
Dr. Tirandai Hemraj-Benny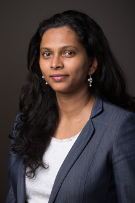 Title: Associate Professor
Location: Science 443
Phone: 718-281-5494
Email: themrajbenny@qcc.cuny.edu
Education:
2006 Ph.D., Chemistry: Materials and Physical Chemistry, Stony Brook University, Stony Brook, New York
2001 B.S., Chemistry, York College, CUNY, Queens, New York, (summa cum laude)
Courses Taught at QCC:
General Chemistry I Lecture and Laboratory (CH-151)
Introductory of Chemistry Laboratory (CH-127)
Fundamental of Chemistry Lecture (CH-120) Syllabus
Fundamental of Chemistry Laboratory (CH-121)
Introduction to Nanoscience Lecture (CH-115) Syllabus
Independent Study and Research (CH-900)
Other Courses Taught:
Analytical Chemistry Lecture and Laboratory (Old Westbury College, SUNY, 2008)
General Chemistry II Lecture (Old Westbury College, SUNY, 2008)
Physical Science Laboratory (Old Westbury College, SUNY, 2007)
General Chemistry Workshops (Stony Brook University, SUNY, 2001-2003)
Teaching Philosophy:
In my view, one of the greatest misconception students have about learning is that they are only responsible for studying, or they should only explore, the material given by the instructor on a given topic in the classroom. I strongly advocate students to explore beyond the textbook and have an appreciation for other resources. I do not believe that lecturing solely to a classroom can instill knowledge, or more importantly curiosity. Student participation is equally critical. Whenever possible, I encourage students to work in small groups, where they can not only develop leadership skills but also develop how to work effectively in a team and learn from each other. In addition, I believe in problem solving on the blackboard. I know that survival in our society requires more than the knowledge we acquire from textbooks. Valuable skills such as team participation, leadership, critical thinking, problem solving and possessing an active curiosity of our world, are not only essential for personal survival and growth but also for the improvement of our society.
Research Interests:
1) I am interested in the fabrication of novel nanomaterials hybrids involving carbon nanotubes and the incorporation of these hybrids into practical applications.
2) I am also interested in improving undergraduate students' understanding and appreciation for the fundamental principles of chemistry. I am specifically interested in student-centered classrooms, and active and cooperative learning to teach chemistry to community college students.
Peer Reviewed Publications:
Hemraj-Benny, Tirandai. "Synthesis of Single-Walled Carbon Nanotube-Nanoparticle Hybrid Structures" in "The Science and Function of Nanomaterials". Editor: Amanda Harper-Leatherman. Invited ACS Book Chapter. (2014) Accepted upon revisions.
Hemraj-Benny, Tirandai§ and Beckford, Ian. "Cooperative and Inquiry-Based Learning Utilizing Art Related Topics: Teaching Chemistry to Community College Non-Science Majors." Journal of Chemical Education (2014) Accepted ASAP Article: http://dx.doi.org/10.1021/ed400533r
Hemraj-Benny, Tirandai§, Pigza, J., Budhoo, S*, Condon, L.*, Depner, S., Dennis, R. and Banerjee, S. "Synthesis of Novel Single-Walled Carbon Nanotube –Magnesium Nanoparticle Composites by a Solution Reduction Method." Materials Letters (2014) 117, 305-308. (*QCC students)
Hemraj-Benny, Tirandai§ and Budhoo, Susan*. "Water Solubilized Single-Walled Carbon Nanotubes from Stirring Reaction." Materials Letters (2013) 93, 85-87. (*QCC student)
Hemraj-Benny, Tirandai§, Chauhan, M., Zhang, L., Wong, C.K*, Singh, G*.; Kim, E* and Ahn, E*. "The Co-ordination of Tris(trimethoxysilylpropyl) Isocynurate (TTPI) Capped Palladium Nanoparticles onto Single-Walled Carbon Nanotubes." Silicon (2011) 3, 97-101. (*QCC students)
Karimi, Sasan, Hemraj-Benny, Tirandai and Bojin, Mihaela. "Chemistry and the Arts, Laboratory Manual", bluedoor Publishing, (2010), ISBN 9781599842271, 2nd Ed (2012) 978-1-59984-517-3
Hemraj-Benny, Tirandai and Wong, S. Stanislaus. "Silylated Carbon Nanotubes and Methods of Making the Same" United States Patent #7,833,504 (November 16, 2010)
Hemraj-Benny, Tirandai, Bandosz, Teresa J. and Wong, Stanislaus S. "Effect of ozonolysis on the pore structure, surface chemistry, and bundling of single-walled carbon nanotubes." Journal of Colloid and Interface Science (2008), 317, 375-382
Hemraj-Benny, Tirandai and Wong, Stanislaus S. "Silylation of Single-Walled Carbon Nanotubes." Chemistry of Materials (2006), 18(20), 4827-4839 (Cover)
Hemraj-Benny, Tirandai; Banerjee, Sarbajit; Sambasivan, Sharadha; Balasubramanian, Mahalingam; Fischer, Daniel A.; Eres, Gyula; Puretzky, Alexander A.; Geohegan, David B.; Lowndes, Douglas H.; Han, Weiqiang; Misewich, James A.; Wong, Stanislaus S. "Imperfect surface order and functionalization in vertical carbon nanotube arrays probed by near edge X-ray absorption fine structure spectroscopy." Physical Chemistry Chemical Physics (2006), (43), 5038-5044
Hemraj-Benny, Tirandai; Banerjee, Sarbajit; Sambasivan, Sharadha; Balasubramanian, Mahalingam; Fischer, Daniel A.; Eres, Gyula; Puretzky, Alexander A.; Geohegan, David B.; Lowndes, Douglas H.; Han, Weiqiang; Misewich, James A.; Wong, Stanislaus S. "Near-edge X-ray absorption fine structure spectroscopy as a tool for investigating nanomaterials." Small (2006), 2(1), 26-35 (Invited)
Park, Tae-Jin; Banerjee, Sarbajit; Hemraj-Benny, Tirandai; Wong, Stanislaus S. "Purification strategies and purity visualization techniques for single-walled carbon nanotubes." Journal of Materials Chemistry (2006), 16(2), 141-154 (Cover)
Mao, Yuanbing; Kanungo, Mandakini; Hemraj-Benny, Tirandai; Wong, Stanislaus S. "Synthesis and Growth Mechanism of Titanate and Titania One-Dimensional Nanostructures Self-Assembled into Hollow Micrometer-Scale Spherical Aggregates." Journal of Physical Chemistry B (2006), 110(2), 702-710
Zorbas, Vasiliki; Kanungo, Mandakini; Bains, Sukhmine A.; Mao, Yuanbing; Hemraj-Benny, Tirandai; Misewich, James A.; Wong, Stanislaus S. "Current-less photoreactivity catalyzed by functionalized AFM tips." Chemical Communications (2005), (36), 4598-4600
Hemraj-Benny, Tirandai; Banerjee, Sarbajit; Sambasivan, Sharadha; Fischer, Daniel A.; Han, Weiqiang; Misewich, James A.; Wong, Stanislaus S. "Investigating the structure of boron nitride nanotubes by near-edge X-ray absorption fine structure (NEXAFS) spectroscopy." Physical Chemistry Chemical Physics (2005), 7(6), 1103-1106
Banerjee, Sarbajit; Hemraj-Benny, Tirandai; Sambasivan, Sharadha; Fischer, Daniel A.; Misewich, James A.; Wong, Stanislaus S. "Near-Edge X-ray Absorption Fine Structure Investigations of Order in Carbon Nanotube-Based Systems." Journal of Physical Chemistry B (2005), 109(17), 8489-8495
Banerjee, Sarbajit; Hemraj-Benny, Tirandai; Wong, Stanislaus S. "Routes towards separating metallic and semiconducting nanotubes." Journal of Nanoscience and Nanotechnology (2005), 5(6), 841-855 (Invited)
Banerjee, Sarbajit; Hemraj-Benny, Tirandai; Wong, Stanislaus S. "Covalent surface chemistry of single-walled carbon nanotubes." Advanced Materials (2005), 17(1), 17-29 (Invited)
Banerjee, Sarbajit; Hemraj-Benny, Tirandai; Balasubramanian, Mahalingam; Fischer, Daniel A.; Misewich, James A.; Wong, Stanislaus S. "Surface chemistry and structure of purified, ozonized, multiwalled carbon nanotubes probed by NEXAFS and vibrational spectroscopies." ChemPhysChem (2004), 5(9), 1416-1422
Hemraj-Benny, Tirandai; Banerjee, Sarbajit; Wong, Stanislaus S. "Interactions of Lanthanide Complexes with Oxidized Single-Walled Carbon Nanotubes." Chemistry of Materials (2004), 16(10), 1855-1863
Banerjee, Sarbajit; Hemraj-Benny, Tirandai; Balasubramanian, Mahalingam; Fischer, Daniel A.; Misewich, James A.; Wong, Stanislaus S. "Ozonized single-walled carbon nanotubes investigated using NEXAFS spectroscopy." Chem. Comm. (2004), (7), 772-773
Grants:
National Science Foundation (NSF) ($200,000.00) (Co-PI) 10/2012-09/2015 NUE: Unifying Nanotechnology Education at CUNY Community Colleges
PSC-CUNY ($3,500.00) (PI) 07/2014-12/2015 Understanding the Effects of Carbon Nanotubes on Breast Cancer Cells' Oxidative Stress

PSC-CUNY ($3,500.00) (PI) 07/2013-12/2014 Synthesizing Carbon Nanotubes-Supported- Ru Catalyst for Hydrolytic Hydrogenation of Cellulose to Sugar Alcohol
PSC-CUNY ($3,500.00) (PI) 07/2012-12/2013 Novel SWNT-Mg Nanocomposites for Lightweight and High Strength Structural Applications
QCC, CUNY Pedagogical Research Challenge Awards ($2,500.00) (PI) 08/2011-06/2012 Teaching Chemistry to Community College Non-Science Majors by Active Learning Methods Utilizing Art Related Topics
PSC-CUNY (1,844.00) (PI) 07/2009-06/2010 Silylation of Single-Walled Carbon Nanotubes
Paper/Poster Presented at Conferences:
Hemraj-Benny, Tirandai. "A Life Journey into the Nano-World, Understanding the Chemistry of Carbon Nanotubes". (

Invited Oral Presentation),

Women in Science and Engineering (WISE) Program, William Paterson University, NJ (2013)
Hemraj-Benny, Tirandai, "Teaching Chemistry to Community College Non-Science Majors by Active Learning Methods Utilizing Art." (Poster Presentation), 9th Annual Coordinated Undergraduate Education (CUE) Conference, John Jay College of Criminal Justice, NY (2013)
Hemraj-Benny, Tirandai. "Teaching chemistry to community college non-science majors by active learning methods utilizing art related topics." (Oral Presentation), 244th American Chemical Society National Meeting, Philadelphia, PA (2012)
Hemraj-Benny, Tirandai "Investigating Fundamental Properties of Single-Walled Carbon Nanotubes." (Oral Presentation), Queensborough Community College Faculty Developmental Seminar, Bayside, NY (2010).
Hemraj-Benny, Tirandai; Chauhan, Moni; Wong, Chi Kwan; Kim, Eunchul. "Formation of the Co-ordination of Tris trimethoxysilylpropyl) Isocynurate (TTPI) Capped Palladium nanoparticles onto Single-Walled Carbon Nanotubes." (Invited Oral Presentation), American Chemical Society National Meeting, Boston, MA (2010)
Hemraj-Benny, Tirandai; Wong, Stanislaus S. "Silylation of Single-Walled Carbon Nanotubes." (Oral Presentation), 40th Middle Atlantic Regional Meeting of the American Chemical Society National Meeting, Bayside, NY, United States, (2008)
Hemraj-Benny, Tirandai; Bandosz, Teresa; Wong, Stanislaus, S. "Effect of Ozonolysis on Pore Structure and Surface Chemistry of Single-walled carbon nanotubes." (Oral Presentation), American Chemical Society National Meeting, Atlanta, G.A., United States, (2006)
Hemraj-Benny, Tirandai; Banerjee, Sarbajit; Balasubramanian, Mahalingam; Sambasivan, Sharadha; Fischer, Daniel A.; Misewich, James A.; Wong, Stanislaus S. "NEXAFS Investigation of Nanotube-Based Systems." (Oral Presentation), Materials Research Society Fall Meeting, Boston, MA (2004)
Hemraj-Benny, Tirandai; Banerjee, Sarbajit; Wong, Stanislaus S. "Interactions of Lanthanide Metal Complexes with Single-walled Carbon Nanotubes" (Poster Presentation), Materials Research Society Fall Meeting, Boston, MA (2004)
Hemraj, Tirandai; Banerjee, Sarbajit; Wong, Stanislaus S. "Interactions of carbon nanotubes with metal complexes." (Poster Presentation), 226th American Chemical Society National Meeting, New York, NY, United States, (2003)
QCC Student Paper/Poster Presented at Conferences:
Condon, Loren and Hemraj-Benny, Tirandai. "Synthesis of Novel Single-Walled Carbon Nanotube-Magnesium Nanoparticles Composites by Solution Reduction Method." (Oral Presentation), 10th Annual Queensborough Community College Honors Conference, Bayside, NY (May 2014)
Condon, Loren and Hemraj-Benny, Tirandai. "Synthesis of Novel Single-Walled Carbon Nanotube-Magnesium Nanoparticles Composites by Solution Reduction Method." (Oral Presentation), 62nd Undergraduate Research Symposium, New York American Chemical Society, St. John's University, Queens, NY (May 2014)
Condon, Loren and Hemraj-Benny, Tirandai. "Synthesis of Novel Single-Walled Carbon Nanotube-Magnesium Nanoparticles Composites by Solution Reduction Method." (Poster Presentation), 8th Annual Undergraduate Research Symposium Biological and Chemical Sciences, William Paterson University, Wayne, NJ (April 2014)
Chin, Christopher; Tobar, Nelson; Condon, Loren; Budhoo, Susan and Hemraj-Benny, Tirandai. "Synthesizing Hafnium (IV) Oxide Coated Single-Walled Carbon Nanotubes."(Oral Presentation), 9th Annual Queensborough Community College Honors Conference, Bayside, NY (May 2013)
Condon, Loren; Budhoo, Susan and Hemraj-Benny, Tirandai. "Synthesis and Property Investigation of Single-Walled Carbon Nanotube-Magnesium Nanoparticle Composites."(Oral Presentation), 9th Annual Queensborough Community College Honors Conference, Bayside, NY (May 2013)
Tobar, Nelson; Chin, Christopher; Sullivan, Regina, andHemraj-Benny, Tirandai. "Understanding the Effects of Carbon Nanotubes on the Oxidative Stress of Cancer Cells."(Oral Presentation), 9th Annual Queensborough Community College Honors Conference, Bayside, NY(May 2013)
Condon, Loren; Budhoo, Susan and Hemraj-Benny, Tirandai. "Synthesis and Property Investigation of Single-Walled Carbon Nanotube-Magnesium Nanoparticle Composites."(Oral Presentation), 61st Undergraduate Research Symposium, New York American Chemical Society, The City College of New York, NY (April 2013)
Tobar, Nelson; Chin, Christopher; Sullivan, Regina, and Hemraj-Benny, Tirandai. "Understanding the Effects of Carbon Nanotubes on the Oxidative Stress of Cancer Cells."(Oral Presentation), 61st Undergraduate Research Symposium, New York American Chemical Society, The City College of New York, NY (April 2013)
Chin, Christopher; Tobar, Nelson; Condon, Loren; Budhoo, Susan and Hemraj-Benny, Tirandai. "Synthesizing Hafnium (IV) Oxide Coated Single-Walled Carbon Nanotubes."(Oral Presentation), 61st Undergraduate Research Symposium, New York American Chemical Society, The City College of New York, NY (April 2013)
Condon, Loren and Hemraj-Benny, Tirandai. "Synthesis and property investigation of Single-walled carbon nanotube-magnesium nanoparticle composites (SWNT-Mg)". (Poster Presentation), American Chemical Society National Meeting, Philadelphia, PA (Aug. 2012)
Condon, Loren and Hemraj-Benny, Tirandai. "The Synthesis of Hafnium oxide coated Single-Walled Carbon Nanotubes."(Oral Presentation), City University of New York (CUNY) Community College Honors Conference, Bayside, NY (May 2012)
Condon, Loren and Hemraj-Benny, Tirandai. "The Synthesis of Hafnium oxide coated Single-Walled Carbon Nanotubes."(Oral Presentation), Undergraduate Research Symposium, Old Westbury, NY (May 2012)
Budhoo, Susan and Hemraj-Benny, Tirandai. "Carbon Nanotubols from Sonication and High Thermal Reactions." (Oral Presentation), City University of New York (CUNY) Community College Honors Conference, Bayside, NY (2011)
Budhoo, Susan and Hemraj-Benny, Tirandai. "A Comparative Investigation of Obtaining Hydroxyl Functionalities on Single-Walled Carbon Nanotubes by means of Potassium Hydroxide Reactions." (Oral Presentation) Undergraduate Research Symposium, Riverdale, NY (2011)
Budhoo, Susan and Hemraj-Benny, Tirandai. "Investigating the Chemical Interactions between SWNTs and Oxides of Hafnium." (Poster Presentation) Middle Atlantic Regional Meeting (MARM), College Park, MD (2011)
Noori, Toor, Badal, Christina, and Hemraj-Benny, Tirandai. "Silylation of Single-Walled Carbon Nanotubes." (Poster Presentation), City University of New York (CUNY) Pipeline Honors Conference, NY, NY (2010)
Wong, Chi Kwan, Singh, Gurpreet, Chauhan, Moni and Hemraj-Benny, Tirandai. "Investigating the Attachment and the Formation of Silver Nanoparticles onto Single-Walled Carbon Nanotubes." (Poster Presentation), City University of New York (CUNY) Pipeline Honors Conference, NY, NY (2010)
Ahn, Esther, Wong, Chi Kwan, Kim, Eunchul, Chauhan, Moni and Hemraj-Benny, Tirandai."The formation of Tris(trimethoxysilylpropyl) Isocynurate (TTPI) Capped Palladium Nanoparticles onto Single-Walled Carbon Nanotubes." (Poster Presentation) Middle Atlantic Regional Meeting (MARM), Wilmington, DE (2010)
Ahn, Esther, Wong, Chi Kwan, Kim, Eunchul, Chauhan, Moni and Hemraj-Benny, Tirandai."The formation of Tris(trimethoxysilylpropyl) Isocynurate (TTPI) Capped Palladium Nanoparticles onto Single-Walled Carbon Nanotubes." (Oral Presentation) City University of New York (CUNY) Community College Honors Conference, Bayside, NY (2010)
Ahn, Esther, Wong, Chi Kwan, Kim, Eunchul, Chauhan, Moni and Hemraj-Benny, Tirandai."The formation of Tris(trimethoxysilylpropyl) Isocynurate (TTPI) Capped Palladium Nanoparticles onto Single-Walled Carbon Nanotubes." (Oral Presentation) Undergraduate Research Symposium, Garden City, NY (2010)
Ahn, Esther and Hemraj-Benny, Tirandai. "Systematic study on the acid purification and functionalization of single-walled carbon nanotubes." (Poster Presenation), American Chemical Society National Meeting, Boston, MA (2010)
Noori, Toor and Hemraj-Benny, Tirandai. "Silylation of Single-Walled Carbon Nanotubes with Trimethoxysilane." (Oral Presentation), City University of New York (CUNY) Community College Honors Conference, Bayside, NY (2009)
Badal, Christina and Hemraj-Benny, Tirandai. "Silylation of Single-Walled Carbon Nanotubes with Hexaphenyldisilane." (Oral Presentation), City University of New York (CUNY) Community College Honors Conference, Bayside, NY (2009)
Wong, Chi Kwan and Hemraj-Benny, Tirandai. "Investigating the Formation of Silver Nanoparticles onto Single-Walled Carbon Nanotubes." (Oral Presentation), City University of New York (CUNY) Community College Honors Conference, Bayside, NY (2009)
Noori, Toor, Badal, Christina and Hemraj-Benny, Tirandai. "Silylation of Single-Walled Carbon Nanotubes with Trimethoxysilane." (Oral Presentation), New York Chemistry Students' Association of the American Chemical Society Undergraduate Research Symposium, Pleasantville, NY (2009)
Badal, Christina, Noori, Toor and Hemraj-Benny, Tirandai. " Silylation of Single-Walled Carbon Nanotubes with Hexaphenyldisilane." (Oral Presentation), New York Chemistry Students' Association of the American Chemical Society Undergraduate Research Symposium, Pleasantville, NY (2009)
Wong, Chi Kwan, Singh, Gurpreet, Chauhan, Moni and Hemraj-Benny, Tirandai. "Investigating the Formation of Silver Nanoparticles onto Single-Walled Carbon Nanotubes." (Oral Presentation), New York Chemistry Students' Association of the American Chemical Society Undergraduate Research Symposium, Pleasantville, NY (2009)
Singh, Gurpreet, Wong, Chi Kwan, Chauhan, Moni and Hemraj-Benny, Tirandai. "Attachment of Silver Nanoparticles onto Single-Walled Carbon Nanotubes." (Oral Presentation), New York Chemistry Students' Association of the American Chemical Society Undergraduate Research Symposium, Pleasantville, NY (2009)
Badal, Christina, Noori, Toor and Hemraj-Benny, Tirandai. "Silylation of Single-Walled Carbon Nanotubes." (Poster Presentation), American Chemical Society National Meeting, Washington, DC (2009)
Wong, Chi Kwan, Singh, Gurpreet, Chauhan, Moni and Hemraj-Benny, Tirandai. "Investigating the Attachment and the Formation of Silver Nanoparticles onto Single-Walled Carbon Nanotubes." (Poster Presentation), American Chemical Society National Meeting, Washington, DC (2009)