English Department
Student Publications, Activities, and Awards - English Department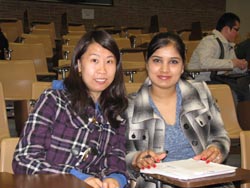 Faculty in the English Department value students' writing and encourage students to publish their work in the two publications that the Department sponsors: Communiqué, the College's newspaper and QueensZine, the College's online interdisciplinary journal of arts and ideas.  To submit work to Communiqué, student reporters typically are registered in the journalism class-but Tammi Rothman, the advisor to Communique, welcomes article submissions from the entire campus community.  Any student in any course is welcome to submit creative or academic work to QueensZine.
In order to recognize and honor excellent examples of student writing and performance, the department offers a number of awards to students:
The Hedy Jacobowitz Memorial Award for Outstanding Journalism or Non-Fiction. This award is for students who have completed 101 and 102. Journalism students, creative writers and advanced expository writing students are all eligible. You can submit your own work to be considered for this award.
The Reginald and Eileen Keizs Award in Literature and Writing goes to a Queensborough student who is majoring in Education and has completed at least one course beyond EN102. To be considered for this award, students must have a high grade point average and be recommended by one of their English professors.
The Dr. Arnold Asrelsky Award for Achievement in Writing and Literature by an Evening Student. For students of upper-level Writing and Literature courses taught in the evening that work and tend to their families as they take college courses.
The Smithline/Trefman Award. For outstanding achievement in literature and writing. Primarily determined by grades and a faculty recommendation; students need to have completed at least one course beyond EN-102 in order to compete.
The Meredith Young Scholarship Endowment. For a student who is a single parent and has complete a Basic Skills writing course and has earned/is earning a C+ or better in English 101.
2016 AWARD RECIPIENTS
Hedy Jacobowitz Award: Annie Bercy, "Homelessness" ; Jetesh Sahadeo, "The Juxtaposition: Capital Punishment and DNA Evidence"; Hyein Jeon, "Before We Send Another Innocent to Death"; Leslie Monzon, "Diary of a 21st Century Teenager"; Scott Garber, "Programming the American Dream"; Glory Estevez, "Selfless"; Nathania Fields, "Less than Girlhood"; Dabbiesha Ballintine, "Consider the Green Dress"; Zihao Wang, "Multiple Responses to Fear of Loss" ; Andrea Valera, "Being Different But Special"; Christina McNally, "Surviving Guilt"
Marcia Keisz Award:Danielle Mesisca, "Wounds Do Heal"  
Meredith Young Scholarship Endowment:Nermin Elshazly 
Smithline/Trefman Award: Christopher Caserma, "Saving Private John"  
Herbert Seitz Award: Robin Li, "Hard Living in Harlan County, USA"; Romel Martinez, "Heart of Darkness"; Caroline Miele, "Tree on Kimball"
Civil Rights Archives Writer-in-Residence: Brenda Tapia, Abigail Jalle
Creative Writing Club Leadership Award: Nadine Cavanaugh