Faculty Member
Faculty Biography - Weier Ye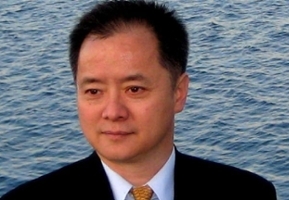 Dr. Weier Ye is an Assistant Professor of English as a Second Language. In China, Dr. Ye studied English language and literature, for which he received a B.A. from Zhejiang University. He completed a portion of his postgraduate studies in English teaching methodology at South China Normal University and taught English reading and writing courses at the college level for over ten years. After coming to the United States in 1998, he pursued an M.A. in TESOL (Teaching English to Speakers of Other Languages) at Long Island University - C.W. Post Campus. Before coming to Queensborough, he taught ESL and non-ESL reading and writing courses for 5 years at Professional Business College in downtown Manhattan. He received his Ph.D. in Composition & TESOL from Indiana University of Pennsylvania. He is happy to be part of the Academic Literacy team and loves working with QCC students.
In general, Dr. Ye's main research interests include cohesion and coherence in text linguistics, second language writing, contrastive rhetoric, and modern Chinese rhetorical values. He is particularly interested in researching the effect of various cultural factors on native Chinese speakers' studying English as well as their learning processes with the intention of addressing methods writing teachers may employ to acculturate second language writers into an American style of written discourse.
As a teacher of writing and reading, Dr. Ye is a facilitator, a motivator, and a collaborator. His primary goal, regardless of his students' race, religion, creed, national origin or ethnicity, is to teach English to students whose dominant form of communication is in a language other than English in a manner that allows them to become proficient in English.
GRANTS/RESEARCH
Recipient of the PSC-CUNY 44 Research Award entitled: Are There Any Differences in Summary Writing between ESL and Native-English-speaking Students Taking Physics Courses?
Recipient of the QCC Pedagogical Research Challenging Grant-2013 Award entitled: A Co-teaching Interdisciplinary Approach to Student Learning: Enhanced Conceptual Understanding via Summarizing Strategies
PUBLICATIONS
Books
Co-author of A Gateway to Idiomatic English, 2009. Tianjin: Nankai University Press

Co-author of An Introduction to Tagmemics, 1993. Guangzhou: Guangdong Provincial Education Press

A Handbook of Essential Situational Conversation, 1992. Guangzhou: Guangdong Institute of Science and Technology (Restricted Publication)

Co-author of A Guide to English Writing, 1990. Guangzhou: Guangdong Provincial Education Press
Journal articles
Ye, Weier. (1998). Tagmemic Theory and Translation of Scientific Literature. Shanghai Journal of Translators for Science and Technology, 4.

Ye, Weier. (1998). American English in Scientific Literature. Journal of Xinjiang Normal University, 19(3), 150-154.

Ye, Weier. (1998). Continuing Education English Programs for Professional Staff Development, Journal of Huaibei Normal University, 67(supplementary issue), 127-129.

Ye, Weier. (1998). Schema Theory and ESL Reading. Foreign Language Education, 1, 24-28.

Ye, Weier. (1996). The Structure of Language Hierarchies. Journal of Beijing International Studies University, 4.

Ye, Weier. (1995). Significance of Tagmemic Theories in Foreign Language Teaching. Journal of Beijing International Studies University, 66(4), 50-54.

Co-author of the Role of the Government and Enterprises in Continuing Engineering Education. 6th World Conference on Continuing Engineering Education, Brazil, 1995.

Ye, Weier. (1992). The Teaching of Oral English in Language Training. Continuing Education in Guangdong, (2)1, 12-16.

Li, Xueping, & Ye, Weier. (1990). Four Factors in English for Science and Technology Reading. Foreign Language Research, 4, 29-35.