Faculty Member
Dr. Meg Tarafdar - Assistant Professor, English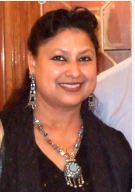 Dr. Meghmala Tarafdar
Assistant Professor, Department of English, Queensborough Community College, City University of New York (CUNY)
Program Coordinator, Global & Diversity Learning as a High Impact Practice
Global and Diversity Learning (GDL) is a High Impact Practice that provides a framework for exploring multiple perspectives on viewing the interdependent world. Read More...
http://www.qcc.cuny.edu/english/faculty/mtarafdar/global_and_diversity_learning.html
In my classes, I implement web-assisted instruction and utilize interactive course components for online and on-site delivery. My assignments are designed to motivate and encourage students in attaining their full potential as students and writers.
Publications:
Tarafdar, Meghmala, Pantaleo, Josephine, and Ellerton, Sharon. "Fostering the Intercultural Learning Cycle through Academic Service Learning (ASL)" in Intercultural Horizons: Intercultural Strategies in Civic Engagement. Ed. Lavinia Bracci, Nevin C. Brown, and Eliza J. Nash. Cambridge Scholar Publishing, 2013.
http://www.amazon.com/Intercultural-Horizons-Strategies-Civic-Engagement/dp/1443851620
This volume features papers from the second annual Intercultural Horizons conference held in October 2012 in New York City. The conference was the second in an annual series of meetings; the present volume is a companion to one issued in 2012 by Cambridge Scholars Publishing (Intercultural Horizons: Best Practices in Intercultural Competence Development). The papers reflect diverse approaches to intercultural education in the North American setting, with a few also looking at its application in diverse cultural settings in other nations. Our authors provide faculty and student perspectives primarily from the level of postsecondary education, although the volume also includes a look at intercultural education at the primary level. Many papers focus on issues of curriculum, teaching and learning in relation to developing intercultural competence in students in North American colleges and universities, particularly, though not exclusively, through the use of service-learning. The papers also touch on another important development moving from the periphery to the core of many institutions of higher education in North America - the university's engagement with the community. Similar efforts are now emerging among many Asian universities and in Europe. Thus, this volume serves as a preview of themes that the International Center for Intercultural Exchange plans to explore in its future conferences. ISBN-10: 1443851620 | ISBN-13: 978-1443851626
Tarafdar, Meghmala. "Teaching Eastern Perspectives in World Literature Courses: An Interdisciplinary Approach." Teaching literature in community college classrooms : traversing practices. Ed. Margaret Barrow; Manya Steinkoler; Susan Arvay; et al. Boston [Mass.] : McGraw Hill, Learning Solutions, ©2013.
http://www.worldcat.org/title/teaching-literature-in-community-college-classrooms-traversing-practices/oclc/827800613