Faculty Member
Prof. Thomas Wong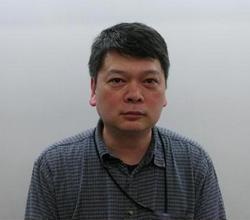 Prof. Thomas Wong
Office: Science 408
Phone: (718) 631-6939
Email: TWong@qcc.cuny.edu
EDUCATION
MS, Organic Chemistry, St. John's University, Queens, New York (2008)
MA, Biology, Hofstra University, Hempstead, New York
BS, Chemistry, York College, Jamaica, New York
AS, Science, LaGuardia Community College, Long Island City, New York
COURSES TAUGHT
CH-151: General Chemistry I
CH-152: General Chemistry II
TEACHING PHILOSOPHY
Preparation of students for chemistry graduate school and medical school. Each student will be subject to vigorous training. Chemistry majors who are determine and hardworking will achieve their ultimate goal for graduate school. Premedical students who are steadfast and diligent in their studies will achieve the level necessary to graduate as medical doctors. Focus, work hard, and graduate.
RESEARCH EXPERIENCE and INTEREST
Ring-closing metathesis (RCM) has made possible the synthesis of many compounds via transition metal catalysts.  The most widely known are Grubbs catalyst and Schocks catalyst.  Ruthenium is used in Grubbs catalyst whereas molybdenum is used in Schocks catalyst. 
Dienes (molecules with two double bonds) are used in the final step of synthesis.  During the RCM reaction, two double bonds of the diene are broken and two double bonds (ring product and side-product) are formed.  If successful, a RCM product is the desired ring compound called a macrocycle.  Diene precursors (aka RCM substrates) are formed by a coupling (joining) reaction between two smaller components. A series of coupling reactions can lead to a larger diene but for this project one coupling was sufficient.
In some cases, the RCM reaction can result in the formation of dimer rings.  Instead of one diene molecule that closes to a ring (a monomer), two diene molecules closes to a bigger ring (a dimer).  Compounds 4 and 7 are dienes.  Compounds 5 and 8 are the monomer rings formed from the RCM reaction.  Compound 4 can also result in compound 15 (a dimer ring).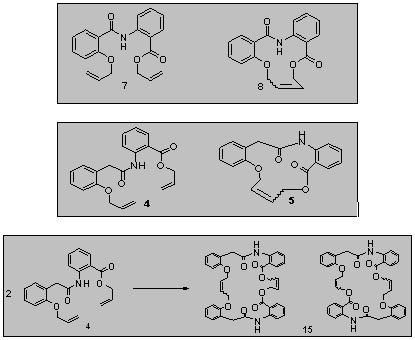 After receiving my Master's degree, I continued to work as a research associate in Dr. David P. Brown's laboratory at St. John's University in research that employs First Generation Grubbs catalyst in the organic synthesis of ring compounds.  Two more ring products were synthesized; one monomer ring and one dimer ring from the same reaction milieu.  The prospect of a publication to an organic journal appears promising.   My time at St. John's University closed as of September 2009.
As you might expect, research never ends; it continues into the next step.  I am confident that the project(s) I have in mind will challenge not only myself but also students who are determine to participate in the synthesis of new compounds via ring closing metathesis that might change the world.
Excerpts were taken from:
"Development in the Synthesis of Novel Macrolactams as New Chemical Entities for Drug Discovery" Master Thesis, Department of Chemistry, St. John's University, 2008
PRESENTATION
David P. Brown and Thomas Wong, "Synthesis of Novel Macrocyclic Compounds in the Development of New Chemical Entities for Drug Discovery Research", The 40th Middle Atlantic Regional Meeting (MARM) of the American Chemical Society, Queensborough Community College, May 18, 2008 (poster presentation).
PUBLICATIONS
David P. Brown, and Thomas Wong,    "A Synthetic Study of Dibenzo-Aromatic Macrolactams", Heterocycles, 2010, 81(1). [Received September 20, 2009; Accepted October 26, 2009]