Alumni & Friends
About Us
Great things are happening right here at Queensborough! Each year, we welcome back our 50th and 25th anniversary classes at the College's annual commencement. Pictured below with some of our Alumni who celebrated their anniversary is Queensborough's Vice President for Institutional Advancement Ms. Rosemary Sullivan Zins(center). These Alumni marched in the Commencement Processional to celebrate the Anniversary of their graduation.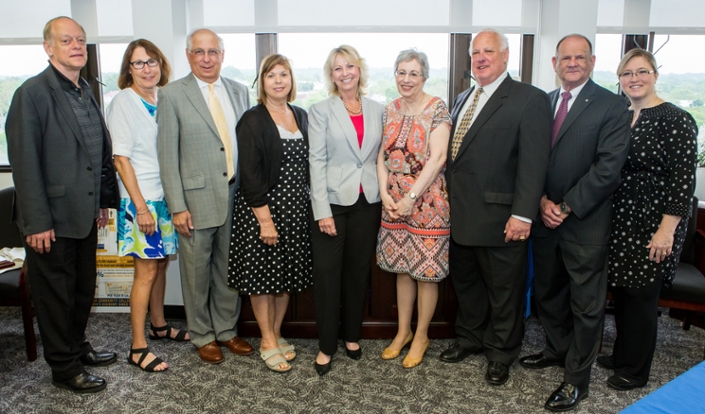 Give
Give to QCC
The Queensborough Community College Alumni Association
The QCCAA is a nonprofit 501(c)(3) organization that was formed by the Queensborough Alumni with the College to support and promote the interests and welfare of Queensborough Community College of The City University of New York.
With a donation of $35 dollars or more each year, you automatically become a member of the QCC Alumni Association.
New graduates are given a complimentary one year membership to the QCCAA.
An application for membership in the QCCAA can be made online, by mail or in person at the Alumni Office in room A-508 at the College.
The full membership of the Alumni Association elects its governing body, the Alumni Cabinet, on a bi-annual basis each June. Cabinet members subsequently elect the officers. Cabinet members and officers serve two (2)-year terms.
Benefits of Membership in the QCCAA include the Following:
Alumni networking opportunities and invitations to the Presidential Lecture Series, job fairs, lectures and events at the QCC Art Gallery and in the Kupferberg Holocaust Center.
Discounts to Queensborough Performing Arts Center (QPAC), the QCC Bookstore and Continuing Education classes.
Invitations to world class exhibits in the QCC Art Gallery.
Use of the health club facilities; also access to the pool through a separate membership.
Access to the library, its research facilities and library computers.
Discounted movie tickets and rentals, amusement parks, Broadway shows, special family and sports events through the Working Advantage ® Program

opens in a new window

and register under the Queensborough Community College ID # (804163276).
Volunteer
Volunteer Opportunities: Alumni can volunteer to help at events at the College. SUch as the exhibits at the Kupferberg Holocaust Center, and the Art Gallery.
Support Student Success at QCC: The Queensborough Community College Fund, Inc. is the nonprofit organization established in 1975 to raise funds from private sources to advance the educational and cultural programs of Queensborough Community College. Gifts to the QCC Fund, Inc., bridge the gap between the actual cost of educating students and the funds provided by tuition, the state and the city.
Your contribution to the QCC Fund may be directed to:
The Queensborough Community College Alumni Association
Annual Fund: your gift goes where it is most needed
Scholarships: those that already exist for a department or new endowed scholarships or awards
Faculty Research and Development
The Kupferberg Holocaust Center (KHC)
The QCC Art Gallery
The Queensborough Performing Arts Center (QPAC)
Partners for Progress Gala, QCC's Annual Fundraiser