The QCC Fund, Inc.
The QCC Fund, Inc. - Patricia Tiffany
Patricia Tiffany
SVP, Director of Marketing
Flushing Bank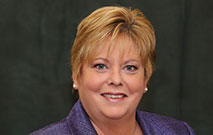 ---
Pat Tiffany is Senior Vice President and Director of Marketing of Flushing Bank, a New York State-chartered commercial bank insured by the Federal Deposit Insurance Corporation. The bank serves consumers, businesses and public entities by offering a full complement of deposit, loan and cash management services through its eighteen banking offices located in Queens, Brooklyn, Manhattan and Nassau County. The bank, which is a generous supporter of the QCC Fund, Inc., also operates an online banking division, iGObanking.com®, which offers competitively priced deposit products to consumers nationwide.
Pat is a results-oriented marketing executive with leadership experience to build, grow, or turn around a business unit. She has extensive online and direct marketing media experience, segmentation and targeting strategy to acquire, activate and retain customers. She is an innovative leader who thrives in a fast-paced environment and enjoys managing people, projects and processes.
Pat has a B.S. degree in marketing from Long Island University, C.W. Post Campus and an M.B.A. from Adelphi University. In 2015, Pat nominated Frank Korzekwinski, Senior Executive Vice President and Chief Real Estate Lending Officer of Flushing Bank, as the Partners Gala Corporate Partner of the Year.
Pat was elected to the QCC Fund Board of Directors in 2012 and is the current Secretary and has previously served as Chair of the Partners for Progress Gala Committee.