Foreign Languages and Literatures Deparment
Language Laboratories H240/H241
The Department of Foreign Languages & Literatures welcomes you to the Foreign Language Laboratory. The Language Lab is located in Room 240 Humanities Building. We can be reached at (718) 281-5338 or Dawilliams@qcc.cuny.edu.
The Language Lab - H240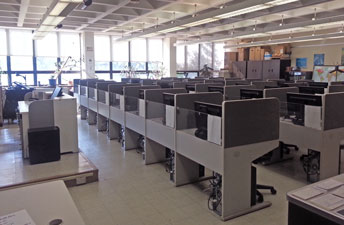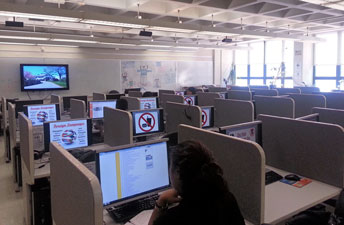 The language lab is located on the second floor of the Humanities building room 240. The lab gives you access to a vast amount of news, events, information and practice through various programs, videos, and links to the Internet. The lab is designed so that students are afforded ample opportunity to practice and further learn the foreign language being studied through films, audio and video programs, and various of interactive computer language-applications available to individual students. Through the Internet you will discover a whole world of information at your disposal to broaden your horizon and enrich your knowledge of other cultures. This lab is set up to enable students to empower themselves and to achieve maximum benefits as they progress through their foreign language and literature courses.
Language Lab Hours of Operation
| | |
| --- | --- |
| Monday | 8:00 am - 7:30 pm* |
| Tuesday | 8:00 am - 7:30 pm* |
| Wednesday | 8:00 am - 7:30 pm* |
| Thursday | 8:00 am - 7:30 pm* |
| Friday | 8:00 am - 4:00 pm* |
| Saturday | 9:00 am - 2:00 pm* |
*Hours are subject to change.
The Language Classroom - H241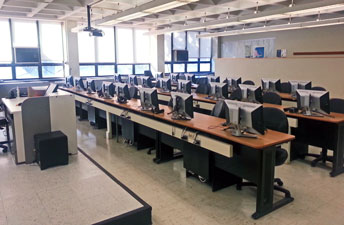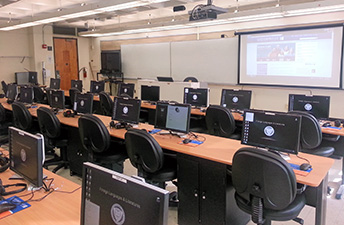 The state-of-the art Language Classroom room H241 is specially designed for classes that require each student to have access to a computer for assignments such as writing papers, exploring foreign cultures or completing research projects. Technology is meant to supplement and enhance classroom instruction. It promotes a communicative, collaborative, and student-centered learning environment. It will improve your proficiency and communication abilities in the language you are learning and increase your interest and motivation in the study of a foreign language. We hope that the services we provide to students and faculty will make your language learning experience an enjoyable one. Please send us your comments and concerns so that we can continually make improvements.
Rules and Regulations
1. Students must always present their student I.D. at the Lab.
2. Students must handle materials (e.g., computers, printers, etc.) with care and responsibility at all times.
3. Absolutely no food or drink is allowed.
Information for instructors
Please feel free to forward any videos or materials used in class to the lab for students to access outside the classroom.
If you would like to use the lab for your class please email Dawilliams@qcc.cuny.edu for arrangements.
Frequently Used Links