Collegiate Science Technology Program (CSTEP)
CSTEP promotes student involvement through various year round activities including:
Tutoring
Internship opportunities
Research opportunities
Community Service activities on and off-campus
Faculty and peer mentoring
Weekly workshop on various topics
The program is represented in CUNY, SUNY, and private institutions across the state of New York.
CSTEP was established in 1986 and it's a joint project of the New York State Department of Education.
CSTEP FACT SHEET
Current Funding for CSTEP is $8 million Proposed 50% cut in funding for CSTEP to $4 million.
Over 70% of CSTEP graduates pursue professional degree programs of study in STEM and CSTEP targeted fields.
CSTEP graduated 11,167 students from independent, SUNY, CUNY and two-year community colleges from 1986 to 2006. CSTEP programs have served 73,969 students since its creation by the Legislature in 1986.
There are currently fifty-one (51) programs throughout New York State.
There are approximately 5,700 students currently enrolled in CSTEP programs.
Along with the pre-college STEP programs, CSTEP and STEP serve about 9,500 students annually.
Preparing for the future
In the last two years, CSTEP and STEP have served an additional 89,000 non-STEP/CSTEP students in grades K-12 through our statewide CSTEP/STEP Day of Service. The annual Day of Service is a statewide CSTEP/STEP event whereby current CSTEP and STEP students and staff meet with non-STEP and CSTEP students to educate them regarding the benefits and challenges of pursuing careers in STEM and licensed fields.
Join us!
Click on Eligibility for more information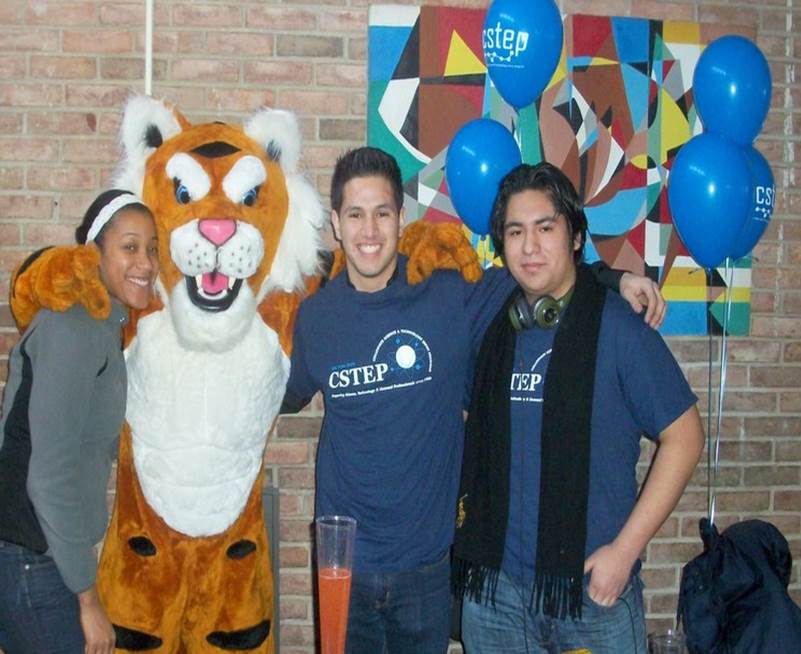 CSTEP Pledge
"Today, as we connect the vision embedded in the Collegiate Science Technology Program to a world in transition, we commit to be a learning community, dedicated to empowering and transforming our lives and the lives of others. This vision provides the motivation and energy for bringing about humane world, one that welcomes commonalities and cherishes the wealth of diversity found among our different community cultures. Using our collective knowledge and experience, we seek to advance social justice and protect human rights by valuing and nurturing the expansion of learning, intellectual inquiry, critical thinking, and community service."
Purpose
The purpose of the CSTEP Program is to increase the number of historically underrepresented and economically disadvantaged undergraduate students who complete pre-professional or professional education programs of study that lead to professional licensure and careers in STEM (Science, Technology, Engineering and Mathematics) or health-related fields. Individuals historically underrepresented in the STEM fields or health-related and licensed professions are Black or African-American, Hispanic/Latino, American Indian or Alaskan Native students who demonstrate interest in, and potential for, a CSTEP-targeted profession.
Mission
The mission of CSTEP is to increase underrepresented and economically disadvantaged students in the STEM fields and licensed professions in New York State.
What Does the CSTEP Program Do?
For twenty-five years, CSTEP programs have provided academic enrichment and support, mentoring, academic and career counseling, internships and research opportunities, standardized test preparation and career activities and services.
Importance of CSTEP in current economy
Most of these graduates live in New York State and work in high paying STEM and licensed fields that contribute to our tax base. STEM and licensed professionals will assist our state and nation in overcoming the economic crisis before us. STEM fields are vital to the economic recovery of our state and nation.
National Recognition of CSTEP
CSTEP and STEP are nationally recognized programs that have made New York State a leader in preparing talented students for careers in STEM and licensed fields.
CSTEP and STEP are the 2006 recipient of the National Science Foundation Presidential Medal of Excellence for Science, Mathematics and Engineering Mentoring.
CSTEP and STEP programs have been replicated in several states including Texas and New Jersey.
CSTEP students have received recognition for their scholarly research and presentations and among our graduates are Rhodes Scholars and recipients of many other prestigious awards.
For the period 1986 to 2007, 700 CSTEP students participated in research internships in national research facilities such as Brookhaven National Laboratory.
What Do I Gain from Joining CSTEP?
Academic Advisement
Internship and Research Placement
Assistance in Resume Writing
Academic Enrichment Workshops
Textbooks and Study Materials
Laptops for Academic Research & Assignments
Opportunities to Participate in Conferences, Field Trips, and Community Service Activities
Networking Sessions
Gain Leadership Skills
Flash Drives
Scientific Calculators
Occasional Metro Cards
Scholarship Information
Referrals
How can faculty members get involved?
We are always interested in having faculty work with our CSTEP students.
There are several ways that you can get involved:
Be a mentor/supervise students who are doing research

Present workshops for CSTEP students

Provide CSTEP students with internship opportunities in your perspective areas

Forward any internship, research opportunities, scholarship information to the CSTEP office