As the country marks the sixteenth anniversary of 9/11, Queensborough's deepest sympathies are with all those who lost their loved ones on that tragic, fateful morning that took place 16 years ago.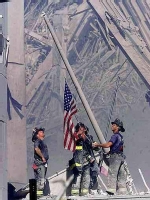 The heroes of 9/11 included hundreds of first responders whose valor will live in our hearts always. The Fire Department of New York, the New York Police Department, the New York City Emergency Medical Service, the Port Authority Police Department and the Mayor's Office of Emergency Management and Interagency Preparedness bravely fought to save the lives of people trapped in the twin towers. Those who miraculously survived are chronically, sometimes fatally ill as a result of the toxins and lingering fumes at the World Trade Center site.
Our thoughts and compassion are also with members of our own College community who have been stricken with the personal loss of loved ones who served and perished on that horrific day. While nothing can erase the haunting images that are seared into our minds forever, or the heartbreaking repercussions of the senseless act, Queensborough is hopeful that time has allowed us to begin to heal.
Let us continue to forge a sense of community as we move forward and reach out to our colleagues and neighbors who are in need of our support.
In this season of reflection, we stand with and embrace our faculty, students and staff members who have experienced inconsolable grief over the years since 9/11. We encourage all in our campus community to share their thoughts, remembrances, and tributes on the College's specially designed virtual site
 We encourage everyone to please share your thoughts and feelings on the College's specially designed virtual site.
Dr. Diane B. Call, President of Queensborough Community College