Mock Trial Team
QCC Mock Trial Team Returns from Yale with Pride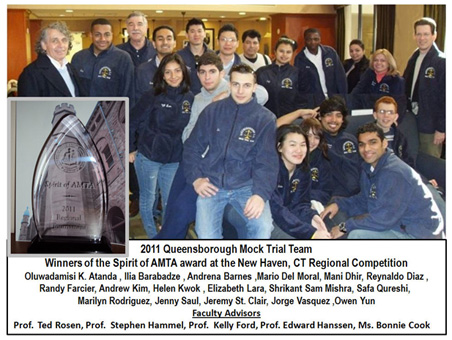 It was a brisk day on the 11th of February. The college was closed to all except a team of seventeen students and four staff members who made up the 2011 Queensborough Mock Trial Team representing the college in the 2011 New Haven Regional American Mock Trial Association Tournament (AMTA) at Yale University in Connecticut.
The college team was one of 27 teams in the tournament, including teams from Yale, Brown, Dartmouth, Princeton, Cornell, Boston College, Tufts, Yeshiva University, and Roger Williams University.
The case being tried was a strict liability/negligence per se case brought against a toy manufacturer by the parent of a two year-old child who died after ingesting beads from his older sister's make-your-own jewelry set manufactured by the toy company. Team members presented opening and closing statements, introduced evidence, conducted direct and cross examinations, and role-played as witnesses in mock trials in which panelsof three volunteer lawyers presided as mock jurors and judges.
Our school was the only community college team in the regional tournament at Yale and is believed to be one of four community colleges in the national tournament in which approximately 500 colleges and universities compete by trying the same case from both the plaintiff's and defendant's side.
The team received strong support from the team's faculty advisors, Prof. Ted Rosen, Prof. Stephen Hammel, Prof. Kelly Ford, Prof. Edward Hanssen and Ms. Bonnie Cook; the QCC family. The President of the College, Dr. D. Call, and the Chairman of the Business Department Dr. J. Falik paid the team an unprecedented visit at New Haven, Connecticut.
The team's many months of practice, scrimmages, sacrificed weekends, and after school hours and efforts weren't wasted. The Team won the "Spirit of AMTA" award which is given to one of the 27 teams in the regional tournament that best exemplifies AMTA's ideals of honesty, civility and fair play. The selection of the winner of the award is determined by ratings submitted for each team by their "opposing counsel" during the first during the first three rounds of the tournament. In winning the award, QCC's team received 29 out of a possible maximum 30 ranks.
The Queensborough Mock Trial Team has been in existence for four years. This is the second time it has earned the prestigious "Spirit of AMTA" award at a regional tournament. The team also received many compliments; one of the judges described one of the team's witnesses as one of the best he has seen in the past five years. And one of the QCC teams tied in a round with Yale! Who says that community colleges lack opportunities? QCC begs to differ! Congratulations to the young men and women who made our college proud and brought us well-deserved honor.