Connect2College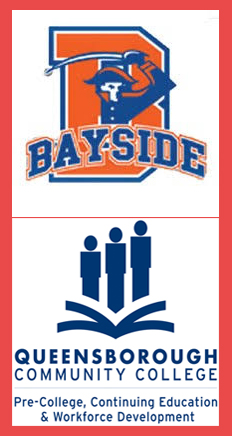 Bayside and QCC Form a New Partnership
Bayside High School students now have the opportunity to earn six college credits through a new partnership with the Connect2College (C2C) program. Hosted by Queensborough Community College, C2C offers students pre-college, continuing education and workforce development.
Administrators from QCC and Bayside met throughout the spring in order to launch the program in the fall semester. English teacher, Ms. Maria Rivera, was approved to teach English 101 and 102. Students who received a 75% or higher on the NYS Regents are able to enroll in the program. They will have the opportunity to earn three credits for each course.
Ms. Rivera was given the college curricula and reading lists so her class will mirror the same classes on campus. Ms. Rivera noted,  "This is a wonderful opportunity for students to transition from high school to college.
Principal Mr. Athy, and Assistant Principal of English, Ms. Tessenholtz, are confident that the enrollment for the program will be strong, since Bayside students are always eager to earn college credits. QCC noted Bayside is a positive partner citing Bayside's recent recognition for closing the achievement gap for minority students, English Language Learners, and neurodiverse students.
Read more