Blackboard Collaborate Tools
Blackboard Collaborate
What is Blackboard Collaborate?
Blackboard Collaborate Ultra is a video conferencing tool that lets you access real-time online sessions with your instructors. In Collaborate Ultra, you can add files, share applications, and use a virtual whiteboard to interact.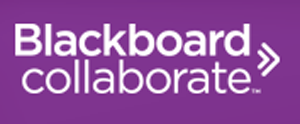 Key Features
---
Video conferencing & real-time chat
Interactive whiteboard
Live Student Polling
Share Applications and Files
Breakout rooms for student groups
Allow students to record and download sessions
Best Practices
---
Find a comfortable place with no distractions.
Before your first session, visit Collaborate Ultra Help for Students
Plug in your webcam and microphone, if they are not built into your computer. For best results, use headphones with a built-in microphone.
Review the System Requirements recommended for otpimal use of Blackboard Collaborate.
Student Access Guide
Follow the quick guide below for help accessing the tool. Be sure to use Chrome or Firefox browsers. iOS and Android devices are supported as well.
Step 1 - Get Access
---
There are a number of ways to access Collaborate Ultra.
From your Blackboard Course:
Click on a room to join a session.
If there is more than one option, follow your professor's instructions on which room to join.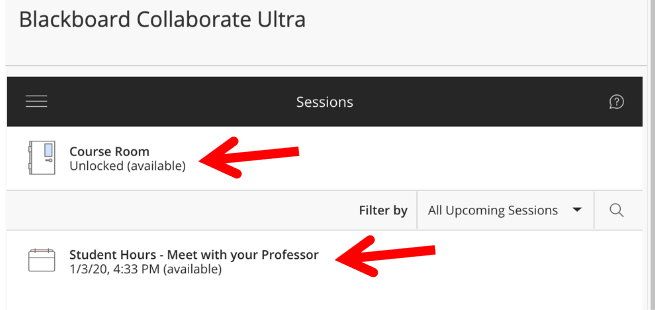 OR
From a Direct URL Link:
If your professor provided you a direct URL link after clicking the link, enter your name and click join session.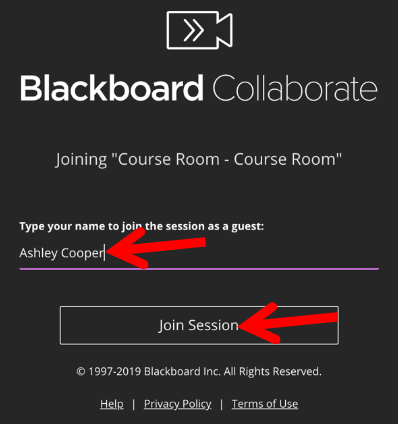 Step 2 - Allow Collaborate to access your Microphone/Camera
---
(You can turn this off once logged in).

NOTE: Depending on your browser/computer/device these prompts will look differently.
Step 2 (Continued) - Optional Phone/Audio Access
---
Once you've entred the Collaborate session, click the 3-bar menu in the top right.
Select "Use your phone for audio".
A unique phone/pin will be provided.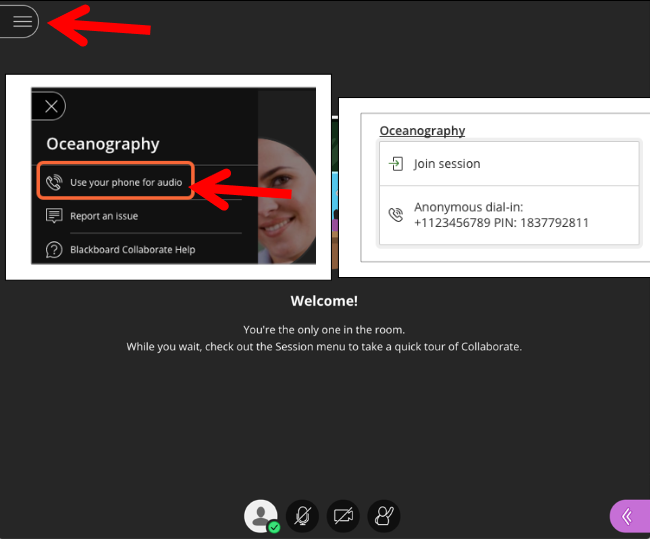 Step 3 - Participate in the Session
---
You're now a participant in the session.
You can use the icons on the botom of the screen to mute your audio or to share your video.
Click the tab on the bottom right to access additional tools.
Blackboard Collaborate Support
Many instructors may use Blackboard Collaborate or a similar technology to conduct their online classes in real-time. Blackboard Collaborate is a powerful communcation and collaboration tool that allows real-time online instruction and discussion with your instructor and classmates.
The following are recommendations for a successful online experience in Blackboard Collaborate:
Use a laptop or a desktop.
Ensure your computer meets the minimum system requirements for running a Collaborate session on your computer. Firefox and Chrome are the most recommended browsers to be used with Blackboard Collaborate.
A headset with a built-in microphone or standard headphones if our computer has a built-in microphone.
Need More Help?