Blackboard Faculty Support
On this web page you will find all the necessary information to successfully deliver your Fully Online, Hybrid and Web Supported Classes. Blackboard is a learning management system that allows students and faculty to share and engage with learning materials and to communicate with each other in a virtual learning environment.
---
Updates and Announcements
NEW ACCESSIBILITY TRAINING ON BLACKBOARD

You will notice a new Accessibility Training tab when you log into Blackboard. This tab continues CUNY's commitment to making content accessible for the entire CUNY community, including those with various abilities. The tab currently contains three modules and will be expanded as more training is developed and published.
First is a link to a new Blackboard course on creating accessible Blackboard courses. This course was created by CUNY faculty at the School of Professional Studies for CUNY faculty. It is selfpaced and entirely online. It instructs faculty on the many ways to make online courses and materials accessible to all students, including accessibility of Blackboard, Microsoft Office and PDF documents, multimedia, and materials from publishers.
A second module provides eight video recordings from an accessibility training course for content developers. The videos contain information on making websites and documents compliant with accessibility guidelines.
The tab also points users to general accessibility information about CUNY and Blackboard accessibility and provides a contact e-mail for questions or comments about accessibility.
NEW CUNY LOGIN CREDENTIALS
As of Monday, July 3, 2017, the login method for Blackboard has transitioned to new the CUNY login credentials.
For example, if you log into CUNYfirst as george.washington76, you will log into Blackboard as george.washington76@login.cuny.edu
---
Sending Emails To Students Through Blackboard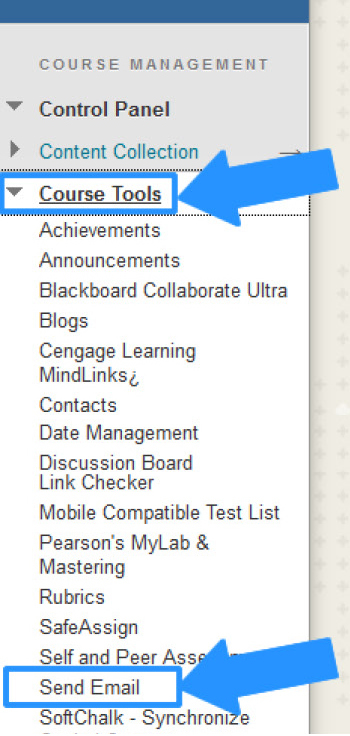 Log into your Blackboard Course

Under the Control Panel, Expand the Course Tools menu

Select the Send Email option

From the list, select All Students Users

Once you select your option, you can add Subject, Message, and Attach a file

Click Submit to send your message
.
.
.
.
.
.
---
Making Your Course Available
Instructors can always view and edit their Blackboard courses; however, Blackboard courses are created unavailable to students. Students and instructors will see "(not currently available)"  next to their Blackboard course until the instructor makes his/ her course "available."
Below are the instructions on how to make your Blackboard course available:

Under the Control Panel, Click Customization

From the menu, select Properties

On the Properties page, scroll down to Set Availability

Scroll down to the bottom of the page, click Submit
Guides
Faculty should find useful the following resources on this website: information on Blackboard development at CUNY; User Guides with information on using new and improved features; and FAQs with answers to the most commonly asked questions.
---
Resources
Opens in a new w
Are you new to Blackboard?
Would you like to learn more about this online course management system? Instructional Technology Workshops are open to all faculty and staff!
Register hereOpens in a new window