Message from the President
Message From The President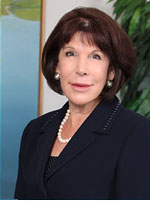 December 2014
Our fall semester was noted for outstanding student and faculty successes in awards, grants and initiatives.
The Business Technology Early College High School (BTECH) students are at the midway point of their first academic year. They are enrolled in a full course load of high school classes including Introductions to Business and Technology, algebra, English and U.S. History. About 20 BTECH students visited the campus earlier this month to participate in a service learning project with the Engineering Technology Department. Students also attended an Academic Senate Meeting and toured our cultural centers. Many faculty members at Queensborough have been instrumental in developing the high school curriculum at BTECH—Professor Stu Asser and Dr. Belle Birchfield, Engineering Technology; Professors Leslie Francis, Kathy Villani and Dr. Jonas Falik, Business Academy—and over a dozen colleagues from the Departments of English; Speech and Theatre; Mathematics and Academic Literacy.
Congratulations to Dr. Nidhi Gadura, Biological Sciences and Geology, and Dr. Paris Svoronos, Chemistry, who have been awarded a major grant from the U.S. Department of Education Minority Science and Engineering Improvement (MSEIP) for the amount of $657,063. The grant is awarded over a three- year period to implement their project: "Undergraduate Research as a Tool to Engage, Retain and Graduate".
Also in technology, STEM Academy students David Cox, Jr. and Giancarlos Llanos Romero each received a $2,000 Grainger Tools for Tomorrow® Scholarship which is designed to provide more students access to skilled-trades jobs and a technical education. Queensborough—one of the few community colleges to have more than one student selected as a Grainger scholarship recipient—has been recognized seven years in a row.
Other prestigious community college awards went to Liberal Arts major Lourdes Carballo, who received the 2014 Coca-Cola Leaders of Promise Scholar for her outstanding academic achievement and leadership potential. The scholarship provides new Phi Theta Kappa members with financial resources to help defray educational expenses while enrolled in a two-year college, and to provide opportunities for civic engagement by participating in programs of social concern. This year's recipients were selected by a panel of independent judges from more than 900 applicants.
We are fortunate this year to have a recent graduate, Sandy Enriquez, ʻ14 and current junior at Stony Brook University, earn the American Chemical Society ACS-Scholars Program award. This is the fifth time a Queensborough student has won this highly competitive honor, an unprecedented feat for a community college. Ms. Enriquez's highlights at Queensborough included more than 32 Honors credits in Chemistry, Biology and Calculus; summer research internships and presentations at regional conferences.
Students in the Business Academy are participating in two exciting initiatives. The Accounting Case team competed this fall with some 50 senior colleges in a contest sponsored by The Association of Accountants and Financial Professionals in Business. Queensborough was the only community college to participate in the nationwide competition. This semester's tournament featured a brief on-line video analysis of an audit committee addressing the issues of internal controls, risk management and fraud. Faculty advisors, Professors Shele Bannon and Kelly Ford, played an active role in helping each team member receive a certificate of achievement.
The second initiative is the Business Bowl Challenge wherein student teams compete in a fast-paced quiz show on subjects ranging from accounting, business law, marketing, computer information systems, management and entrepreneurship. Distinguished judges for the fall competition included Dr. Paul Marchese, Interim Vice President for Academic Affairs; Dr. Karen Steele, Interim Vice President for Strategic Planning, Assessment and Institutional Effectiveness; William Faulkner, Vice President for Finance and Administration; Michel Hodge, Vice President for Student Affairs; Gisela Rivera, Director for Student Activities; and Professor Kelly Ford, Business. The themes for the competition are provided by the Small Business Administration.
Students also excelled off campus at The Annual Biomedical Research Conference for Minority Students (ABRCMS) in November in San Antonio, Texas.
Ms. Joselin Vargas won in the Cancer Biology category for her research on The Novel Curcumin-Derivative Cmc2.24 Alone or in Combination with Growth Factors Inhibitors Reduces Pancreatic Cancer Growth in Vitro.
Ms. Elsa Rosario won the Microbiology Award for her research on Screening for Compensatory Evolution in Mutated φ6 Bacteriophage.
And Mr. Stephan Smith won the Chemistry Award for his research on Characterization of iron in Petroselinum crispum (Parsley) Using Mossbauer Spectroscopy.
In sports, volleyball star Stephanie Ho was named both a CUNYAC scholar and a Region XV Academic All-American. She has maintained a 3.9 GPA through three semesters in the nursing program at Queensborough. Stephanie graduated in 2013 from Stony Brook University with a Bachelor's degree in Emergency and Critical Care. I'm also proud of our Men's Soccer team, named the 2014-15 CUNYAC champions. Go Tigers!
There are many faculty achievements to share:
Recognition went to our faculty who were honored at CUNY's Annual Salute to Scholars Reception in December, celebrating recipients of research awards and fellowships from July 2013 through August 2014. Congratulations to Drs. Naydu Carmona and Monica Trujillo, Biological Sciences and Geology; Drs. Tak David Cheung and David Lieberman, Physics; Professors Nicholas DiZinno and Jeffrey Schwartz, Engineering Technology; Dr. Azita Mayeli, Mathematics; Dr. Julia Rothenberg, Social Sciences; and Dr. Paul Sedaris, Chemistry.
The following 2014-15 CUNY Community College Collaborative Incentive Research Grants (C3IRG) were awarded to our faculty members in the amounts of $14,389, $4,578 and $12,500, respectively.
Dr. Sunil Dehipawala and Dr. Vazgen Shekoyan, both of the Physics department, for their project: Implications of the inclusion of student collaborative group work on advanced course materials in introductory physics courses.
Dr. Naydu Carmona, Dr. Peter Novick, and Dr. Monica Trujillo, all from our Biological Sciences and Geology department for their project: "Cloning, Characterization and Screening of Streptomyces Rhomboids."
And, Professor Maryann Magaldi and Professor Shenaz Georgilis from our Nursing department, for their project: What is the relationship between the standardized admission test scores used by the C.U.N.Y. Nursing Programs and a student's successful program completion and passing the RN-NCLEX Examination on the first attempt?
Five Queensborough faculty members will participate in the Association for American Colleges and Universities' (AAC&U) campus-based research project, Advancing Underserved Student Success through Faculty Intentionality in Problem-Centered Learning: Simran Kaur, Biological Sciences and Geology; Amy Traver, Social Sciences; Tanya Zhelezcheva, English; Kostas Stroumbakis, Mathematics and Computer Sciences and Franca Ferrari, Speech, Communication and Theatre Arts. Queensborough is one of seven minority-serving institutions selected to participate in the project funded by TG Philanthropy and part of the AAC&U's Making Excellence Inclusive initiative. This research project is designed to build on existing knowledge about the relationship between high-impact practices and under served student success as well as the role of transparency in teaching high-impact practices. Drs. Andrea Salis, Health, Physical Education and Dance and JaneE Hindman, Director, Center for Excellence in Teaching and Learning (CETL) are co-Principal Investigators of the grant.
The New Year will begin with the Milestone Winter Scholarship for the January 2015 intersession. This scholarship supports timely progress toward degree completion by helping students reach their "thirty-credit milestone." The scholarship is applied to a course to be taken during the winter session. Upon completion of that course, students will have met or exceeded the "thirty-credit milestone" of their education here at Queensborough.
Upcoming academic events include The Nursing Candle Lighting Ceremony, to be held on January 7, for the graduating class of January 2015, and the annual Convocation of the college. Sponsored by the Office of Academic Affairs, our convocation for faculty and Higher Education Officers will launch the spring semester.
The Kupferberg Holocaust Resource Center and Archives (KHRCA) will be holding the Holocaust Internship Final Presentations on January 8. Interns that have completed a semester-long project on the Holocaust will present their understanding of the Holocaust and the impact it had upon its victims during World War II. The interns meet weekly to explore issues related to the Holocaust through readings, videos, group discussions and presentations with local Holocaust survivors.
Our College community is a tremendous source of pride for me, and I am grateful to the members of our outstanding community who together make Queensborough a successful and special place to be.
Best wishes for a prosperous New Year,

Dr. Diane B. Call
President