Message from the President
Message From The President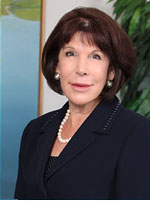 November 2013
In addition to the upcoming events this holiday season, there is much good news to share regarding the outstanding achievements of our students and faculty.
Congratulations to our students who presented some 35 posters out of a total of 127-nearly 30%--at the recent 2013 American Chemical Society Northeast Regional Meeting. Queensborough presented more undergraduate poster presentations than any other college or university and was the only community college to participate in the event.
In other impressive news, Biology student Viviana Torres won the Biochemistry Award at the Annual Biomedical Research Conference for Minority Students (ABRCMS), a yearly event that attracts the best minority students in the country at every level. Students Jessica Montes and Lucia Nunez were also selected as presenters at the prestigious meeting. All three students are participants in the Research Initiative for Minority Students (RIMS) program funded by QCC-National Institutes of Health (NIH) Bridges to Baccalaureate Program. Since 2004, sixteen Bridges students have received ABRCMS research awards.
I am extremely grateful to our many exceptional, dedicated faculty mentors, without whom such successes would not be possible.
One such mentor, Dr. Patricia Schneider, of the Biological Sciences and Geology Department, has been awarded a five-year, $1,547,614 grant from the National Institutes of Health. The grant begins this fall and continues through August 2018. It is the fourth competitive renewal grant awarded to the Bridges to the Baccalaureate Program, a project that has increased the retention and graduation rates of under-represented minority science students and facilitated transfers to baccalaureate programs in biomedicine and behavioral science.
Looking ahead, we are pleased to welcome The Honorable Jenny Rivera, New York State Court of Appeals, who will speak about her distinguished career in public service as well as potential job opportunities for students in the state court system and other non-profit organizations. She will also encourage students to participate in the 2014 David A. Garfinkel Essay Contest. Queensborough graduates Ruby Singh and Dawar Jamal each won the coveted essay prize in 2012 and 2009, respectively.
On the cultural side, the Grammy award-winning jazz vocal ensemble, New York Voices, will return to Queensborough for another electrifying, free concert on December 11.
During this special time of year, as we continue to look for ways to build our community, the CUNY Campaign for Voluntary Charitable Giving will provide more assistance than ever before. CUNY provides valuable support to human and community development programs serving our area, the nation and the world. The QCC Fund, Inc., a participating agency in the CUNY Campaign, provides programs right here at Queensborough Community College.  And please remember, the seed that provides continued growth to support these programs is your contribution.
I wish you and your loved ones a wonderful Thanksgiving,

Dr. Diane B. Call
President