Message from the President
Message From The President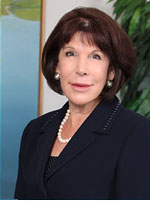 September 2014
I am delighted to welcome back members of our college community and extend a special greeting to our new faculty, staff and students.
First, I would like to thank our HEO colleagues, faculty and staff who worked throughout a busy summer to prepare new and returning students for a successful semester. Thanks to their efforts, enrollment remains robust with more than 16,000 students, including approximately 11,000 full-time students, 3,350 new freshman and 1,000 transfers.
I would also like to thank our new Chancellor, J. B. Milliken, who visited the campus in August, meeting with representatives from our staff, students and faculty. It was a wonderful opportunity for him to get to know more about us and the extraordinary opportunity and resource community colleges provide for today's society, and especially our students.
As we head into another academic year, there is much good news to share. BTECH (Business Technology Early College High School), an innovative new six-year education program that enables students to earn a high school diploma and an associate degree in either Computer Information Systems or Internet Technology, had its first day of classes on September 4. Along with combining a high school and college education, the BTECH school will provide applicable experience in the business technology field for the 124 students in the first BTECH cohort. The school was developed through the partnership of Queensborough, multinational technology software corporation SAP, the New York City Department of Education and CUNY. The core academic curriculum includes courses prepared by and that will be taught by Queensborough faculty. BTECH's mission is to combine academic excellence and technical proficiency, thus empowering students to be successful in our modern, information-based global economy and community.  Students will be paired with SAP mentors who will help them stay focused on their education and understand what kinds of careers are available in Information Technology. In the later part of the program students will have workplace opportunities at SAP through internships and job shadowing, which will prepare them for future job placement opportunities.
I am also extremely pleased to announce that Queensborough is one of eight lead CUNY colleges to be awarded grant funds to serve the college and the community by connecting academic excellence with entrepreneurship and local economic development.
The first of the two grant initiatives to be led by Queensborough is The Center for Allied Healthcare Education and Workforce Development, which was awarded $10 million dollars to establish a healthcare clinic and training center in Northern Queens in partnership with Urban Health Plan, Inc., a federally qualified community health center. The 19,000 square-foot facility will provide training programs and clinical rotations for nursing students as well as continuing education students who are preparing for careers such as Phlebotomists and Medical Assistants, one of the fastest growing allied healthcare professions in New York City. The training center will also provide classes in health information technology, a component of healthcare administration absolutely essential to the future of healthcare management. The partnership will expand access to healthcare related educational opportunities through Queensborough's articulation and dual/joint programs with York College, the School of Professional Studies and Queens College.
Urban Health Plan will provide quality primary and specialty care health services for this under served community in an affordable, comprehensive and high quality manner through performance advancements of innovative best practices. In addition, the CUNY School of Law will provide legal services and online healthcare educational opportunities to the community. And lastly, the award will allow Queensborough to upgrade the biotechnology laboratory on campus with state of the art equipment to serve our degree students. These students will also participate in research projects at the Urban Health Plan site. The initiative expects to add over 700 jobs over three years, with 600 of these job positions filled by graduates entering the workforce in professions related to allied healthcare education, a focus of the Regional Economic Development Council.
Additionally, Queensborough was awarded a $1.5 million dollar grant to plan and implement an Advanced Manufacturing for Economic Development initiative. This project will create an Advanced Manufacturing Center focused on 3-D printing, to be constructed and equipped with 3-D printing equipment. The center will provide workshops and courses for industry, as well as for college and high school students and faculty. Students will gain the skills to design and produce sophisticated components through collaboration with the Queens College Computer Science Department and local high schools, which will create new courses for students to learn sophisticated program and parts processes.
3-D technology enables manufacturers to produce parts locally that are currently developed overseas. As a result, there will be an increased demand for skilled professionals in this emerging technology. Manufacturers will have a steady need for workers for the newly created positions.
The core of our mission is to support a student centered learning environment, a strong and engaged faculty, and community partnerships.
These priorities are interrelated, and they are and will continue to be the focus of our energy in addressing differences in learning styles, encouraging active learning, and the effective use of technology to increase student retention and timely graduation.
Best wishes for a rewarding and successful academic year,

Dr. Diane B. Call
President