Message from the President
Message From The President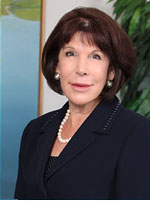 September 2013
I am delighted to welcome back members of our College community and extend a special greeting to our new faculty, staff and students. As we head into another academic year, there is much good news to share.
First, I would like to thank our HEO colleagues and staff who worked throughout a busy summer to prepare new and returning students for a successful semester.
All our divisions across the campus collaborate to support student retention and success. Thanks to their efforts, over 16,000 students have enrolled this semester, including almost 3,500 new freshmen and over 850 new transfer students.
The year begins with many changes:
Launched in 2009, through a collaboration of Academic and Student Affairs to provide strong advisement and support services for first-time, full-time freshmen, and enriched by the passion and commitment of many faculty to engage in High Impact Practices, the Freshmen Academies have been assessed over the last four years, yielding data on student retention, performance and recommendations from the faculty and staff who worked with them.
The result led to our decision to build on success and leverage our resources to scale up the Queensborough Academies. Beginning this semester, the Academies will serve all full-time degree students, from admission to graduation. Other changes implemented have been to re-structure academic advisement, using a caseload approach which leverages our extensive resources and technology, to strengthen our outreach and intervention strategies and to expand the High Impact Practices led by our faculty—which will now offer seven pedagogical approaches to engage students as active learners. The effects of these changes will be measured by a revised Academies assessment protocol.
Demonstrating the use and effectiveness of technology to facilitate communication and promote engagement with students, faculty and staff are two major initiatives: our new interactive website for the Queensborough Academies, and Starfish, a comprehensive system which allows timely input about students by faculty, tracks the interventions recommended, and gives faculty feedback on the outcomes of their referrals. We are very proud that Queensborough received one of 19 national grants from the Gates Foundation to support this initiative.
As a community, we share a curiosity and willingness to innovate, and a tradition of collaboration to achieve our strategic goals.  Along with our cultural diversity, strong academic programs and outstanding faculty, these strengths position Queensborough as one of the finest community colleges in the country.
Best wishes for an outstanding 2013-14 academic year,

Dr. Diane B. Call
President